A cannabis store proposed for a location near the University of British Columbia has received a positive recommendation from a Metro Vancouver committee, awaits final approval from Metro District Regional Board.
The recommendation, which will be sent to the BC Liquor and Cannabis Regulation Branch, is not a final vote but will inform the Metro District Regional Board's future decision on the application.
The proposed location has received considerable pushback from some in the community since at least 2021 when a petition was started by University Endowment Land resident Connie Chen, who says that cannabis stores on or near campus are not appropriate for the educational purposes of a campus.
There were initially two proposed locations, however, one has since rescinded its application.
Several individuals shared with the committee their opposition, citing concerns that it would allow young people to access cannabis and was out of character for the neighbourhood.
Local MLA and Attorney General David Eby, who also spoke, said he does not support the location. The UBC student union is supportive, with Alma Mater Society president Eshana Bhangu noting that there are multiple liquor stores close to campus that face no such community concerns.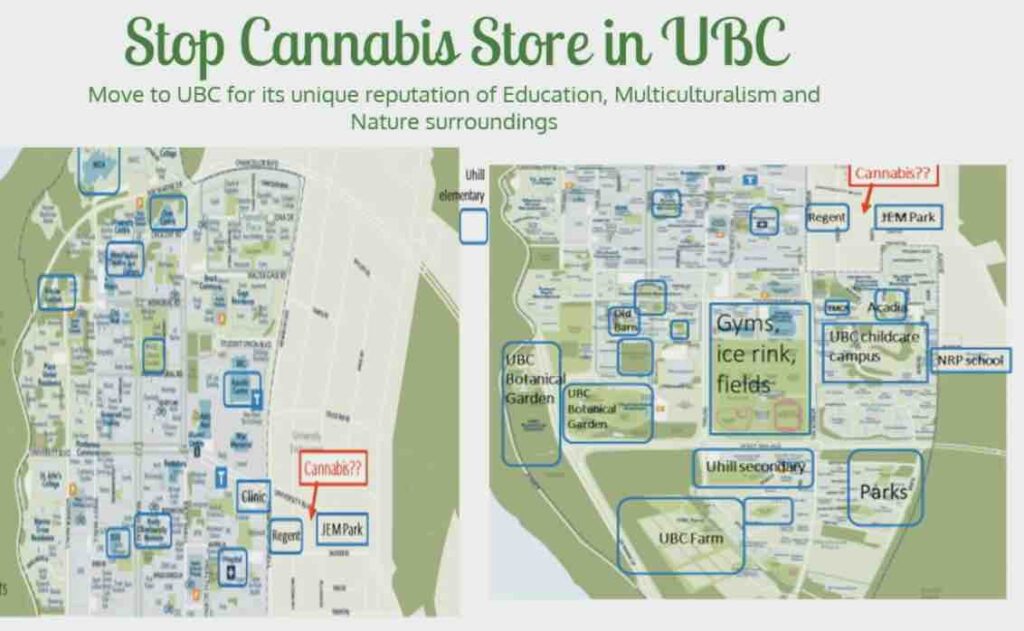 Speaking to the board, Eby cited community opposition as the basis for his own opposition to the store, noting provincial policy is to not impose cannabis stores in communities that do not want them.
"Reaction to this proposal was overwhelmingly negative," said Eby.
He also noted there are several cannabis stores near the same location that can serve the community without the addition of this newest proposed location, arguing it could push out other non-cannabis retail options such as bike repair and hairdressers.
Eby also said he has concerns with the "laissez-faire" approach Vancouver has taken to allowing numerous cannabis stores.
Jen McCutcheon, the Metro Vancouver Electoral Area A Director, said she agreed with and supported Eby's statements in regard to the proposed location.
Other presenters shared their support of the application, noting that a lack of a local cannabis store will just mean students buy cannabis from the black market. Supporters included UBC Alma Mater Society president Eshana Bhangu, a former RCMP officer, as well as a consultant.
John Kaye, Co-founder, CEO, and creative director at Burb, the cannabis retailer who submitted the application, says they were confident the vote would go in their favour.
The opposition, he says, was largely culturally-based due to many foreign homeowners and parents who have children studying abroad at UBC.
"We knew there was going to be opposition coming in and we also knew that the majority of it was foreign homeowners that couldn't legally even vote in the country who were concerned about real estate prices."
"We were just hopeful that the committee would obviously look past that and would judge the application based on the framework they were operating with, without all the prohibitionist rhetoric that was coming forward."
"I think it was a very clear vote in favour of legal safe access on campus," he continued. "The argument from the foreign home owners was very weak—Prohibitionist era. This decision is huge for us but also for BC and Canada as leaders in educating the public on legal safe access and the benefits of the plant. With over 65000 active residents and a max rule of 1 store I'm expecting this to become the busiest store in the entire province, conservatively. Huge sigh of relief as we had lots on the line. Essential services are a must."
Kaye, who operates eight other Burb locations in BC, says that if the application receives final support from the Board later this month, they plan to be open in time for the fall UBC semester in September.
---