A former Conservative MP and a current Conservative MP who both raised a conspiracy theory about a 'leaked task force report' that supposedly led to a surge in the cannabis stock market in 2016 have recently apologized. Sort of.
The sort-of apologies, via Twitter on April 8 of this year from Alex Nuttal, the former MP for Barrie-Springwater-Oro Medonte, and Blaine Calkins, the current Member of Parliament for Red Deer-Lacombe, reference statements made in the House of Commons and on Twitter by the two in late November and early December of 2016.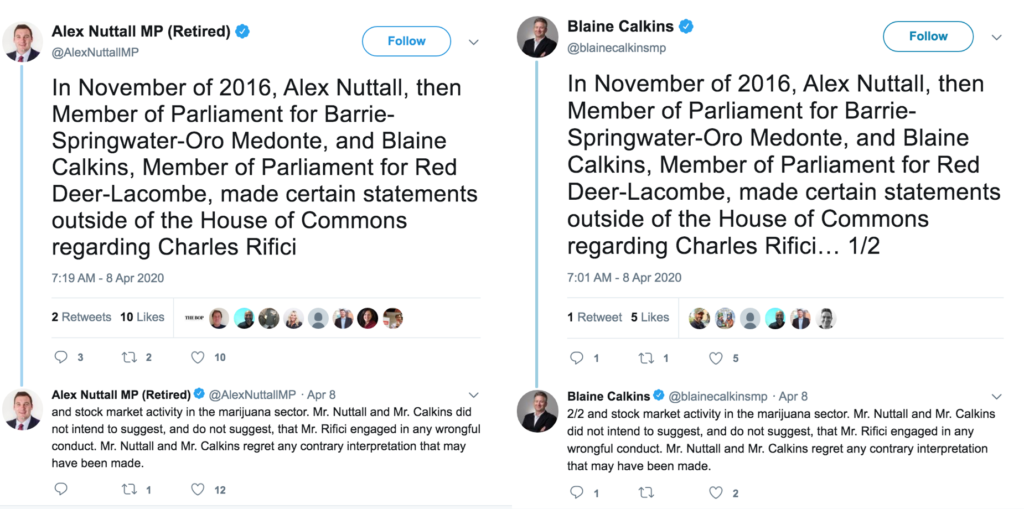 The conspiracy theory floated by the two MP's was that the federal government's Cannabis Legalization and Regulation Task Force Report on cannabis legalization had been "leaked", supposedly causing a spike in several publicly traded Canadian cannabis company share prices.
Nuttal, Calkins, and others attempted to connect this spike to a supposed 'leak' of the Task force report which was expected to be tabled in early December, 2016.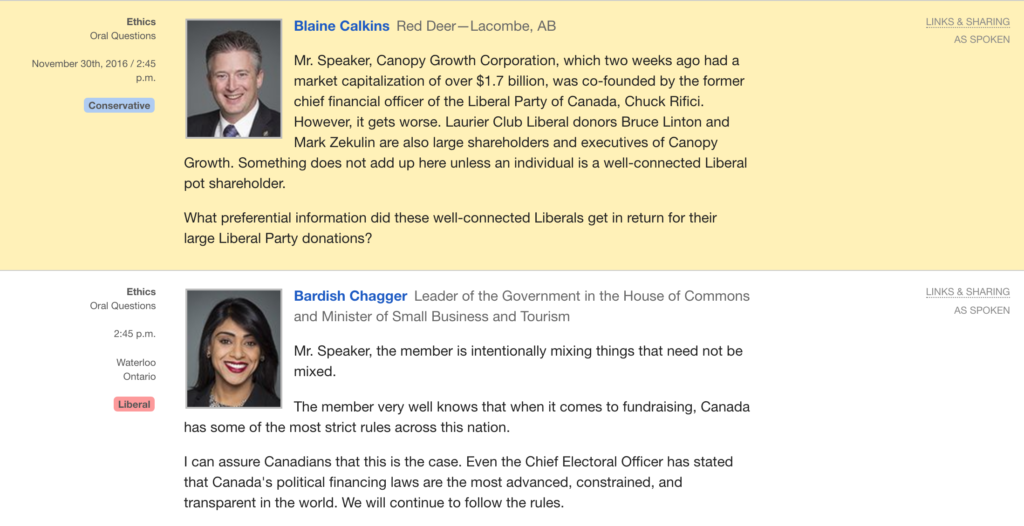 No evidence of a 'leak' of the report was ever provided, nor would much in the report have been either a surprise for the markets, or a boon to these existing producers. The Task Force report, entitled "A Framework for the Legalization and Regulation of Cannabis in Canada", made public on Dec 13, 2016, was a 112 page document detailing the nine person task force's recommendations to the federal government for legalization.
Furthermore, little in the recommendations that would be seen to have benefitted companies like Canopy and others would have come as a surprise or caused a bump in the stock market, even if the findings had been leaked. If anything, the report contains numerous references to the kind of strict controls that the industry has been aggressively lobbying against. It has been Conservatives who have even tried to push back on some of those strict rules, like around packaging and labeling requirements, or favouring larger companies over smaller ones.
In reality, the spike was more than likely directly connected to the US election a week prior, on Tuesday, November 8, 2016, in which Colorado and Washington state both historically approved ballot initiatives to legalize cannabis.
The passage of legalization in both those states sent ripples through the legalization movement around the world. This gave confidence to those in Canada and abroad who already saw the trajectory of legalization unfolding in Canada, with the Liberal Party who had campaigned on legalization and won with a solid majority a year prior, moving forward with their campaign promise.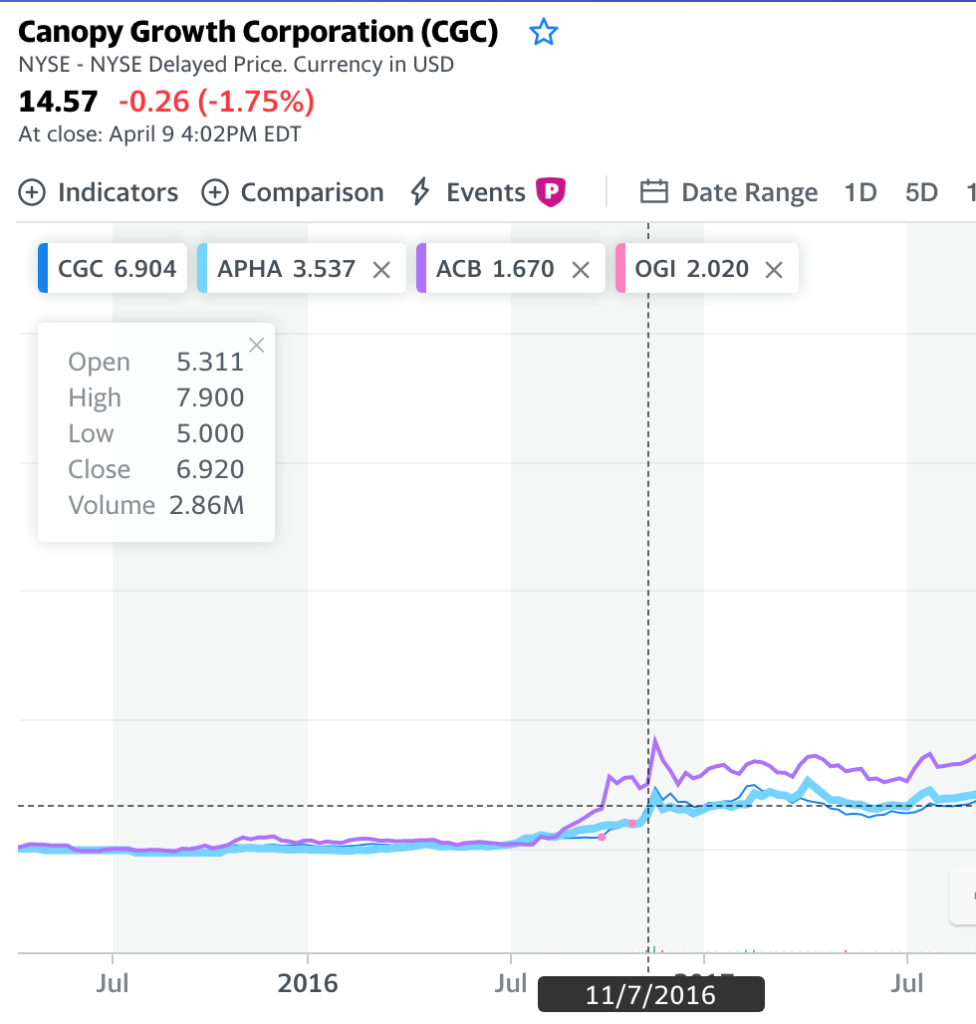 Several Canadian cannabis stocks surged in the days following the US election, as it emboldened investors who were seeking a way to invest in what they saw as a newly-legitimized industry. As investing in US-based cannabis companies, where cannabis to this day remains federally illegal, was seen as more risky, many investors looked to the Canadian market where federally legal companies like Aphria, Canopy, Aurora, Supreme, Organigram and others were seen as responsible companies to invest in.
When the Task Force report was formally made public on Dec 13, those same stocks had already declined a few points, further throwing cold water on the attempt to connect the increase in stock prices to the report.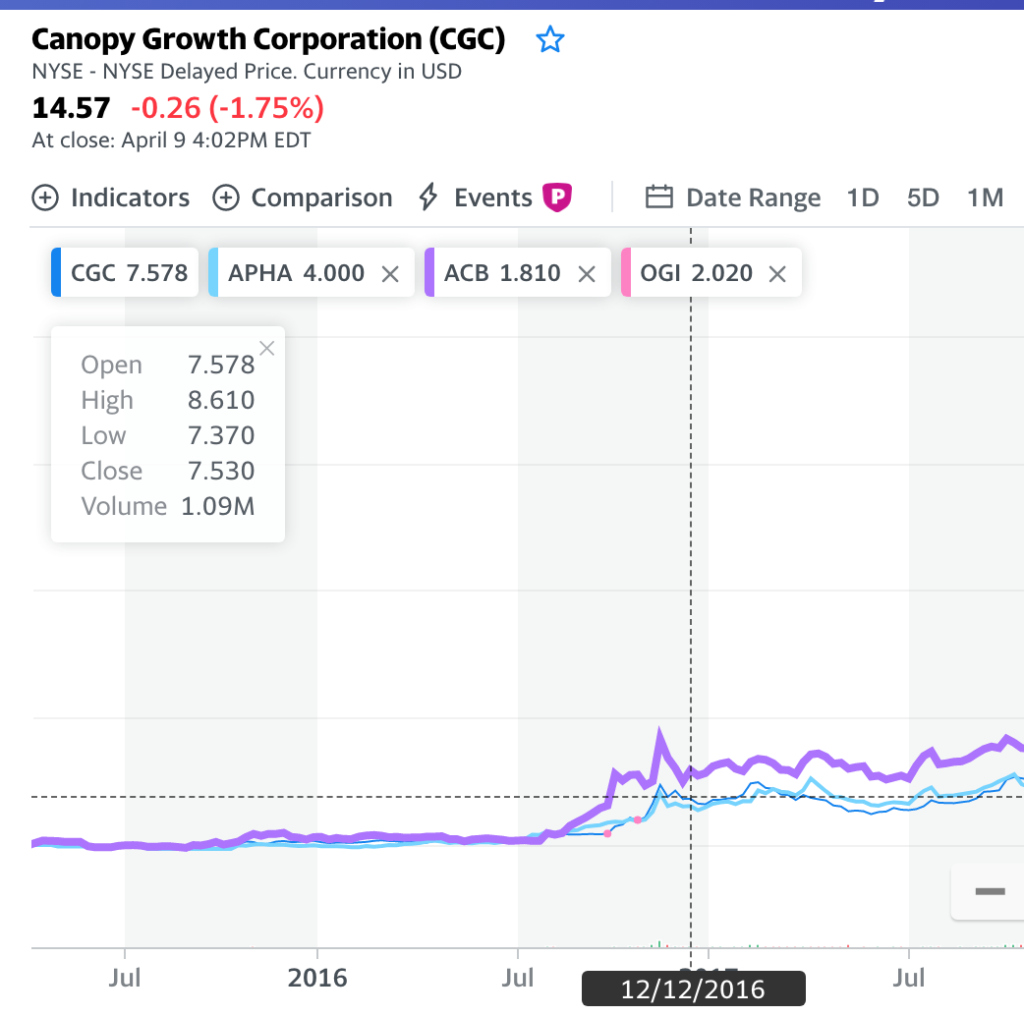 However, Nuttal and others used the opportunity to bring up a long-standing conspiracy theory that Rifici, a former volunteer CFO (re: accountant) for the Liberal Party from 2011 to 2016, were somehow the architects of a legalization scheme that would enrich supposed Liberal Party "insiders".
Nuttal doubled down on the conspiracy theory again on Dec 5, suggesting the Liberal Party was "selling insider information to people willing to pay cash for access", referencing a tweet from cannabis entrepreneur Rosy Mondin, whom Nuttal called a "a Liberal cannabis crony."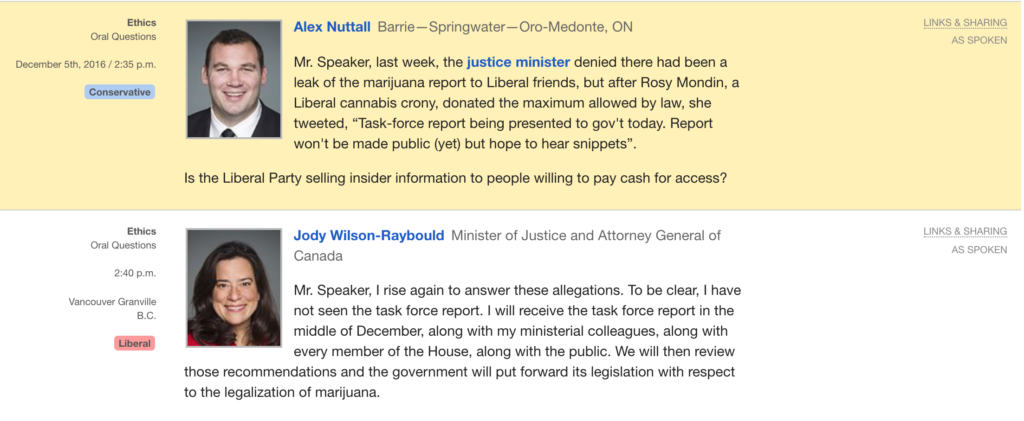 This conspiracy theory, of course, takes on a greater sense of irony when one notes that companies like Canopy, Aphria, Aurora, Supreme Pharma, Organigram, and others were all created and thriving under a medical cannabis system designed and implemented by the previous Conservative Government of Stephen Harper. Nonetheless, it is a conspiracy theory that has legs, even among many in the cannabis world, who conflate and confuse low-level government staffers, employees, and volunteers with government "insiders".
Nuttal and other Conservatives who furthered the insinuation under protection of parliamentary privilege did their best to keep it alive as the Liberal government moved forward with their legalization plans. The Conservative Party of Canada resisted all attempts at legalizing cannabis, with all but one member of the party voting against the bill, as well as fighting it at every step through the process.
For those unfamiliar with the term, Parliamentary privilege is a sort of immunity from civil or criminal liability for statements made in the course of their "legislative duties". It is common in countries with a constitution based on the Westminster parliamentary system. In essence, it means that an MP can make a statement during Question Period, for example, that if made outside the House might be subject to a defamation lawsuit.
After the comments were made, Rifici himself referenced the issue of Parliamentary privilege, implying he would potentially sue Nuttal if the statements were repeated outside the scope of legal protection.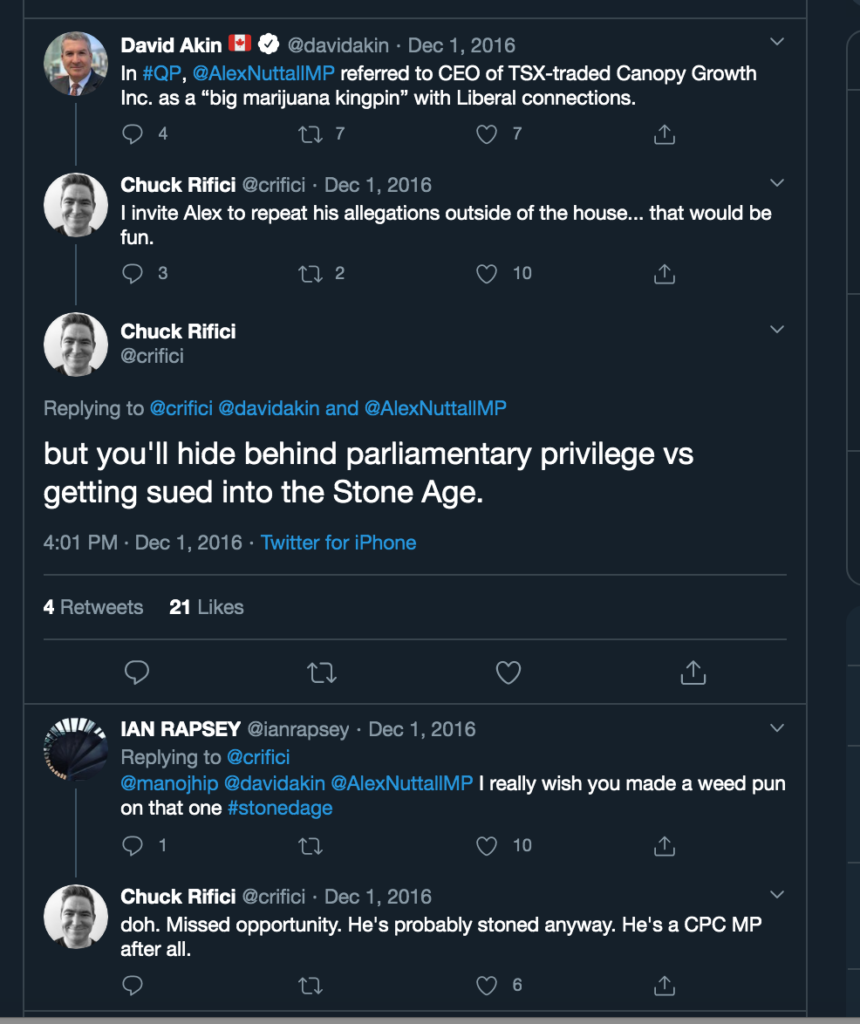 Nuttal announced in early 2019 that he would not be seeking re election later that year, saying he would be spending time with his family, but possibly re-entering politics after a decade of time with his family. Conservative Doug Shipley become the 43rd MP for the Ontario riding of Barrie-Springwater-Oro-Medonte in 2019.
Calkins remains the current Member of Parliament for Red Deer-Lacomb in Alberta.