The BC Budtenders Union says they have recently unionized the first retail cannabis store in BC outside of Vancouver Island.
The budtenders union—a division of the UFCW 1518—says this newly unionized workforce joins the ranks that include 70% of the for-profit cannabis shops in Victoria, BC that have already unionized, along with others on the island.
Workers are unionizing for better pay, benefits, and better working conditions says a representative for the union. However, Oana Cappellano, the co-owner of the newly unionized store—Eggs Canna on East Hastings in downtown Vancouver—says they have already made significant strides in providing higher wages and extensive training for their employees.
While UFCW 1518 Secretary-Treasurer Patrick Johnson describes owners like Cappellano as "profiteers", Cappellano, who opened the first Eggs Canna as a "legacy" retailer in Vancouver in 2014, takes offence at the accusation.
"We were very disheartened and concerned to see the union make statements such as "The workers want their pay, benefits, respect, and overall working conditions to reflect this high-level training", and "ultimately, they [the staff] want fairness," wrote Cappellano in a press release.
"These comments are opinions of the union and we do not believe reflect the sentiments held by the majority of our staff," she continued. "We do not believe the staff have been fully informed about the one contract (Clarity Cannabis) that the union has negotiated to date and have not had an opportunity to compare that to existing working conditions. Further, characterizing hard-working entrepreneurs as simply "profiteers" creates further division between unions and employers, with the employees being caught in the middle."
Employees at Clarity Cannabis in Victoria joined the union in 2020. Employees at Trees Cannabis joined in 2021, as did employees at B Buds.
Johnson says the staff at Eggs Canna joining the union is a foothold for the organization in the Lower Mainland and the rest of BC
"At every point along the cannabis supply chain, workers deserve a voice," he says. "Everyone that works with cannabis plays an integral role in its production process. From its growth to its distribution, sale, delivery, and eventually consumption, pot must serve everyday people. Workers can ensure it does by unionizing."
For her part, Cappellano says that Eggs Canna is already offering employees high wages and benefits, and questions how some of these issues were represented to her workers.
"To date, Clarity Cannabis is the only company in the cannabis industry where there has been a Collective Bargaining Agreement negotiated by this union," she writes. "In reviewing this agreement, we see that what they have negotiated is no better, if that, than what we have already been providing our employees, who have not had to pay union dues for these comparable terms and conditions of employment."
She notes that Eggs Canna offers what she says are higher wages to their employees than what was negotiated for Clarity Cannabis and that the retail chain (Eggs Canna has three locations, one in Vancouver and two in Kelowna), and have provided staff discounts on company products, up to five paid sick days a year, and training programs.
UFCW 1518 represents over 26,000 workers in retail, grocery, food production, home care and more.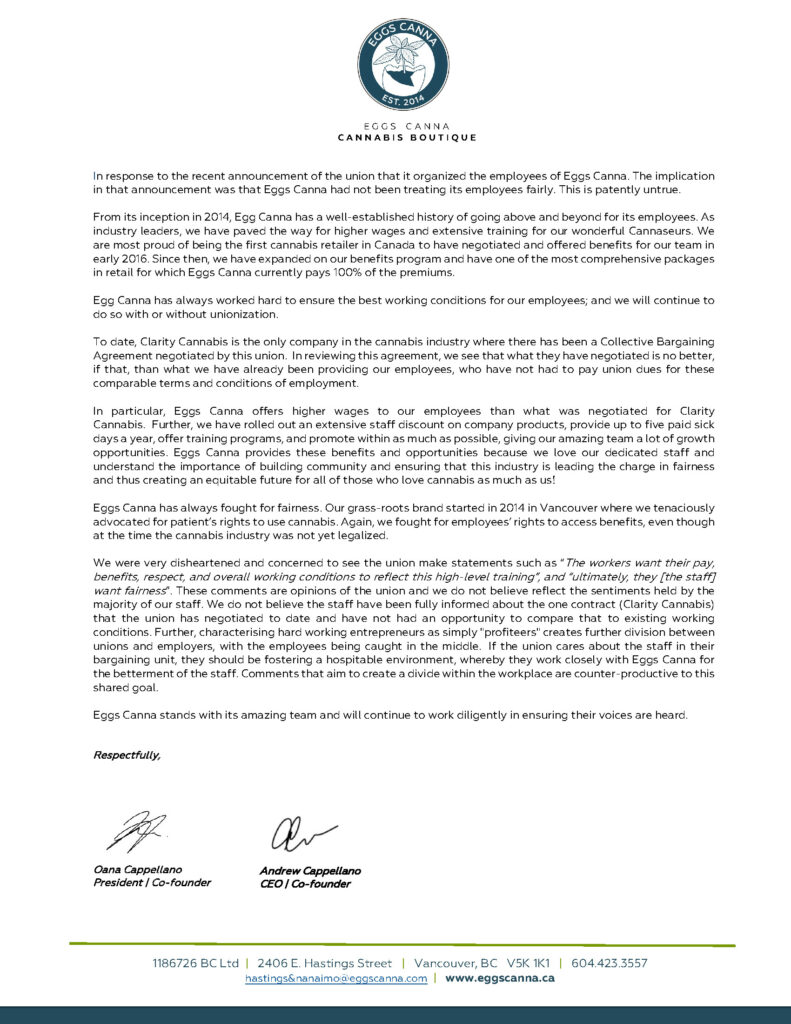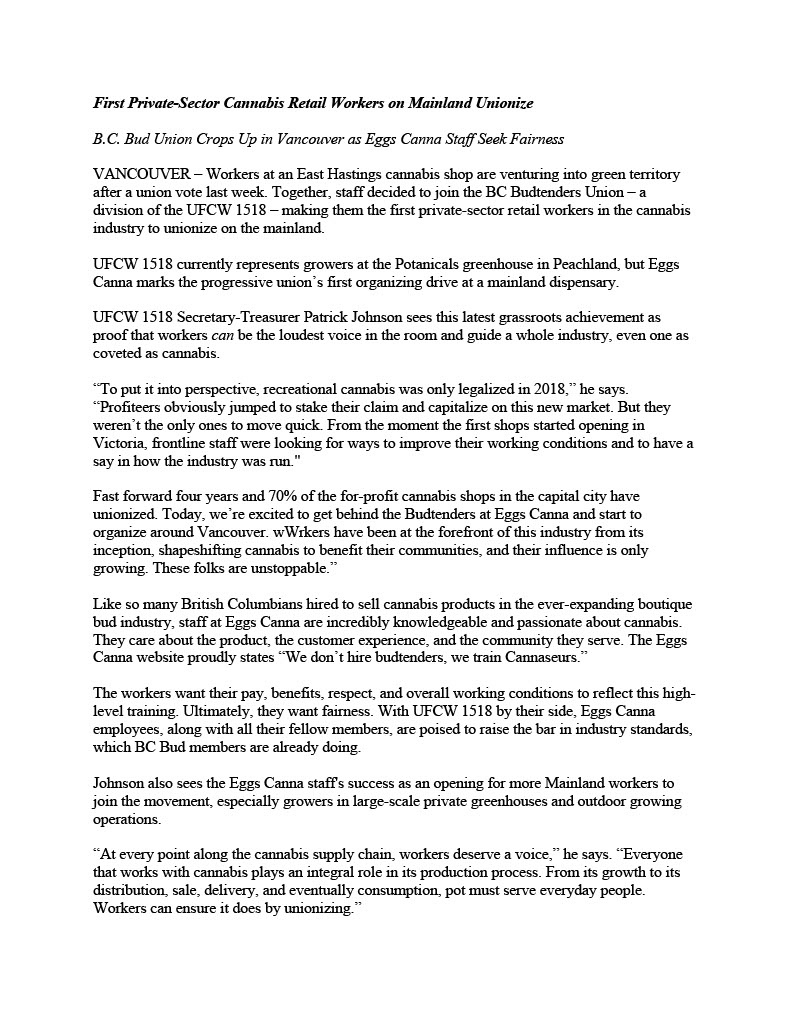 ---