Vancouver City Council unanimously approved a measure to cut licensing fees for cannabis stores by about half, beginning in 2022.
In February 2021, council instructed staff to look into lowering the licensing fee after extensive lobbying from local retailers. The new staff report was in response to that request.
Based on that, city staff recommendation adopted by council on October 5 lowered the annual fee to $13,500 while raising the one time licensing fee from $99 to $2,500. City staff also recommended a further lowering of the annual fee from $13,500 to only $5,000 in the future, but council will wait until 2023 to revisit the issue.
The $5,000 annual fee, said city staff, would be the break-even point for the city in terms of the costs of implementing and managing retail cannabis.
Vancouver's municipal business license for cannabis retailers was originally $33,958 on top of provincial retail licence fees which includes a $7,500 application fee, a $1,500 first-year license fee, a $1,500 annual renewal fee, and a non refundable security screening renewal fee.
Several cannabis retail representatives who spoke during the council meeting said they were in support of the lower annual fee, but all noted it was still too high, questioning where the money was going.
Staff noted that cannabis retail has higher implementation costs than the City's other retail licence categories "due to statutory and process differences." In 2019, total costs to the city for cannabis licensing were $663,000. For 2020 they were ​​$537,000 and for 2021 (so far) are $275,600.
In comparison, the liquor retail store fee in Vancouver is only $429 and the maximum fee for a standard hours liquor establishment is $3,219. The next highest retail dealer fee is $4,595 for a 50,000 sq ft premises; a Class-2 Casino license fee and the license fee for a Horse Racing Exhibition are both $13,464; the Pacific National Exhibition annual license fee is $18,856, and the maximum fee for an extended hours liquor establishment is $23,525.
A staff report also said that Vancouver has closed 65 illegal cannabis stores since 2015, with eight illegal stores currently operating in the city and subject to enforcement. It also argued that these licensing fees were at least in part due to the fact the BC government has not shared any of their portion of the federal excise tax, a point echoed by Councillor Pete Fry, who also represents UBCM. UBCM has raised this issue in the past as well.
Fry also pointed out that Vancouver had challenges related to dealing with illicit retailers, giving an example of one owner he said was violent and disruptive calling him an "egregious illegal vendor who was creating enormous problems", even going as far as making their landlord feel intimidated to keep renting to them. BC announced a policy shift in 2020 of moving enforcement against illicit retailers to include penalties for those who rent to illicit retailers.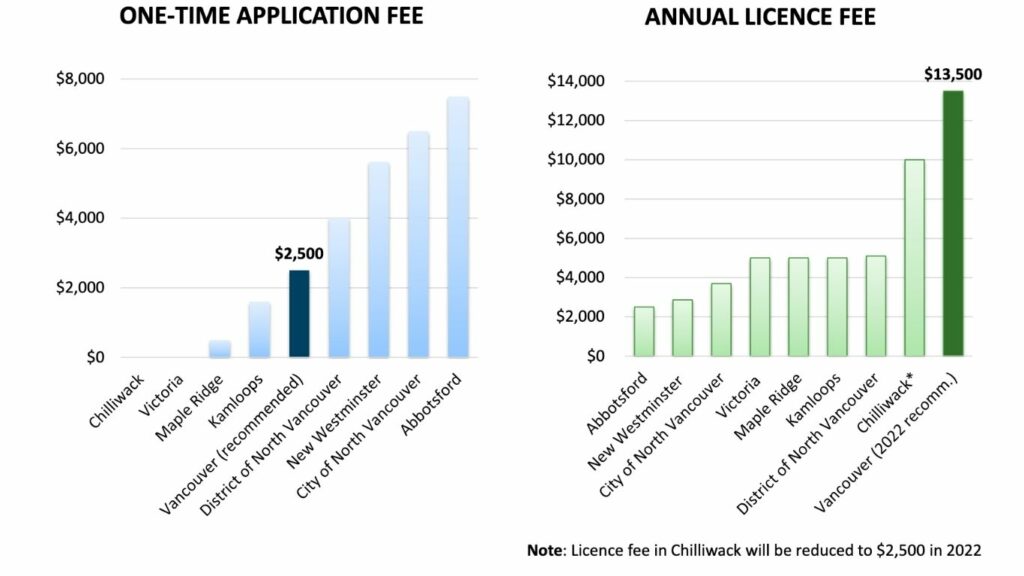 The report noted that cannabis retail costs have decreased due to fewer policy resources required and greater efficiencies within the licensing department, as well as fewer illicit stores.
Staff provided several fee options, from an annual licensing fee of $5,000 to $17,000. The option council adopted an annual fee of $13,500, framing it as a "phased approach" to the revenue-neutral fee of $5,000, to be implemented in 2023.
The $13,500 fee is still the largest in BC. Victoria, BC's second largest city with 25 retail stores listed as open or soon to be opened, charges $5,000. Chilliwack, the second largest licensing fee, is $10,000 and is scheduled to be reduced to $2,500 in 2022.
Staff also noted that the number of new applications is decreasing significantly, decreasing the amount of new licensing fees coming in. BC currently lists 53 cannabis retail stores open or in the process of opening in Vancouver.
Harrison Stoker of Dutch Love spoke in favour of the change. Dutch Love, formerly Hobo Cannabis, operates four retail cannabis stores in Vancouver currently, and another three elsewhere in the province.
Although Stoker was appreciative of the city staff report that broke down where some of the fees go, he also said industry should have had access to those figures already. Even at the new lower fees, he says smaller businesses may be paying around 10% of their profits just in city licensing fees.
"We've had no idea where that money went until today's loosely illustrated indications," said Stoker.
Dutch Love, which is owned by the Donnelly Group, paid the city $136,000 in annual licensing fees for their four stores, he points out. The new fee would save them more than $80,000 a year. The Donnelly Group operates in several other retail spaces in Vancouver, including alcohol retail, and stoker pointed out that none of the fees they pay in these other areas are comparable to what they pay for retail cannabis.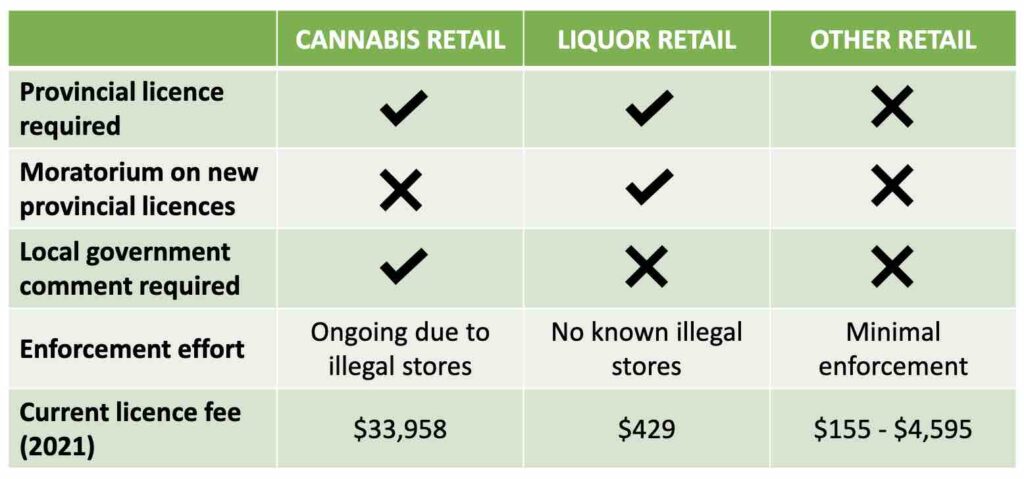 "I'd say that services rendered by the city on the cannabis retail file, ones that have come at this tremendous premium, have probably been the most challenging to navigate in our 22 years of experience," he said.
"It's pretty alarmingly obvious that the cannabis retailers have been paying more than their fair share of licensing revenues."
Jaclynn Pehota, the Executive Director at the Association of Canadian Cannabis Retailers (ACCRES),and Ehren Richardson, one of the owners of Sunrise Cannabis on Kingsway both spoke in support of the staff report while also sharing some of Stoker's concerns about costs that remain higher than other cities and other sectors, and questioning where the funding goes.
"We would love to see those costs broken down in a clear way," said Pehota.
The fact that no breakdown such as this has been made available or forthcoming is profoundly frustrating to my membership."
---