A Vernon cannabis grower says they have addressed some neighbours' odour concerns with the installation of new air filtration equipment.
Avant Brands, a parent company behind cannabis brands like BLK MKT and Tenzo, tells StratCann that it has faced some odour-related complaints following an increase in production at their facility in 2022.
In response to these community concerns, David Lynn, COO of Avant Brands, says 3PL Ventures Inc. (the company that operates the facility, a subsidiary of GreenTec Holdings Ltd., which in turn is owned by Avant Brands Inc.) purchased 19 additional HVAC air filtration systems and that the company has "been able to satisfactorily address all inquiries from the City of Vernon and Health Canada with respect to odour at the facility."
"Accordingly, we don't believe that there are any ongoing issues with respect to odour," continues Lynn. "We would also highlight that 3PL operates in an industrial area on the outskirts of Vernon; thus, it is mostly surrounded by commercial and industrial operations—not residences."
In June 2022, a representative with the city of Vernon told media that they had received 23 complaints about "intermittent cannabis odour" from the company's new cannabis production facility since January.
"Bylaw Compliance continues to monitor the situation, and should the filtration system not be effectively upgraded to address cannabis odour concerns, Bylaw Compliance will proceed with progressive enforcement of Zoning Bylaw regulations," reported the oz at the time.
Any licensed facility must satisfy Health Canada's requirements for adequate air filtration systems to prevent any odour. However, complaints of odour at licensed facilities are not uncommon and are often difficult to prove, one way or the other. Other cannabis production facilities in BC have, at times, been the target of similar community complaints, as have locations in other parts of Canada.
Such air filtration systems can be costly for producers, as Lynn explains.
"The exhaust system keeps the facility at a slightly negative air pressure compared to the outside. All air that leaves the facility passes through multiple carbon filtration filter banks. Air is exhausted out of each individual cultivation room through either air return ducts in the lower section of the wall or through a purge exhaust fan. All purged air is filtered through filter banks that hold six charcoal filters per bank."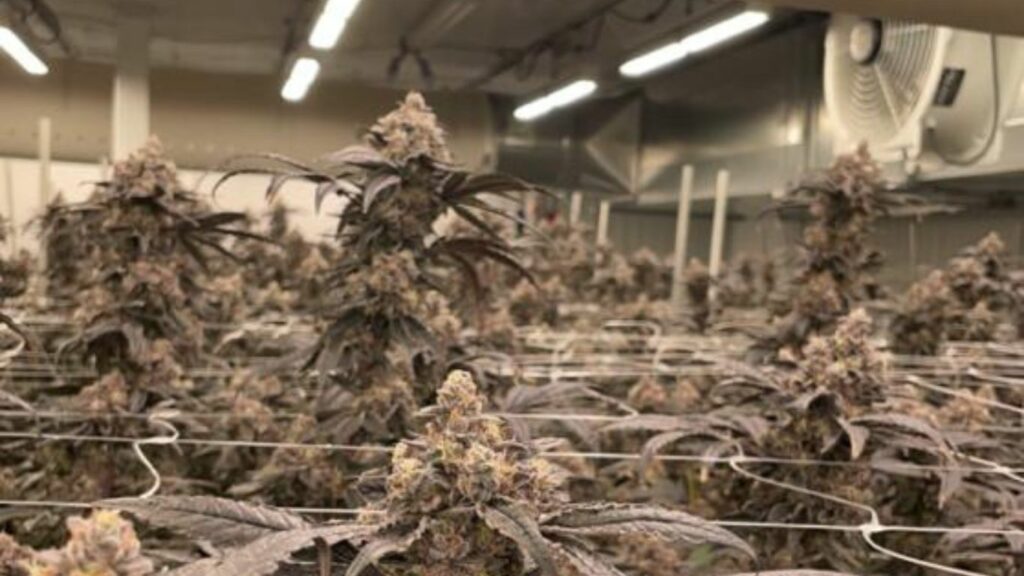 Concerns with cannabis in the air go beyond just odours. In 2021, Metro Vancouver began exploring regulations for even greater control of emissions from cannabis growers and processors, focussing on concerns of volatile organic compounds, or VOCs.
Metro Vancouver's concern is the volatile organic compounds (VOCs) produced by cannabis itself, as well as nitrogen oxides produced from heating and lighting associated with indoor cannabis facilities. Their intention is to create a set of regulations for more than a dozen cannabis production companies operating in the region (cultivation, processing, etc). ​​Volatile organic compounds are emitted from all plants.
Health Canada, which licences such production facilities, says it encourages provinces, territories, and local governments "to use the tools at their disposal to ensure cannabis production meets all requirements," including zoning bylaws, building codes, laws and policies on agricultural and industrial land use, and laws and bylaws about noise, odours and other nuisance related issues.
The federal regulator notes that local governments can also put in place laws and bylaws for cannabis odours and can issue a notice of violation to a legal cannabis production site because it doesn't comply with these laws or bylaws. A guidance document from the regulator also points out that cannabis odours that may be attributed to a cannabis facility could in fact be coming from a different source. It encourages individuals to reach out directly to the business in question to discuss their concerns.
Feature image of 3PL's Vernon Facility. Image courtesy of Avant Brands.