CanMar, a Canadian cannabis recruitment company, recently launched Level Up a comprehensive program that equips budtenders with the essential knowledge, tools, and skills necessary to provide exceptional customer service, product knowledge and tailored recommendations within the retail space.
The Level UP program led by content creator Tabitha Fritz covers a wide range of topics, including cannabis cultivation, product manufacturing, consumption methods, and the intricate relationship between cannabis and the human body. Through engaging and informative modules, budtenders will gain a deep understanding of the subject matter and be equipped to address consumer inquiries with confidence and knowledge.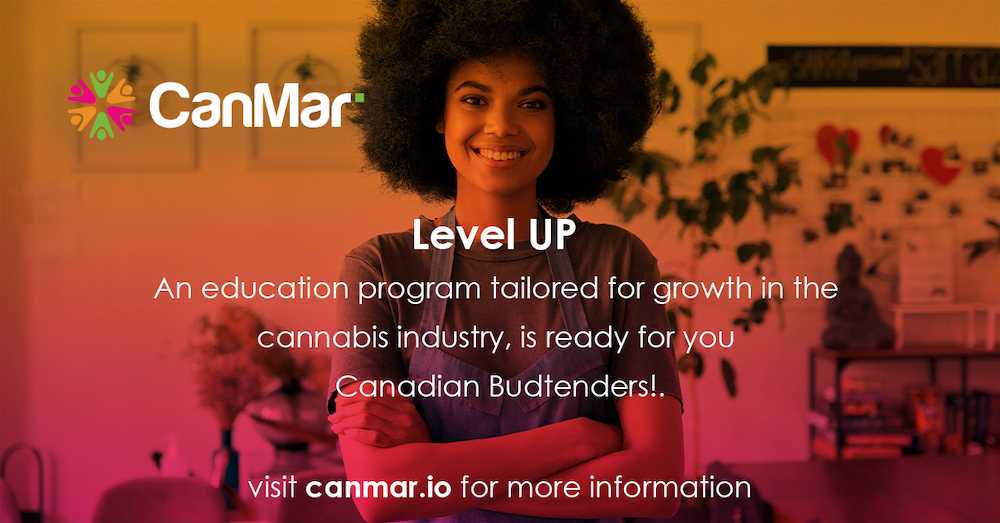 Developed with the unique needs of Canadian budtenders in mind, Level UP offers three crafted courses: Cannabis 201; Cannabis Products, & Cannabis Consumption; and Customer Service and the Customer-Focused Sales Methodology. Each course offers different levels of interaction with cannabis education experts, ensuring a well-rounded learning experience.
While each course is available for individual purchase, Level UP encourages budtenders to take advantage of the full-spectrum solution by enrolling in all three courses together. This comprehensive approach ensures budtenders have the knowledge and expertise to provide compliant recommendations in line with Health Canada regulations. Whether aspiring to enhance personal knowledge, pursuing a career in the retail industry, or preparing for opportunities within the cannabis sector, Level UP's training program, in partnership with CanMar, a renowned leader in the field, offers an opportunity for professional growth.
Since 2017, CanMar has been a driving force in championing the Cannabis, Hemp, and Psychedelics (CHP) space. Today, they offer comprehensive recruitment and education services, supporting businesses in cannabis, psychedelics, hemp, wellness and other regulated sectors across North America.
Navigating the complex landscape of the cannabis and psychedelic industry proves a challenge for many, while professionals struggle to find suitable opportunities.
With a successful track record of placing over 1,500 top-tier professionals in the cannabis and psychedelics space, CanMar continues to expand its qualified database.
CanMar is currently beta-testing a new online community platform called the CanMar Hub. This new platform seeks to address the challenges of censorship and networking within the cannabis and psychedelics industries.
CanMar's platform caters to growing global industries, providing networking opportunities on an age-gated and compliant B2B, B2C and C2C marketplace, a global business directory, industry events, educational opportunities, and more.
Founder KD Khairah says that through his work over the years connecting professionals in the cannabis industry he saw how fragmented the industry was, with very few places to connect, and with companies relying too heavily on platforms like Facebook, Instagram, and Twitter, which can often have heavy-handed and inconsistent policies for products like cannabis.
"I saw that there is no space where the community can engage, especially on a global scale that was free from shadow-banning, diluted messaging, and other unnecessary censorship.​​ Cannabis and psychedelics need to stop relying on other platforms to host us. We need to just create our own." Whether you are editors looking for writers, or content creators looking to build their brand, they can all find a home by downloading the CanMar.io app.
In terms of recruitment, CanMar.io allows users to create a self-serve job board & applicant tracking system to manage their own specific needs. 
Visit CanMar.io for recruitment, advertising opportunities, educational programs, and more. 
Content sponsored by: CanMar.io
---