Dany Lefebvre knows all about patience. He's been waiting nearly a decade to see his vision for a cannabis business unfold. And, he knows it could still be a few more years before everything falls into place.
In the meantime, he's been keeping busy building a consumer skincare brand and taking the time to learn more about hemp production so when the time is right, he can connect them like the entourage effect.
Lefebvre's first entry into the cannabis industry began in early 2013 when he first started looking at acquiring a licence to produce under Canada's newly-announced MMPR (Marhuana for Medical Purposes) regulation, then only in its early stages of discussion.
By 2013 with his partner Marie-Eve, they had decided to apply for such a licence and they moved their young family to a farm in a small village near Drummondville named Saint-Lucien Quebec. They began retrofitting an old on-site garage for an indoor medical cannabis production facility.
In that same year, they submitted an application for Vert Medical. After big media coverage, because they were the first Quebec corporation to go into that new industry, they received the help of Paul Rosen and Lorne Gertner; they invested with Pharmacan (now Cronos Group).
In the long wait for licensing during the Harper Government, Lefebvre then started working ​​as a consultant and project manager for Pharmacan and Abcann Medicinals. This helped him build his Canadian network and a lot of new things. In 2015, he also began learning about the health benefits of hemp seeds and started looking at getting a hemp production licence, in addition to his commercial licence to produce medical cannabis.
Because a hemp production licence at the time only allowed for harvesting of seeds or fibre, Lefebvre says he started looking at how to integrate hemp seeds into a diet and often experimenting with recipes in his own home, sourcing material from others already licensed for hemp production in Canada.
"I started to really believe in hemp seeds. I began in my house, designing and packaging products I was getting from farmers in Saskatchewan and Manitoba and I found they were not only delicious but seemed to have great health benefits for the skin and the brain too. The more I looked at the possibility of hemp, the more I wanted to invest time and energy with this unique, perfectly balanced ingredient."
While he was still waiting for his license for Vert Medical, Lefebvre received his hemp production licence for Groupe Hemp CA, his new hemp company, in 2015. The idea, he says, was to understand this plant and the growth phase like a farmer. In 2016, 11 different hemp cultivars were grown, male and female. With the family house within 50 feet of the field, summer 2016 was a great experience for them seeing the cannabis plants growing and flowering every day.
During that time, the cannabis company Canopy Growth was seeking a footprint in Quebec and Lefebvre met Bruce Linton. After a couple months of negotiation, and just after Tweed acquired Bedrocan and before the Mettrum acquisition, they completed the deal on November 1, 2016. Both Vert Medical and Groupe Hemp were acquired by Canopy.
"The deal with Tweed was insane and it really helped", he explained. "What an awesome moment for us, we'd run out of cash flow at that time and it started to be alarming. The deal was an all-stock deal and happened just before the cannabis stock bubble, so it was a game-changer financially. At that time, I didn't know much about the stock market and pubco but we've started to understand more after our shares were deposited in our new brokerage account!"
"I was hired by Tweed for a one-year contract. During that year with a team in Drummondville, we registered a hemp supplement for animals and brought it to market. As well we've been working transitioning the medical cannabis operation with the Tweed staff from Smith Falls to Saint-Lucien."
After his one-year contract was done with Canopy, he immediately sought a new venture. Instead of starting from scratch, he decided to acquire La Feuille Verte (LFV), a Quebec corporation established in 2004. That small company was focused on natural skincare for 15 years with a consumer brand named CHANV.
Since day one, hemp seed oil has been part of all the formulations as an ingredient. Quickly, Lefebvre built a team of passionate people, now known as the LFV closeguard. They took CHANV, rebranded it, reformulated some products and before the end of 2017, CHANV hit the shelves at a couple of pharmacies and online store www.chanv.co/en.
At the same time, they moved the LFV headquarter from Sherbrooke to Drummondville inside a small and old Irish pub where Dany and his partner Marie-Eve operated for a couple of years prior. At the same time, Lefebvre had the ambition to create a Quebec flagship green corporation and was seeking a facility where he could manufacture consumer goods. They found an old slaughterhouse of 65,000 sq.ft facility situated on 220 acres owned by the municipality of St-Cyrille de Wendover.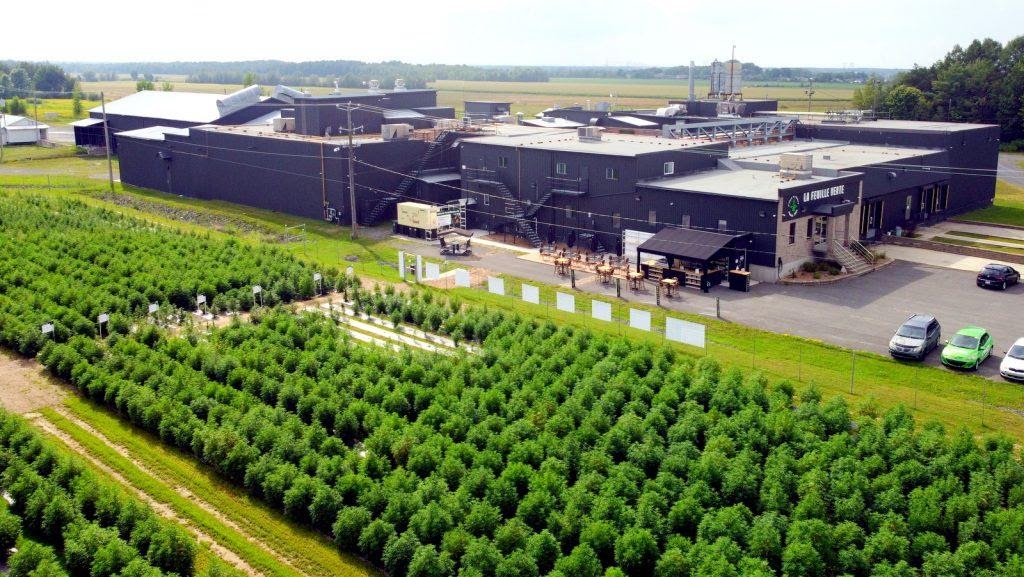 In June 2018, they completed the transaction and acquired the industrial building and the land. During the same time, they've acquired a hemp licence holder company with the goal of growing female hemp at the new LFV headquarter. A big retrofitting operation took place and the office and warehouse moved from the Old Irish Pub to the slaughterhouse just before the legalisation of cannabis in October 2018.
During the construction phase, the LFV team pursued their operation and hit more shelves with their skincare products. Dany and Marie-Eve brought a chairman to the table, M. Claude Lafleur, a well-known business person in Quebec. Lafleur has been the chairman of LFV for over 4 years now and also assists the LFV closeguard.
With a goal to innovate, LFV applied for an R&D cannabis licence and created a partnership with a Quebec University, just after legalisation. Consumer interest in "plant-based" products has been enormous, says Lefebvre. With an R&D licence, LFV was able to begin formulating active skincare products they could eventually sell over the counter.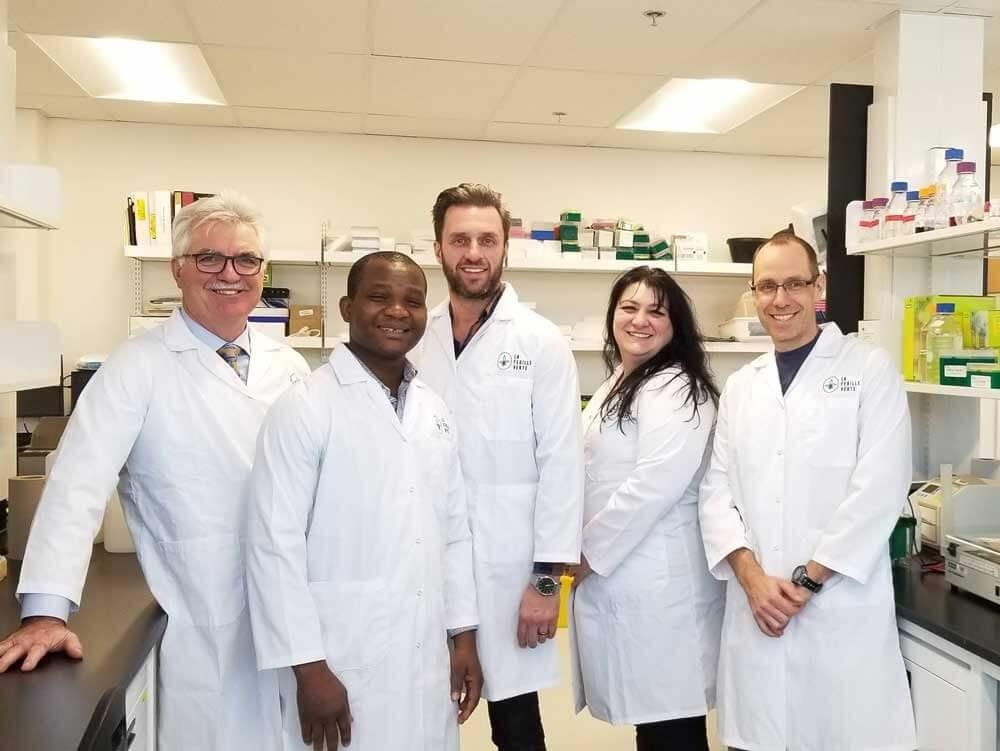 The LFV farm subsidiary has grown female hemp for 3 years now and they harvest cannabinoids in a unique manner with a team of Guatemalans.
"Since then, our farm subsidiary has been playing with cultivars and techniques with a goal of harvesting unique active ingredients. At the same time, our product development team continues to play with formulations and prepare for the rules in Canada – a regulation to allow us to sell our CHANV ''Plant-Based'' skincare products with cannabis active ingredients directly to consumers. We look forward to hitting the shelf with unique and efficient natural skincare products. Our own LFV entourage effect has something special, consumers already love our CHANV brand and with all the innovation and R&D in place now, the future looks green for us."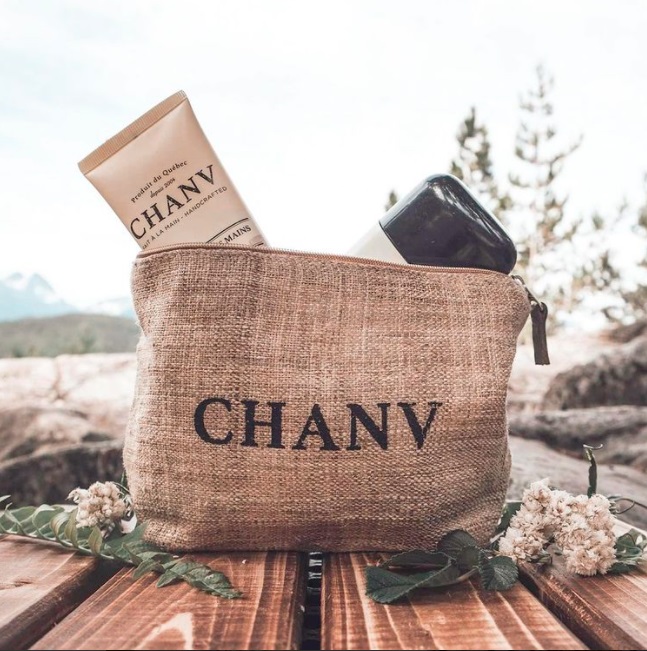 Their strategy is to position themselves for a future regulation in which such products can be sold over the counter to consumers, rather than through the medical system or provincial non-medical cannabis stores. The ideal, he says, is selling cannabinoid-rich products through pharmacies and wellness stores and direct to consumers via the CHANV online store. He explains it is very different to work in an over-regulated industry like cannabis in Canada rather than a less regulated industry like the health and wellness sector.
Health Canada is currently in the process of consultation on the possibility of allowing a potential market for health products containing cannabis that would not require practitioner oversight, although if and when they rule in favour is still unknown, and could even be a few more years before a decision is made.
Lefebvre says he knows the process may still take a few more years. He's spent the last nine years waiting for the law to catch up with his ideas, and waiting a few more is fine. In the meantime, he says, he can continue to experiment with formulations and build a stronger team, as well as stronger partnerships in the supply chain and distribution of the CHANV brand.
During that time, LFV is selling hemp seed products and the farm subsidiary is selling premium CBD and CBG flowers in bulk to Canadian licensed processors. All of this brought revenue and made La Feuille Verte a profitable corporation already.
"Our business model and the synergies of our ecosystem gives us an unfair advantage for the future. I'm happy to learn every day and make sure the team has the resources to reach their goals. As well, we are green at LFV. Climate change is a thing we care about and we make moves and take action to be a carbon-negative and sustainable company. With the LFV closeguard and a team of 35 employees, the evolution of our business model is great. The more we advance the more we learn. The relationships with partners are solid. It's been a long road to get to this point and I'm really excited about what the future can bring."
Canna-Curious can visit the LFV farm during summer and learn more about the potential of cannabis for their skin. All canna-tourists are welcome from July 15 to October 15.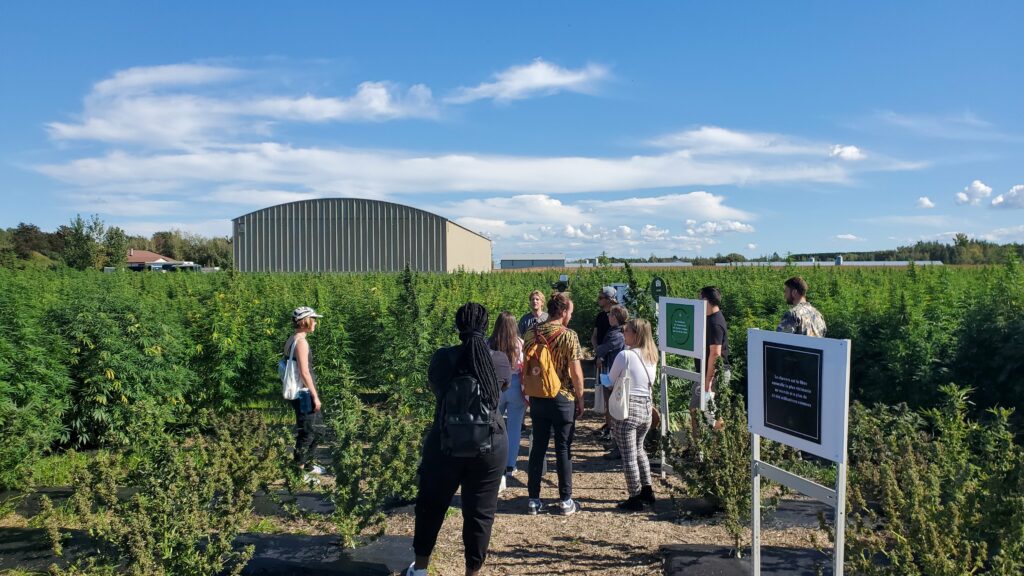 ---
Content Sponsored by: CHANV