Life Cycle Botanics is a cannabis nursery operating on BC's Vancouver Island getting ready to begin supplying new genetics to commercial cultivators, especially those in BC.
Located about twenty minutes north of Nanaimo, Life Cycle Botanics Nursery is run by Kim and Mark Qvist, who also run a small micro cultivation site in Langley, BC in the Lower Mainland, Covert Valley Reserve.
When Covert Valley was licensed in 2020, Mark says they quickly learned that nurseries were a missing element that was needed in the industry, especially for micro cultivators with a limited amount of space to grow in.
"As a micro facility, we have built relationships with purchasers, processors and the provinces," explains Qvist. "As a nursery this allows us to have a better understanding of what our cultivation clients need to get their products to market."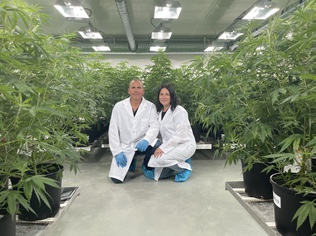 Life Cycle Botanics currently has about 25 different varieties ready for sale in the coming weeks, many of which they have also been able to grow out in their own micro cultivation facility, another advantage, says Qvist.
"We have an in-house research and development program, advanced pest management methods and our own in-house laboratory to test for pathogens," he continues. "We run our strains from plantlet to finished flower (utilizing their micro cultivation licence), which allows us to document all the characteristics of the genetic and its optimal environmental conditions. Our grower's notes come from the experience of growing our own genetics."
The licensing process took them about four months from submission of their evidence package to when the nursery was licensed in October of last year. Qvist attributes the relatively short timeline to their past experience with licensing.
"It was much faster this time around, we had all our security clearances already out of the way and knew what they would be looking for in terms of our facility. So that helped a lot, it was really quite fast."
Qvist says Life Cycle can ship clones to any cultivators anywhere in Canada but is especially looking to develop relationships with growers in BC and Alberta, ensuring any shipments are not at the mercy of Canada's cold winters and hot summers.
"We are happy to work with anyone, obviously, but we're in BC and we're BC growers and, especially because we're located on the island, we think we can work well with other local growers to be their genetic supplier so they can just focus on growing good BC bud."
"We have an extensive genetic bank offering the classic favourites as well as never seen before cultivars. We have a continuous rotation system that will always allow us to maintain a fresh strain list, which in turn helps limit over saturating the market."
"The micro works great for doing R&D on our genetics, too. We have the flower rooms there so all the strains we bring in we can grow them out and get our COAs and helps us get all our data for our genetics."
"By passing along the responsibility of cloning to Life Cycle Botanics, cultivators receive consistent access to unique genetics and healthy clones while allowing them to generate the greatest return per square foot."
Content Sponsored by: Life Cycle Botanics
---