The Lift Expo has been a staple in the Canadian cannabis scene since 2016, bringing different aspects of the industry together for networking, education, and merry-making at their annual Toronto and Vancouver events.
The Expo has undergone several changes over the years, with new ownership and branding and, like all large events, a hiatus during COVID. The event remains the same industry staple, though, with people from across Canada flocking to those two cities to ensure they don't miss out.
The Lift Expo was initially a part of Lift Cannabis (and briefly Lift & Co), an online news and review site for the industry, from 2014 to 2020. The Expo was purchased by a new owner in 2020, MCI Group, an international leader in event management. Following a hiatus due to COVID restrictions, the Lift Expo returned to Toronto in late 2021 and May 2022, followed by Vancouver in January 2023.
The Expo returns to Toronto on June 1-3, 2023, continuing to build momentum on what the MCI Group says has been a steep learning curve to rebuild an audience post-COVID and redesign the event to meet the needs of today's cannabis industry.
Lindsay Roberts, the Senior Vice President of Lift Events & Experiences, sat down with StratCann to discuss how she sees the Expo evolving to continue meeting the needs of the ever-changing cannabis industry.
"We're constantly engaging with the industry here in Canada to ensure we can continue to refine the Lift Expo not just to meet but to exceed people's expectations," says Roberts. The industry is growing through enormous changes, as Lift continues to hold space for the industry with these events."
With members operating in Canada and the US, the Lift Events & Experiences team at MCI produces all aspects of Lift in both countries. Some members have extensive experience in the events industry, while others have a background in the cannabis industry. The team is dedicated year-round to the cannabis industry and producing the Lift events.
Here's our Q&A with Lindsay.
What do you see as the vision for the Lift Expo in Canada and abroad in the coming years?
"Lift is Canada's first and original cannabis event. Our vision is to gather the cannabis community for unmatched networking and business opportunities, provide cutting-edge educational content, embrace the cannabis culture, and have some fun! We want to positively contribute to the forward progression and increase professionalism in our industry."
What gaps in the industry is Lift seeking to fill?
"Our vision is to produce an event encompassing the entire cannabis supply chain. All industry segments are welcome at Lift, and while primarily a B2B event, ultimately everything ties back to the end user – the consumer. We have a diverse attendee base and want the event to be a safe, comfortable, professional, and inclusive space. Our vision is that all major elements are thoughtfully curated to produce a well-rounded experience that seamlessly combines networking, business transactions, educational content, experiences, cannabis culture, parties, and fun."
How are things going? How have the last few Expos been received by the community?
"Our most recent event was Lift Vancouver in January 2023, and it exceeded our expectations. Traditionally an underserved market, Lift 2023 was the first Lift event post-pandemic, and we could not have been happier to see the community embrace, engage and show up with incredible energy, despite a market in a less-than-ideal place. The audience was able to express shared frustrations with their peers while also discussing what it will take to weather the storm and find motivation through collaborating face-to-face as the industry re-convened.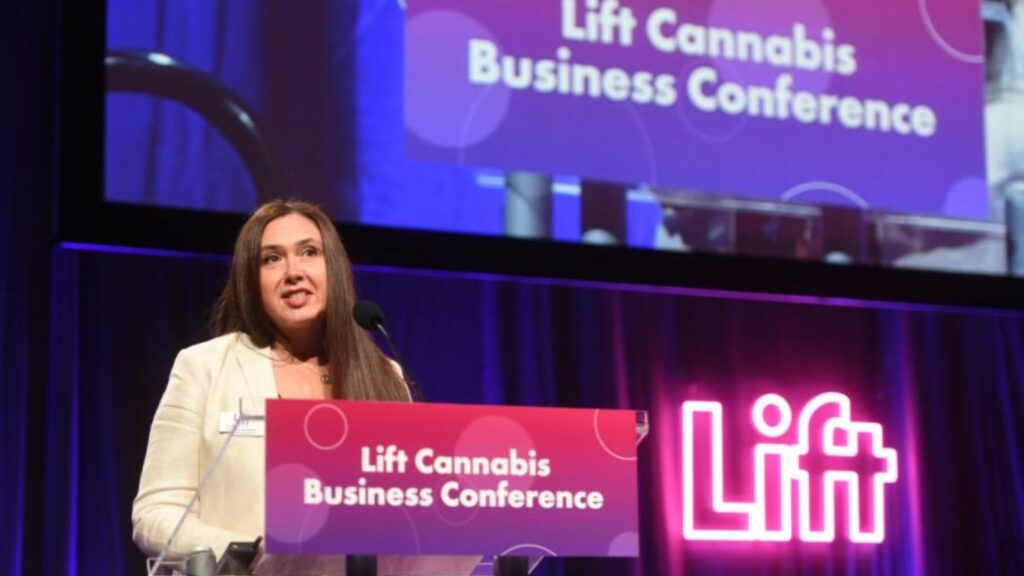 "An industry event is always a reflection of the industry itself. Even if financial investments were less than usual, everyone who showed up saw a clear need and value and had a great time. Vancouver proved that when times are tough, sometimes these events are needed more than ever.
"Toronto is right around the corner, and since 2022, we've made some significant headway in upgrading our content, creating more precise paths for each industry segment, such as budtenders, consumers, retailers, and brands, and ensuring there are plenty of networking opportunities and fun moments to celebrate our industry's accomplishments and resiliency."
What are some challenges of running a large cannabis industry event like the Lift Expo?
"Events always have unique opportunities and challenges, but market conditions and event saturation are by far the biggest uphill battles right now. The industry needs and wants Lift but doesn't have the same financial means to support it as in previous years when the industry was healthier. Lift is professionally produced and encompasses a large educational conference program, expo floor, and networking events. We must be creative to deliver a quality experience while balancing expenses.
"Historically, Lift events performed very well when the market was stronger and healthier. We see light at the end of the tunnel, and that gives us a lot of motivation. We intend to weather the storm just like everyone else in the meantime. Once we push through this season, we believe the industry will rebound and return to a state of growth and profitability."
Lift is expanding into the US this year with a show in San Francisco in August. Can you share how this will differ from what Canadians are used to with a Lift Expo and what this means for the company and brand in terms of international markets?
"We're taking an existing event, the US Cannabis Business Summit, and honouring its legacy while modernizing it to encompass some of the things we love about the Lift events and brand. The events will have a consistent feel and format while catering to each unique region and marketplace. In addition to the Lift Cannabis Business Conference (LCBC), we're adding an Investment Summit and a Cannabis Food & Beverage Conference. We'll also be addressing the global marketplace and trends. We hope to also bring these elements to Canadian events in the future.
"For companies looking to expand their business across the US and Canadian borders, or to gain a better understanding of this emerging global market, Lift is a perfect opportunity."
Anything exciting we can look forward to for Toronto 2023?
"Always! There is nothing better than seeing your industry peers come together over the course of a few days. The event size is intimate enough to feel like a family reunion but large enough that real business will get done.
"The LCBC (Lift Cannabis Business Summit) content is top-notch. We have some new partners representing important segments of the industry, such as the Ontario Cannabis Store, who we are partnering with on grant & scholarship programs. We have the introduction of the Diners' Club, our focus on infused cannabis food & beverage, with industry rockstar Chef Jordan Wagman.
"We're excited to continue supporting the unsung heroes of the cannabis community through our expanded budtender program. Then we'll end the event with the Lift after-party, where everyone gets to kick back, relax, and celebrate our community and another year of Lift. It's going to be an epic week!"
Content sponsored by: Lift Expo
---