Located in Niverville, MB, about 20 km south of Winnipeg, Rogue Processing offers state-of-the-art co-packing services to Canadian cannabis companies looking for a client-focused, eco-friendly, cost-effective, and tech-savvy alternative to current service providers.
Their 1,600 sq ft facility received its processing license this past September and is now ready to offer an array of services to cannabis businesses in Manitoba and across Canada.
From their home base in Niverville, Rogue is offering a diverse set of services targeted at different segments of the industry. Presently, they are perfectly positioned to offer producers, both out-of-province and local, a cost-effective entry into the Manitoba retail market with their centrally located packaging and distribution services. They hope to also service retailers in neighbouring provinces Ontario and Saskatchewan soon.
For out-of-province distributors, they offer in-province storage and distribution solutions. And for processors across the country, their systems offer an excellent option for packaging bulk product to be returned to its home province for wholesale.
"We're really trying to support the growers who are facing challenges as they try to get a foothold in the industry," says Graham Taylor, Rogue's President and CEO. "That's why we've created this friendly, sustainable business model for small growers.
"It's sustainable not only because we're using more environmentally friendly packaging," he adds, it's also a more financially sustainable model where customers" keep more profits in their pocket," allowing them " to stay in business and grow their business. And we hope to grow along with them."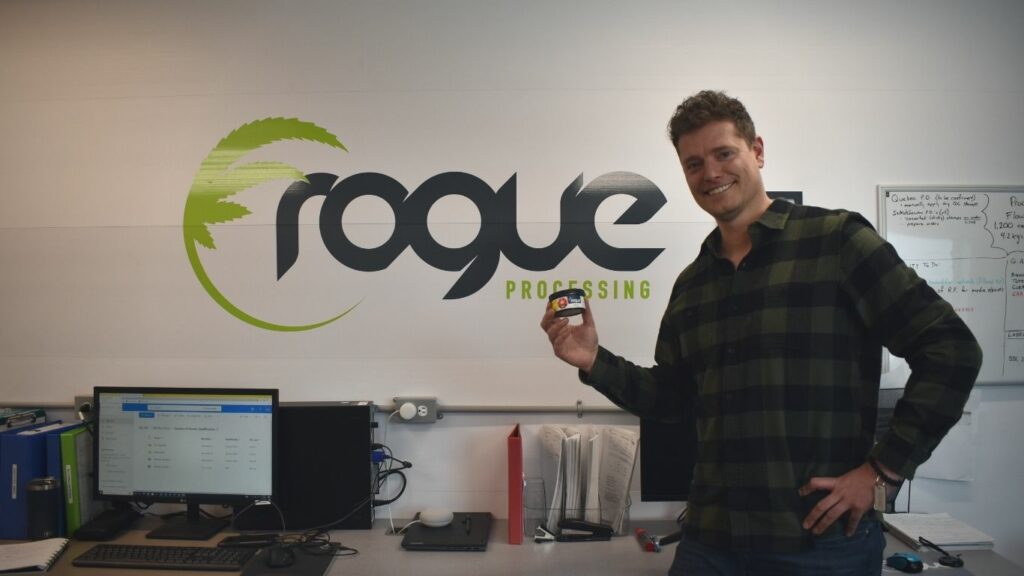 Taylor says that typical co-packers often lock their clients into long-term agreements that can be challenging to navigate and often prove more beneficial to the service provider rather than the customer.
Rogue defies this trend, offering their services for a low-cost, per-unit service fee, allowing producers the freedom and flexibility to control their products without being bound to long-term agreements that might sound better in the beginning but become more burdensome over time.
Rogue uses recyclable peel-top tins packed with nitrogen gas to preserve product quality by both preventing oxygen exposure to the packaged goods and preserving the structural integrity of contents in a rigid, hermetically-sealed container. They are currently packaging flower, pre-rolled cones, and milled cannabis.
Their centrally located facility also provides the opportunity for clients to save big on shipping fees throughout the province.
Ease of use for both producers and retailers is also front-of-mind for the team at Rogue, who has developed a user-friendly but highly functional website to complement their physical operations.
"Rogue's website will communicate all steps of the processing procedure to all appropriate stakeholders," says Taylor. "Growers need only provide the cannabis and the necessary information, and Rogue Processing will then handle all the work."
Retailers will also benefit from Rogue's services, including the enhanced shelf life of nitrogen-packed SKUs, environmentally conscious recyclable packaging, and their online processing system, which offers rapid purchase order filling, shipping notifications, and order tracking.
"Retailers know us and know a lot of the brands we represent, they like our eco-friendly and nitrogen-flushed packaging. So any new brands that work with us can benefit from our developed relationships. And as we get approved to sell into other provinces like Saskatchewan and Ontario, that network only grows."
Sponsored content by: Rogue Processing
---