A researcher at the UBC Biodiversity Research Centre is teaming up with a geneticist at Aurora Cannabis to adapt cannabis for outdoor production.
The work is one of eight new projects that have received a combined $1.84 million in funding from the Genomic Innovation for Regenerative Agriculture, Food and Fisheries (GIRAFF) program—a collaboration between Genome BC and the Investment Agriculture Foundation of BC (IAF) with support from the BC Ministry of Agriculture and Food.
Dr. Marco Todesco from the University of British Columbia and Jose Celedon, director of genetics at Aurora Cannabis, are working to develop cannabis cultivars better suited to Canadian climates and environment to address the carbon footprint of indoor cannabis production. By some estimates, about four percent of the total greenhouse gasses from Canadian agriculture come from cannabis production, primarily indoor production.
The team is working on developing more suitable commercial cultivars for use in outdoor settings by cross-breeding so-called autoflower characteristics into "elite" cannabis genetics.
Dr. Todesco, assistant professor at the Biodiversity Research Centre, University of British Columbia, says the goal is to develop cultivars better suited to not just BC but all of Canada.
"The cannabis industry plays an important role in the BC economy, but unfortunately, cannabis cultivation in indoor facilities also has an enormous carbon footprint," says Todesco. "Our project uses leading-edge genomics technologies to help develop more sustainable cannabis varieties that can be grown outdoor at Canadian latitudes, reducing greenhouse gas emission from cannabis cultivation in BC and beyond."
The program has a budget of $250,000 for its research and began the work in 2022.
Dr. Caledon, the director of breeding and genetics at Aurora Cannabis, applauds the work of UBC in collaboration with the cannabis producer.
"As a global cannabis company enabled by science, we are proud to invest in the continued advancement of cannabis cultivation that will positively impact the longevity of the industry in Canada. Our long-standing relationship with UBC has allowed for valuable, collaborative work in genomics. Our shared findings from the GIRAFF project will be applied to Aurora's leading growing practices today and in the future, supporting a more sustainable industry."
This is not the first cannabis breeding program involving UBC and Aurora, which operates its cannabis breeding facility on Vancouver Island, Aurora Coast, which hosts the Occo research centre. In 2020, more than $4.2 million in federal, provincial, and industry funding was announced to aid with UBC research into enhanced cannabis cultivars, focusing on disease resistance.
The project, Fast-Track Breeding of Powdery Mildew-Resistant Cannabis, involved UBC researchers Dr. Loren Rieseberg and Dr. Todesco in partnership with Aurora Cannabis.
Aurora said they recently filed a provisional patent application on powdery mildew resistance that was discovered through this program and will take legal action to protect their research and development.
"There is a misconception amongst growers and LPs, both domestically and internationally, that you cannot protect or own the genetics around a particular cultivar, " Aurora CEO Miguel Martin said earlier this year. "That's completely untrue. We are licensing unique genetic markers of these cultivars that we develop, and we are able to identify those that are infringing upon that; the law is very clear on this issue. We'll have a very strong case. You'll start to see litigation around that, as well as those that we believe have infringed on some of our bio-synthetic assets, and that's also an additional revenue stream for the company."
The project was part of a larger $56.4 million in funding from the federal and provincial government, as well as private industry and is part of 10 new genomics research projects funded through Genome Canada in conjunction with Genome BC. Genome Canada is a non-profit organization funded by the Government of Canada that seeks to use genomics-based technologies to improve the lives of Canadians. Genome BC is a not-for-profit organization undertaking similar research in BC.
Aurora also says their Coast facility has produced ten new cultivars launched during fiscal 2023, including two high-THC cultivars—Sourdough and Farm Gas— that have also launched in Europe and Australia.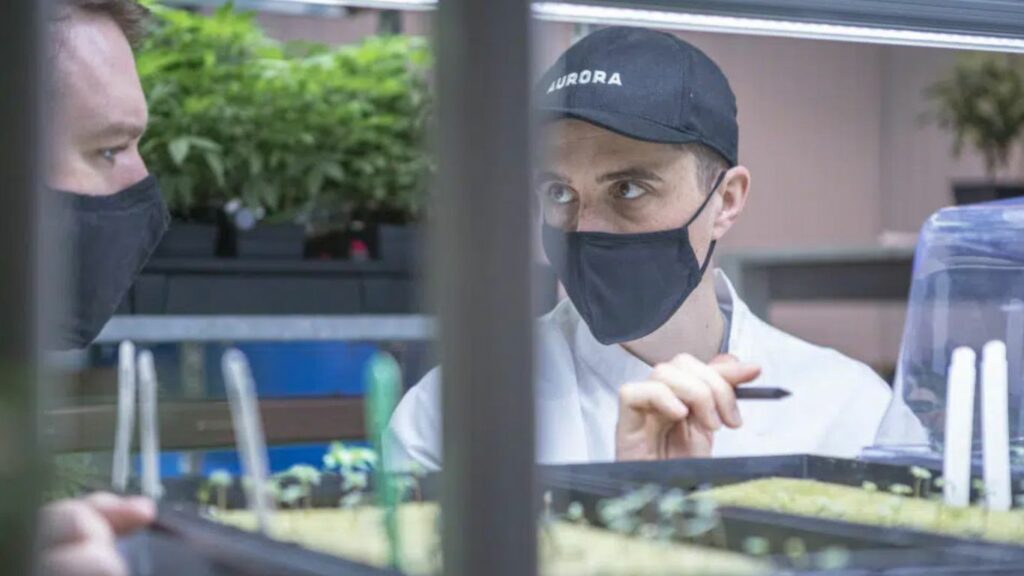 ---