The Ontario Cannabis Store shared a link to a popular subreddit dedicated to reviews of the products for sale in the province, but the forum's users and moderators aren't necessarily happy about it.
The Ontario Cannabis Store added a splash page on Thursday to the front page of their website, linking to a product category page that includes products that have been recently reviewed by the subreddit. The link currently shows more than a dozen different products like dried cannabis, vape pens, chocolate, and at least one extract.
A screenshot of the new page was shared to the /r/theOCS soon after the change to the OCS.ca was made, and quickly attracted well over 100 comments, most quite negative of the move, including one pinned comment from a moderator saying it will only further add to criticism many already have of the forum.
"Well things just got a lot more interesting…." wrote /u/Djentleman420, who describes themselves as the subreddit's "community manager". As if there weren't already enough people that think we work for OCS and restock things lol."
Another moderator of /r/theOCS, /u/banananapixel, said "They have indeed further complicated things" in response to a popular comment on the same thread that said "Yeah, this is the worst. All it does is reinforce the idiots who think posting here will help their stocks and lead to more fake/dishonest reviews or biased up/downvoting."
Accusations of some cannabis companies using the subreddit, and others like it, to promote their products has become quite common. In a now-locked thread also posted on Thursday, one user presented what they say was evidence of one cannabis company—or at least fans of/shareholders in the company—trying to manipulate positive product reviews by encouraging others to "upvote" the posts, giving them more visibility.
Scott Campbell, Director of Communications for Auxly, one of the companies who produces some of the products some redditors associated with questionable product reviews, says they do not use third party agencies nor do they create accounts to post product reviews.
"We aren't responsible for nor do we endorse 'astroturfing' referenced in the OCS thread on reddit," says Campbell.
"We do want to clarify that we greatly value the role of independent cannabis reviewers. These individuals are passionate about cannabis and their reviews provide consumers with a vital source of information, especially important in our regulatory environment. We take pride in our products and get excited when we see reviews about them."
These accusations are not new, nor are they limited to one company. One thread, also on /r/theOCS from two years ago identified several other accounts allegedly connected to another company.
Because reddit is an anonymous forum and anyone can create an account and quickly begin posting to most subreddits. While r/theOCS has a rule to prevent new accounts with less than 25 "karma" (points/upvotes) from posting, such rules are easily addressed. The subreddit also encourages users to report suspicious accounts and posts.
The moderator who identified themselves as the community manager for /r/theOCS said that the amount of accounts their moderator team identifies as being suspicious can change a lot from month to month.
"It is inconsistent and not particularly quantifiable; could be only a couple per month or a dozen," writes /u/Djentleman420. "It varies depending on what products are available or new to OCS. Some may not be entirely fake but very disingenuous for various reasons, and it's not entirely possible to prove; we just use our best judgment and look into users' account age and activity. This may include content giving both positive and negative reviews as well.
"In addition to submissions, we do come across some suspicious comment activity as well from time to time. Some perhaps saying x product is the best on the market and totally 'fire' 🔥, while others may defend a producer on legitimate negative reviews or say awful things on those that are positive. As you can see, there's a lot (of) variety in how people may approach attempted manipulation and a lot of uncertainty is always involved until we see patterns form."
They go on to provide an example from another company who had a PR issue a few years ago, followed by what the moderator says was an influx in positive reviews for that company's products immediately after the issue was reported in local media.
"That was a whole thing much like it is now, and you can surely find all that with a quick search. Of course now with OCS itself directing many eyes here, we will have to pay much closer attention to content on our community and do our best to keep it honest and legitimate for consumers. We don't look forward to it, but we do it because we are passionate about this and do realize that r/TheOCS helps people make more informed decisions and get their questions answered."
"Shill" accusations on reddit are not uncommon, regardless of the product in question. But the motivation to post "fake" or astroturfed product reviews is fairly self evident. Dan Sutton, the Founder and CEO of BC-based greenhouse cannabis grower Tantalus Labs says he's even been approached by people claiming to be able to provide such services.
"I have been personally approached by a PR firm who claimed to have many accounts on reddit that they can use to boost (the) profile of a certain SKU at a certain time," Sutton told StratCann. "This practice is difficult to police or even identify as high karma reddit accounts can be bought and sold for as little as $20."
"If bots and click farms can influence global politics, it would be naive to assume they can't hype up otherwise unremarkable cannabis", he added.
Norton Singhavon, Founder and CEO of GTEC Cannabis, also based in BC, told StratCann last year that forums like reddit are an excellent way to engage with consumers directly as well keep tabs on overall consumer sentiment. He says he doesn't post, but often lurks various cannabis subreddits to pay attention to what consumers have to say about different products and companies.
"Reddit's a bit of an underdog," says Singhavon. "Not necessarily for engaging, but for honest, consumer feedback and information. We comb reddit every day, /r/TheOCS or /r/RecPics, especially. Seeing what they are saying about our product, and what they are saying about our competitors. It's a good intelligence gathering."
Daffyd Roderick, Senior Director of Communications and Social Responsibility at the Ontario Cannabis Store says the decision to include reviews from the subreddit dedicated to the province's retail cannabis selections shows they value an open and engaging public forum.
"The r/theOCS has been an engaged forum for the recreational cannabis community since legalization and OCS has engaged with the group for two AMAs," says Roderick. "The intention behind this collection was to show appreciation and respect for an open forum that goes beyond product reviews.
"As with other consumer goods, unverified product reviews are a hit and miss proposition. When building the collection we weighted reviews from users with strong post histories and looked for consensus. We continue to look at r/theOCS as a credible and engaged forum that supports legal recreational cannabis."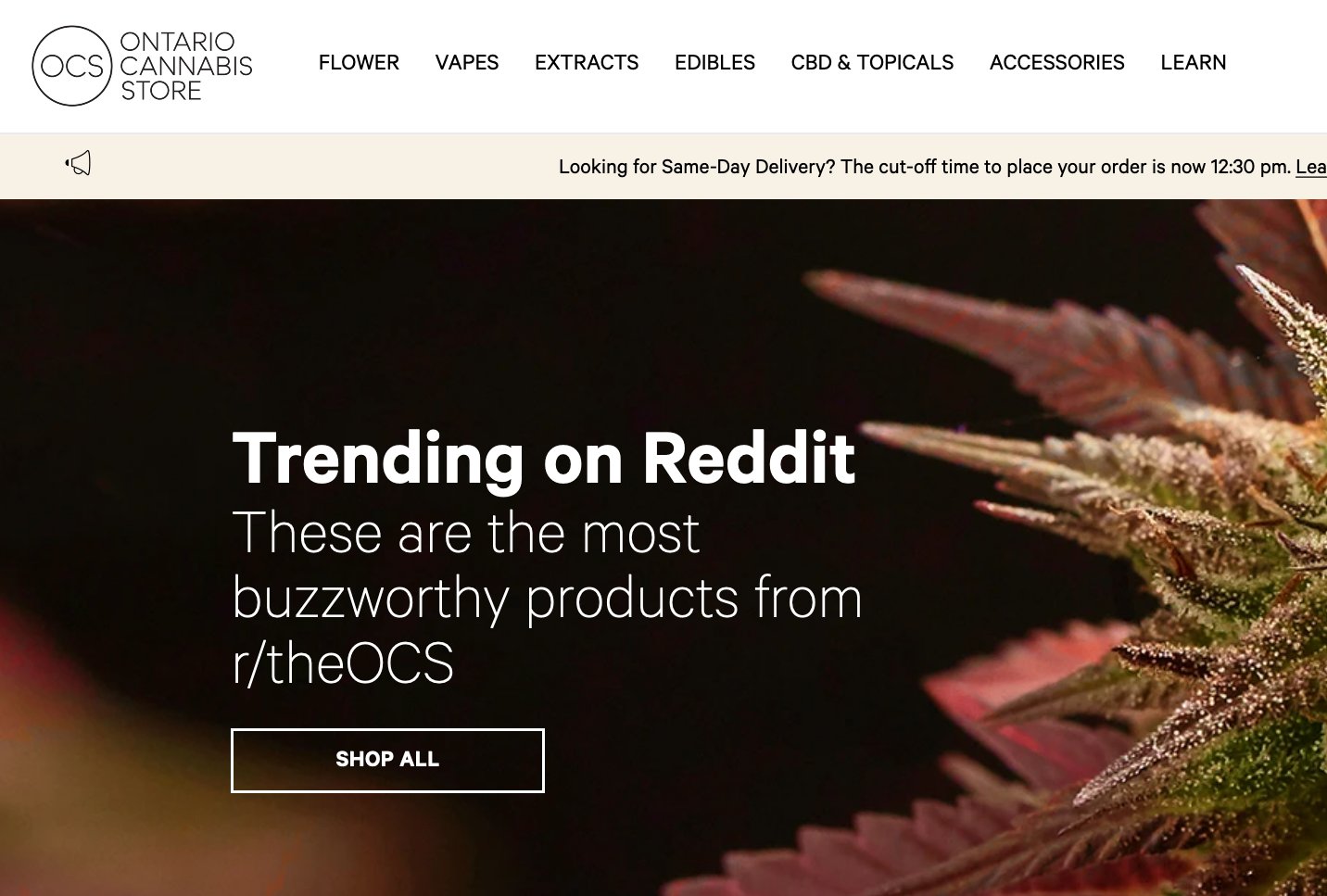 Created October 17, 2018, /r/theOCS is the most popular of the Canadian cannabis review style subreddits, with more than 26,000 subscribers. There are several others of varying activity. The subreddits r/CanadianCannabisLPs almost 15,000 subscribers, r/RECPics has almost 8,000 subscribers, r/AlbertaCannabis has about 200 subscribers, r/SQDC has about 12,000 subscribers, and r/theBCCS has about 900.
Another even more popular subreddit dedicated to discussion of and reviews from Canada's thriving illicit online cannabis markets, r/CanadianMOMs has over 52,000 subscribers. In March of last year reddit added a geo-block to the subreddit to prevent Canadians from accessing it, although most users have found very easy workarounds like a VPN. Another similar subreddit, /r/MOMPics has about 15,000 subscribers. "MOM" stands for Mail Order Marijuana.
One of Canada's oldest cannabis subreddits, r/canadients, has been around for nearly a decade and has more than 33,000 subscribers. 
Editor's Note: A previous version of this article mis-spelled /u/banananapixel's user name as bananapixel. Our deepest apologies to Mr., Mrs., or Ms. pixel.
---