As prices continue to decline and the number of legal cannabis stores increase, Ontario continues to make inroads in capturing sales from the illicit market, according to the newest quarterly report.
Canada's largest province sold 30 million grams worth of cannabis (or its equivalent) in the final three months of last year, worth $251 million. This amounts to 31% of all legal cannabis sales across the country.
Increased sales are attributed to the increasing amount of legal retail stores in the province, with 324 stores operating in 81 communities by the end of last year, as well as an increasing diversity of products (1,362 unique SKUs) that continue to decline in price. Although new products and product categories are increasing, retail store operators reduced the variety of SKUs they ordered from 92 on average in Q2 to 65 in Q3.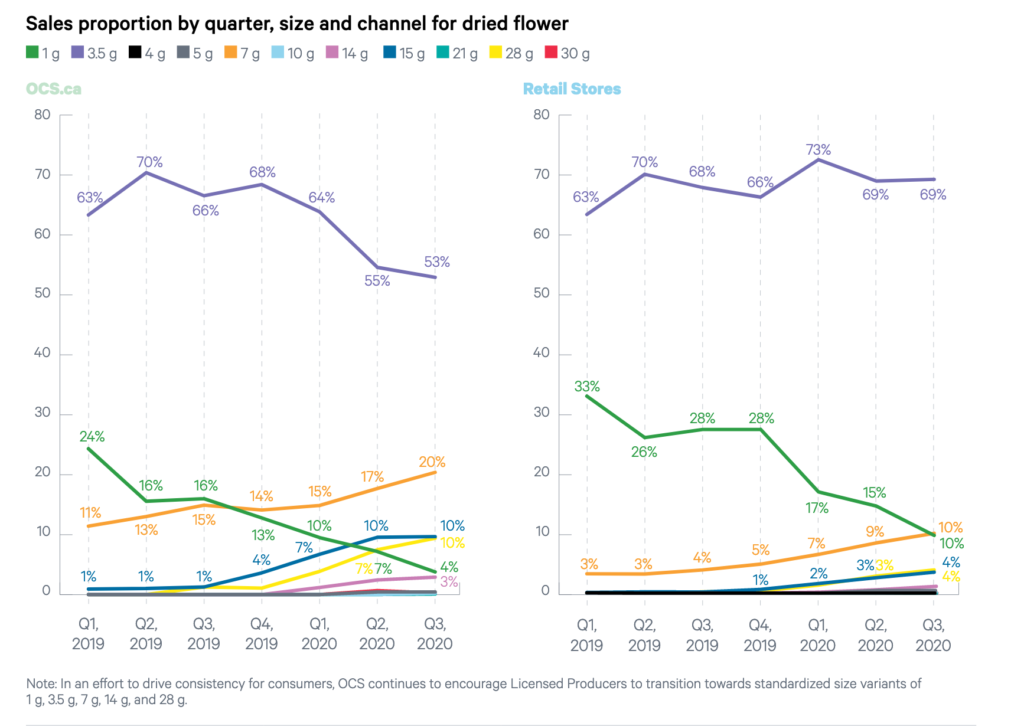 Just last month the province announced they are increasing approval rates for cannabis stores from 20 to 30 a week. As of last month, the province had 430 approved retailers. The province gained 141 stores, doubling the number of new stores from the previous quarter.
Sales per store have declined slightly for the first time since legalization, which the OCS attributes to the increased competition of more stores, especially in areas like Toronto that account for one-third of all stores in the province.
As store approvals increase, the average distance someone in Ontario needs to travel to a legal cannabis store has declined from 18.5km to 9.5km from the previous 3 month reporting period.
The Ontario Cannabis Store's newest quarterly report for October 1 through December 31 shows sales in Canada's largest province with pricing on flower at an average of $6.24/g through the OCS.ca online portal and $9.13/g through retail stores, compared to $7.76/g though illicit online stores.
The vast majority of sales are still made through brick and mortar stores (88%), despite several covid-related closures and restrictions. Online purchases tended to focus on more value-priced products selling between $3 and $6.50/g, and selling about four and a half times faster than those at the high end of the scale (around $20-$24/g such as pre rolls). Conversely, in-store purchases of the same "value products" sold at the same rate as products at the higher end of the price range.
Flower and other inhalable products continue to dominate, accounting for 88% of total sales, with dried flower at 57.4%, vapes at 15.7%, pre-rolls at 12.5% and concentrates at 2.4% of total sales.
Oils and capsules beat out edibles at 5.2% of sales (3.7% for oils and 1.5% for capsules) compared to 4.5% for edibles. Beverages captured just 1.7% of market share followed by topicals at .6% and seeds at .1% of sales.
Online sales of 3.5 and 1/g allotments of dried flower continue to decline while purchases of packages of 7/g or more continue to increase. In-store purchases of 3.5/g packages remain relatively steady while 1/g containers have also declined significantly.
As store approvals continue to increase and prices continue to decline, Ontario expects to continue to capture more of the cannabis market.
---