The Ontario Cannabis Store's most recent quarterly report covering April to June 2021, shows sales numbers in the province continuing to increase along with the number of retail stores.
Ontario had 834 retail stores operating as of the first of June of this year, each selling on average 4,600 grams of product worth $342,000 in sales. The province saw a total of $307 million in sales (41,900,000 grams) through brick-and-mortar and online sales. 
These sales figures accounted for just over 36% of all cannabis sales across Canada. Only 11% of sales made in Ontario were made through the OCS's online sales platform. Canada sold about $1.8 billion worth of cannabis in the first six months of 2021.
The province listed nearly 1,700 unique SKUs as of July 1, with 300 new SKUs listed in the last quarter. One hundred and sixty communities now have access to a private retail store, with the average distance to that store now 5.3km. About half of those who purchase from a brick-and-mortar store also say they use the OCS online platform.
Toronto had the most retail stores with 160 open as of July 1, followed by Hamilton with 38, North York with 34, Scarborough with 30, and Ottawa with 27.
Dried flower continues to dominate sales but fell by 3% to 56% total. Vape pens and pre-rolls increased to 15% of total sales each. Edibles made up just 4% of sales, ingestible oils and capsules made up 4%, concentrates made up 3%, beverages 2%, and topicals 1%. Cannabis seeds made up less than 1% of sales.
The majority of sales of dried flower continued to be in the 20%+ THC category. The 3.5 gram offerings continue to dominate sales for dried flower at about 58% of total dried flower sales. Seven and ten gram categories have decreased slightly from the previous quarter, while 21, 28, and 30 gram offerings increased slightly.
Sales of disposable vapes continue to decline while sales of 510 vape carts has increased to 80% of all vape sales online and 90% in brick-and-mortar stores.
In the edibles category, "soft chews" like gummies made up the bulk of sales at around 55%, while chocolate's market share continued to decline at around 20%. Baked goods and hard candies both hover under 5% of the total of edibles sales.
Pure Sunfarms, Redecan, and SHRED continue to dominate sales, along with Good Supply and Wana and, to a lesser degree, Bhang.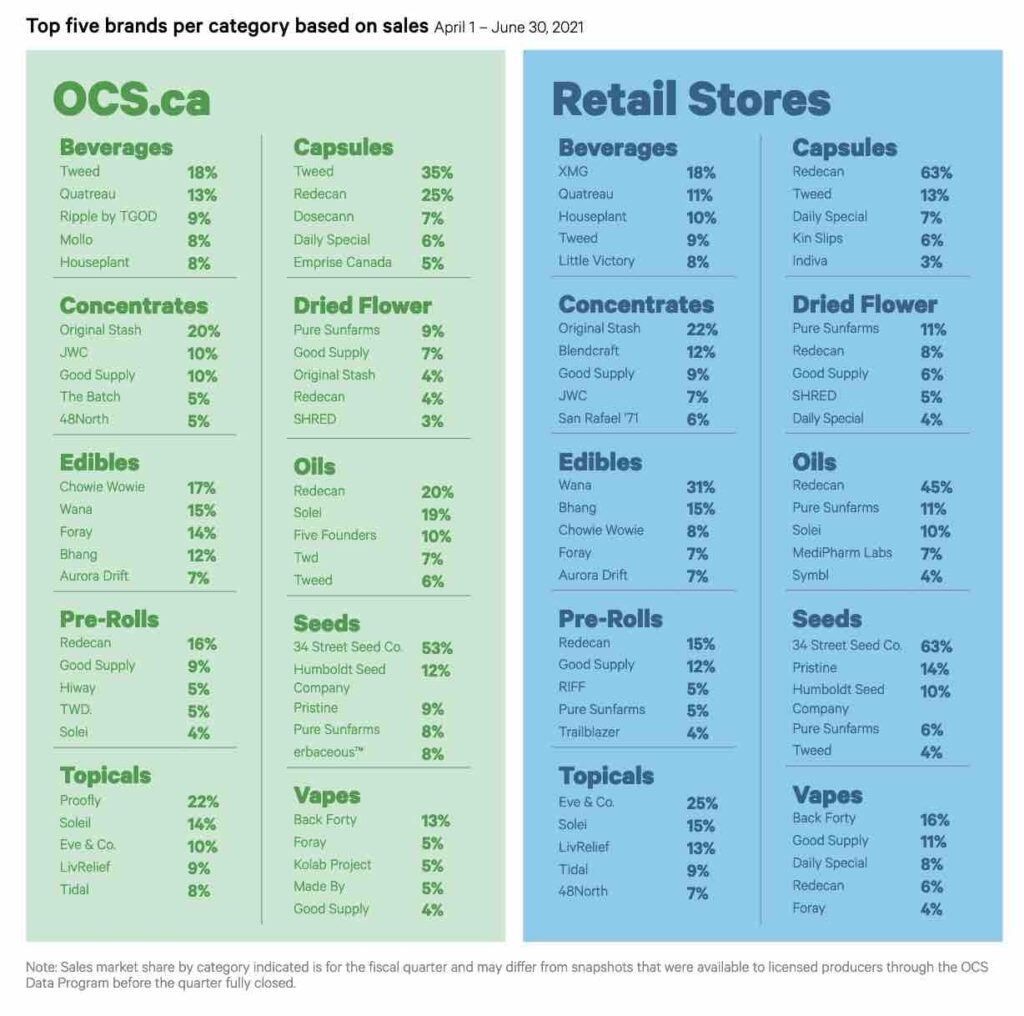 The average price of cannabis in the OCS has continued to decline, to now around $6 a gram. All other product category's prices have also fallen since the previous quarter except chocolates, oils, hash, and wax which all increased slightly.
Out of the province's 834 stores that were open as of July 1, Tokyo MSoke and Spiritleaf each had 33 locations. Sessions had 30, Fire & Flower 29, Shiny Bud 25, One Plant and High Tide had 19, High North had 14, Dutch Love 13, and Miss Jones 9.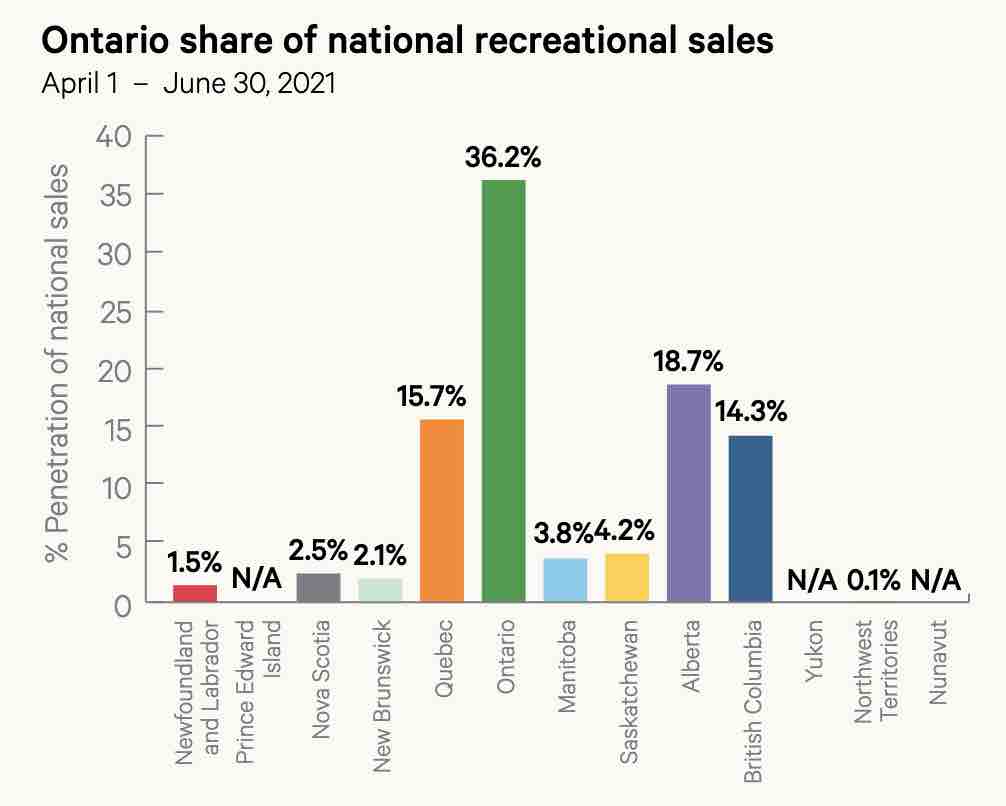 For consumers, quality and potency continue to be more important than price, while taste/smell and brand were about half as important in a purchasing decision.
A total of 4,734 units were recalled during this period which impacted less than 1 in 1000 units distributed by the OCS. Label and packaging issues were the number one issues for the recalls. The OCS received 3,323 complaints during the quarter, up from 2,209 in the previous quarter, with the majority of these complaints relating to vapes.
---