BC has released a new study detailing the results of contaminant testing on dried cannabis and cannabis vapes seized from illicit retailers. 
The report assesses illicit cannabis products seized in January and April of 2020 from several illicit storefronts located in the Lower Mainland and on Vancouver Island.
Testing for this project was conducted through a provincial−federal partnership between the Province of British Columbia's Cannabis Secretariat and Community Safety Unit (CSU) along with Health Canada and the National Research Council of Canada (NRC).
Ontario and New Brunswick have also released similar reports.
BC released a similar report last year looking at 20 dried cannabis samples that were seized from six illicit stores across Metro Vancouver by BC's Community Safety Unit (CSU). The CSU is BC's enforcement agency as it relates to illicit cannabis retail.
The samples of the illicit cannabis products were collected by the CSU and transferred to the two federal agencies for testing, specifically, to Health Canada's Drug Analysis Service (DAS) laboratory and the NRC lab.
Two different labs were used for testing. Health Canada's Drug Analysis Service lab was used to test for the presence and quantification of vitamin E acetate in 25 illicit cannabis vape cartridges. The National Research Council Canada lab tested the concentration of THC and pesticides in 25 illicit cannabis vape cartridges and 25 illicit dried cannabis samples.
No examples of vitamin E acetate, which was widely believed to be behind a rash of vape-related hospitalizations and injuries in the US in 2019.
The report notes that the majority of the products tested did not include product information and THC amounts. All dried cannabis and vape cartridge samples were tested for Delta-9-tetrahydrocannabinol (THC) content. Analysis of other cannabinoids, such as cannabidiol (CBD), was not included.
Both the dried cannabis and the vape cartridges were also tested for pesticides.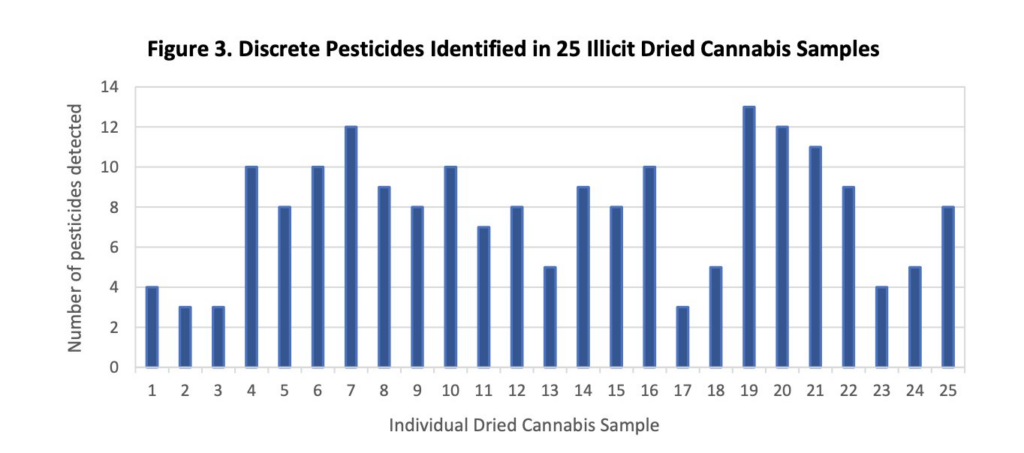 Of the 25 3-gram samples of dried cannabis, results came back showing THC concentrations from 8.1% up to 24.3%. Twenty of the 25 illicit cannabis samples displayed THC concentration below 20%, with an average of 16.2%.
In the 24 sampled vape pens, the average concentration where THC was detected was 34.2%. One vape pen was advertised as only containing CBD. Only seven samples displayed an advertised THC concentration, and of those, the testing results showed actual THC numbers well below the advertised amounts.
In comparison, the report refers to an April 2022 review of close to 100 vape cartridges listed on the BC Cannabis Stores website with an average THC concentration of 75.2%.
Similar to the findings in BC's report from 2021, every illicit dried cannabis sample tested had detectable concentrations of pesticides that are not authorized for use on cannabis. One dried cannabis sample contained 13 unique pesticides, while the average sample contained approximately eight different pesticides.
The most common pesticides detected were Myclobutanil, Paclobutrazol, Piperonyl Butoxide, and Pyrethrins.
Piperonyl butoxide and myclobutanil were identified in 24 of the 25 dried cannabis samples tested. Piperonyl butoxide was present in six samples and myclobutanil was present in five samples at concentrations the report says "strongly" indicates "deliberate application".
Every illicit vape cartridge tested also contained detectable concentrations of pesticides. Results varied significantly, with two samples containing only two pesticides, while another two samples contained 16 different pesticides. An average of nine different pesticides were found in each sample.
The most common pesticides detected in the vape cartridges were Fluopyram, Metalaxyl, Myclobutanil, Paclobutrazol, and Piperonyl Butoxide.
---