The OPP have shared testing results from vape products and dried flower seized from the illicit market, showing high levels of pesticides and much lower than advertised THC levels.
The testing results were provided by the National Research Council of Canada (NRC), using samples from OPP raids in 2020. In addition to testing for THC, the NRC tested for 96 pesticides in samples of vape products, with high levels detected in all samples with myclobutanil being the most prominent, ranging from 0.3 parts-per-million (ppm) to over 500 ppm. That is several thousand times higher than the detection limits set by Health Canada.
Myclobutanil—often marketed as Nova 40, or Eagle 20—is a very common pesticide used on cannabis in the illicit market. Although safe in low levels for some food production, it has many negative health effects associated with its heating and inhalation. A few Health Canada licensed commercial growers have faced fines, recalls, and penalties for being caught using pesticides like myclobutanil in the past.
OPP first alluded to the testing results earlier this year when they discussed their shift to targeting online retailers and growers/processors who supply them. British Columbia and New Brunswick have released similar results from illicit products seized in those provinces.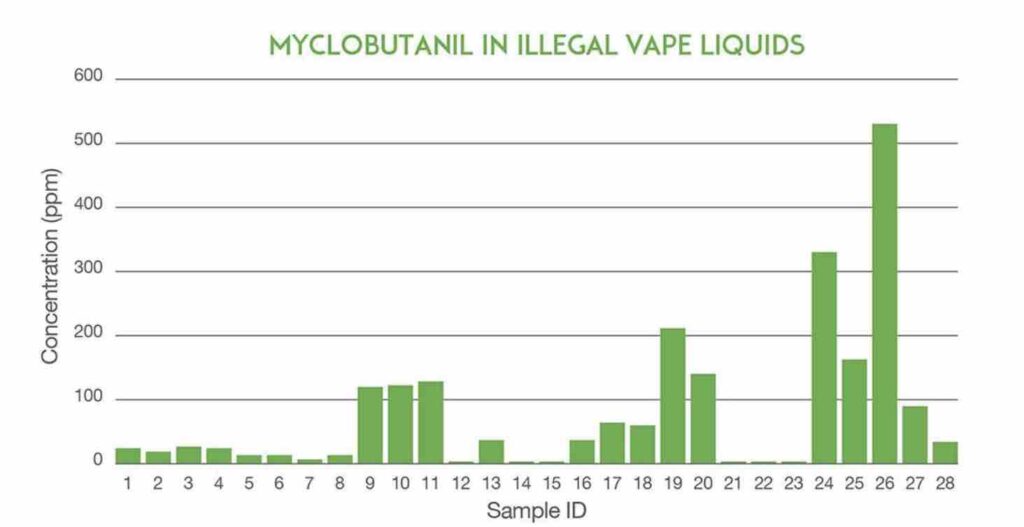 In addition to vape samples, the NRC also tested samples of dried flower seized by the OPP. Again, Myclobutanil and other pesticides were present in all of the samples with concentrations greater than the Health Canada limit. Other pesticides were also detected such as metalaxyl, chlorpyrifos, and pyridaben, in some cases at levels 100 times higher than listed limits. High levels of pesticide residue can present significant health complications for cannabis consumers.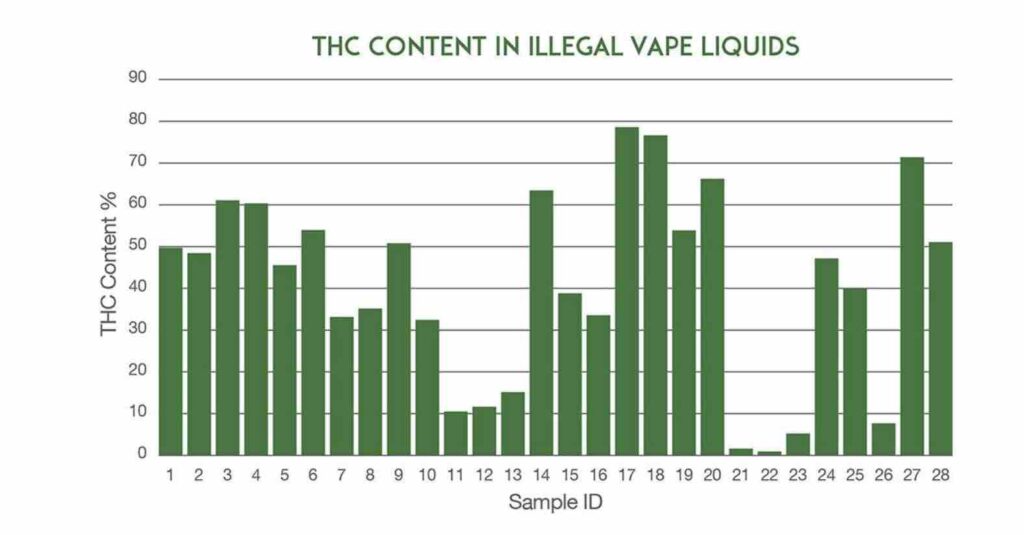 These samples of dried flower came from growers operating under personal or designated medical production licences that, although only for non-commercial use, are often used as cover for large-scale commercial grows. Many municipalities, especially in Ontario, have called on Health Canada to better regulate these types of personal grows to ensure they are not used for diversion into the black market.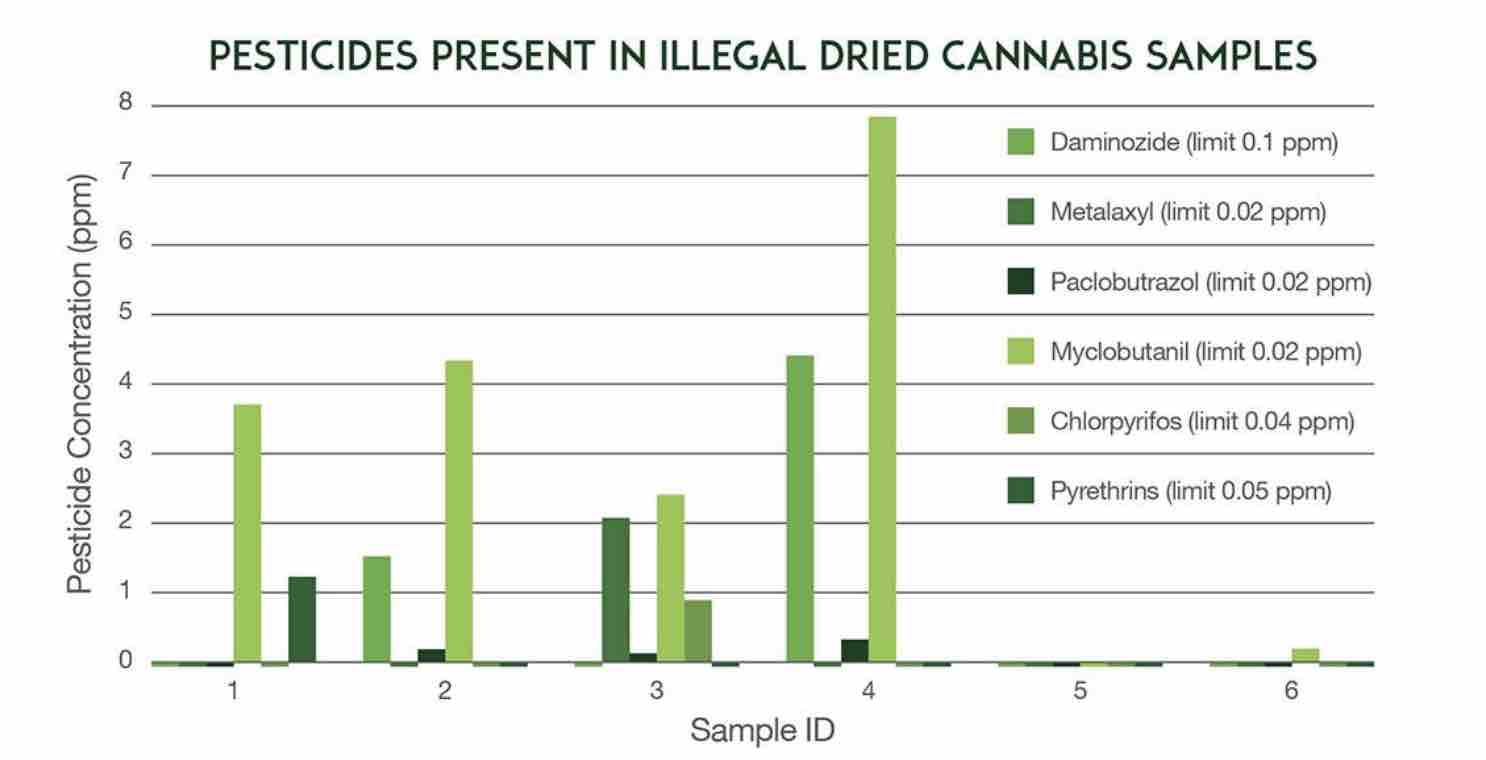 In addition to health concerns for those consuming these products, there are also environmental hazards associated with large-scale use of these kinds of pesticides. During one inspection of an OPP-led Provincial Joint Forces Cannabis Enforcement Team's (PJFCET) raid in November 2020, the Ministry of the Environment, Conservation and Parks say they found large open holding tanks filled with liquid fertilizer connected to a stormwater pond that discharged into a municipal drain.
In addition, approximately 75,000 containers of soil were found at the location, and through a small sample collection, the presence of several hazardous pesticides that require special management were identified.
"The OPP remains committed to unmasking the threats inherent with criminal cannabis. We will continue to work with our various partners to expose the health and public safety risks related to the illegal market. The test results are clear evidence that consumers don't know what they're getting when they purchase illegal cannabis products and how important it is to know the facts," says Rachel Huggins, OPP Deputy Director, Executive Lead – Cannabis Legislation.
According to data provided to StratCann from the OPP, they have executed search warrants at 121 cannabis production sites since legalization (38 PJFCET led enforcement and 83 OPP Community Street Crime Unit (CSCU)/PJFCET Assist). The province has seized 384,197 cannabis plants in that time period (176,491 PJFCET led enforcement and 207,706 OPP CSCU/PJFCET Assist enforcement), along with 9,353,693 grams of dried cannabis (5,881,609 PJFCET led enforcement and 3,472,084 OPP CSCU/PJFCET Assist enforcement).
According to the OPP's 2019 annual report, more than $12.8 million in products had been removed from the illegal cannabis market in the first year after legalization, Plus an "additional potential yield value of $3,136,590 for cannabis plants at full maturity. Nearly $2 million of these cannabis products were intercepted via Canada Post. OPP says they are working on their 2020 annual report, but no release date is available.
---