Cannabis NB recently announced it has opened two new stores, adding to its 20 current fill-time locations: one in Saint John and one in Moncton.
The province is also in the process of reviewing applications for ten new private cannabis stores, and at least one new farmgate location is expected to be announced soon.
A new Saint John Cannabis NB location at 20 Plaza Ave opened September 30, and a new location in Moncton at 50 Granite Drive opened Thursday, October 6. Both cities now have three cannabis stores each. 
In 2022, Cannabis NB also began operating several temporary "pop-up" locations and a "streamlined" corporate store in Woodstock. Cannabis NB now has 26 stores in 18 communities.
"We are pleased to be adding these new locations to our network," said Lori Stickles, President & CEO of Cannabis NB. "The new stores will provide our customers in those areas with better access to safe, regulated products, as well as access to our knowledgeable team members to guide them through their purchases."
The government agency notes that the new Saint John and Moncton locations are the final two out of six Cannabis NB stores opened around the province over the summer and fall to "improve customer convenience and access to legal product."
Cannabis farmgate
The province also has three cannabis farmgate locations: Crystal Cure in Shediac Cape, ECO Canadian Organic in Rexton, and Sana'a Craft Cannabis in Miramichi, for a total of 29 different retail options across the province. A fourth farmgate location, Stewart Farms, is also signed into the program, although their store is not yet open.
New Brunswick is the second province in Canada to have created a formal cannabis farmgate program. Ontario has also issued three cannabis farmgate licenses under their own program, and British Columbia is accepting applications for their new farmgate program in November. 
Private retail
New Brunswick is also looking at bringing on ten new private cannabis store locations. The tender process for those new locations closed on October 5. The province is now reviewing those applications. When approved stores will open is not yet determined but will not likely be until 2023. 
The province says private retail is "key" to helping bring cannabis to underserved parts of the province. The ten locations are Blackville, Bouctouche, Caraquet, Chipman, Dalhousie, Grand bay, Hampton, Saint Andrews, Saint-Quentin, and Salisbury.
"The timeline for when the selected private retail stores will open depends on several factors, like the retailer's ability to get their stores ready for opening, including getting all applicable licensing," noted a representative with Cannabis NB. "Cannabis NB and the Government of New Brunswick will also need to complete their review of the space before opening in alignment with regulatory guidelines."
Cannabis sales continue to grow in the province
Cannabis NB saw $83.8 million in sales in the 2021-2022 fiscal year, and a net profit of $16.5 million. The majority of those sales were in-store purchases, with online sales making up only 1% of the total—down from 2% the year prior.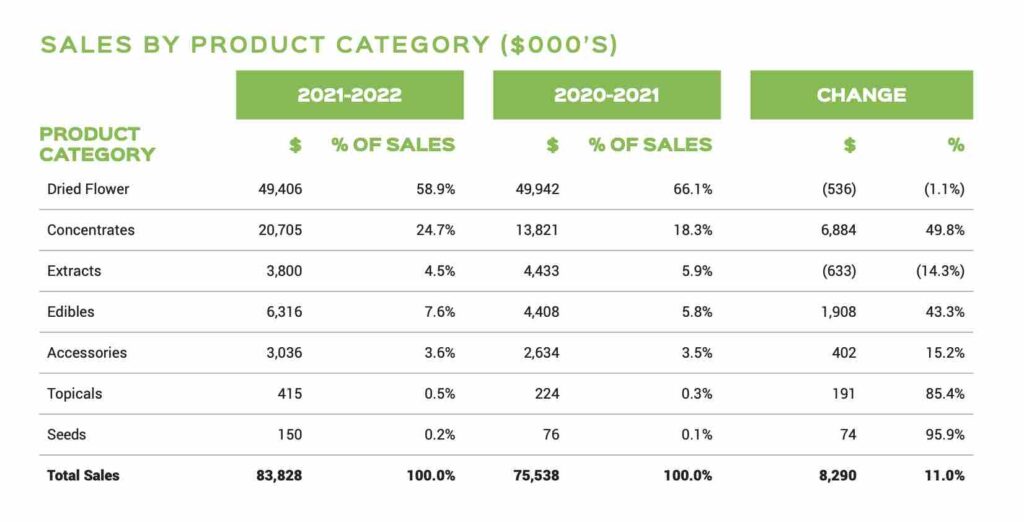 The two busiest stores in the province were in Moncton, bringing in more than $20 million in sales combined. The four next busiest stores combined—Fredericton, Bathurst, and two in Saint John—came in just under that amount. The Richibucto location was the least busy, bringing in around $1.4 million in sales.
Like other provinces, dried flower comprised the majority of sales, around 59%, followed by concentrates (ingestible oils) at 25%, edibles at 7.6%, extracts at 4.5%, and topicals and seeds both under 1%.
Featured image via cannabis-nb.com
---