British Columbia's Liquor and Cannabis Regulation Branch announced today that they will be accepting Producer Retail Store (PRS) licence applications beginning at the end of November.
The PRS licence is what the Liquor and Cannabis Regulation Branch (LCRB) of BC calls their cannabis farmgate program. The program will allow micro cultivators, standard cultivators, and nurseries to sell their own products at their own production facilities or sites.
BC says the farmgate licence is intended to support cannabis growers in the province to become "part of developing a robust, diverse and sustainable legal cannabis economy" in BC that is "inclusive of Indigenous and rural communities."
BC has not provided any information yet on when licences will be awarded and when stores will be able to open under a PRS licence. Some details are available here.
"The fourth anniversary of the legalization of cannabis in B.C. is around the corner, and we continue to look for ways to support growth of the legal market while providing safe and accessible options for British Columbians," said Mike Farnworth, Minister of Public Safety and Solicitor General in a press release. "The PRS licence is another way we are working to support the success of B.C.-based producers."
PRS licensees will be eligible to register for the BC Liquor Distribution Branch's (LDB) PRS direct-delivery program under the PRS direct-delivery category. PRS direct delivery is limited to the sale of cannabis produced by the cultivator/nursery to the PRS. It is separate from the direct delivery program, which has size-specific eligibility requirements and enables the sale of cannabis to any licensed and authorized cannabis retail store in B.C.
A representative for the Ministry of Pubic Safety and Solicitor General says that while LCRB will begin accepting PRS applications on November 30th, 2022, "application processing timelines can vary between applicants due to a few factors, including and local government or Indigenous Nation recommendations."
As of August 2022, B.C. had 212 federally licensed cannabis producers, 74 of which are micro-producers, as well as 34 public cannabis stores and 441 licences issued for private cannabis retail stores.
A Producer Retail Store licence allows federally-licensed cannabis producers in British Columbia to sell cannabis products and accessories at a store located at their cultivation site.
There's a limit of one Producer Retail Store licence per federal cultivator licence you hold.
Micro Cultivators, Standard Cultivators, Nursery sub-classes, and Cultivators that also hold a processing licence may apply. Federal licensees that only hold a cannabis processing licence are not eligible to apply.
A Producer Retail Store must be at the same location or near to, but not overlapping with, the perimeter of the cannabis cultivation site.
Local governments and Indigenous Nations have jurisdiction over distance restrictions of cannabis stores in their communities (i.e., proximity to schools).
The rules for operating a Producer Retail Store licence will be outlined in a digital handbook for licensees. The handbook will be available online when applications open on November 30, 2022.
The application fee is $7,500. First-year licensing fee is $1,500 while the annual renewal fee is $1,500.
The province has also been asking stakeholders if they would be interested in holding events on the site of their production facility and farmgate licence, as well as allowing on-site consumption and product sampling.
Two First Nations who have signed special Section 119 agreements with BC have opened or plan to open their own farmgate stores soon. Williams Lake First Nation's Sugar Cane Cannabis announced a soft launch of their own farmgate store earlier this year
All Nations Cannabis, another First Nation cannabis producer, recently announced their own retail store opening in October in Shxwhá:y Village, Chilliwack, describing it as the Lower Mainland's first farm-gate store.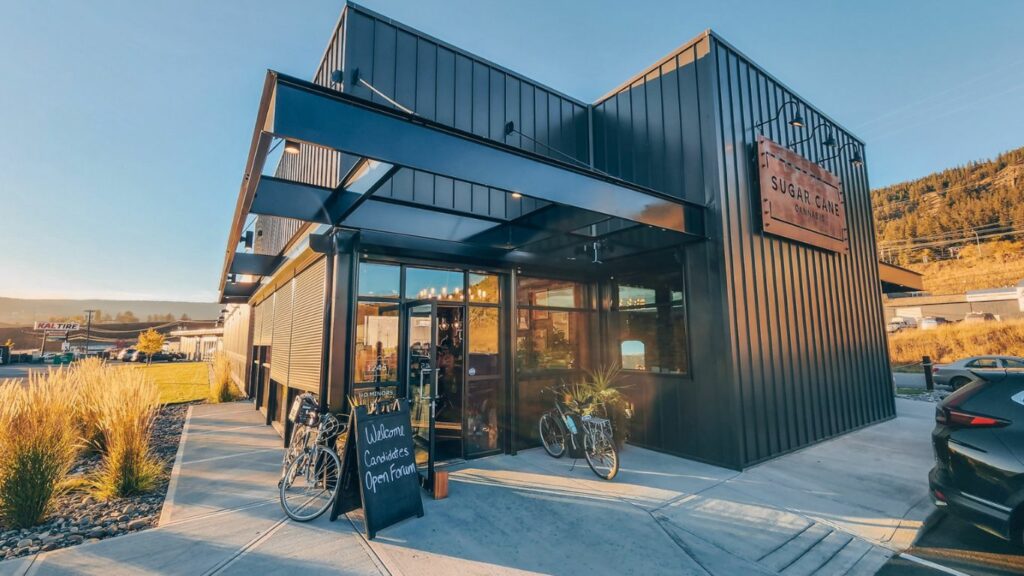 Cannabis farmgate in other provinces
Ontario was the first province to implement a farmgate last year, with several producers currently operating on-site retail locations.
New Brunswick became the second province to announce a cannabis farmgate program in 2021 as well, allowing for "on-site selling of in-house products for local LPs, nurseries, and micros."
Customers can now open cannabis packages inside stores
In addition, effective October 4, the Cannabis Licensing Regulation (CLR) provisions that have been prohibiting retail customers from opening cannabis packages in the retail store have been removed. This change applies to both the Cannabis Retail Store (CRS) and PRS licence types.
The CLR has also been amended to limit cannabis plant sales to four plants per transaction, which is in alignment with current plant possession rules at both the federal and provincial levels.
Cannabis plants can be sold through the Liquor Distribution Branch's (LDB) Direct Delivery program, which launched on August 15, 2022.
Note: This article will be updated as new details emerge.
Featured image of Station House Cannabis's Farmgate location in Ontario
---