A southern Ontario county says they are the first in Canada to take steps to manage personal and designated medical grow licenses through local zoning bylaws.
When cannabis was legalized in late 2018, Norfolk County established a new zoning bylaw to address concerns with setbacks from neighbouring residences and site plan control issues such as parking, lighting and odour emissions.
Under the bylaws, facilities without filtration systems are required to have a 300m set back from neighbouring homes, while those with suitable filtration require 150m set back.
Initially, the County issued warning letters to locations suspected of operating such a non-commercial cannabis operation. These letters were mostly ignored, says the County, which led them to begin issuing fines under their zoning bylaw.
The County says there are over 70 such persona or designated medical production licences in their jurisdiction. In 2019, Norfolk County By-Law has investigated twelve designated grower locations, laying 56 charges against 28 individuals. Due to the closure of many courts due to COVID-19, many of these cases have been delayed.
Earlier in the year, though, the county received their first court conviction on a plea against a designated grower facility seeking a $50,000 fine, but the decision is still pending.
Many municipalities in Canada have long expressed frustration at what they feel is an inability to manage these non-commercial, personal and designated medical cannabis licenses, which often operate in residential zones. Despite not allowing for commercial sales, these licences can allow for very large plant totals based on a doctor's recommendation.
Recently in British Columbia, the Sunshine Coast Regional District tabled a resolution at the annual Union of British Columbia Municipalities calling for more power for municipalities in dealing with personal and designated medical grow licenses in residential communities.
Personal growers under the medical cannabis program in Canada can only grow for themselves, but designated growers can grow for up to four approved patients at once site, meaning some of these operations can have hundreds of even thousands of plants in one location at a time.
Because they are not commercially regulated like federal licensed cannabis growers and processors, there are no federal requirements for things like odour control, although municipalities and counties can establish their own zoning bylaws to address this issue, as is the case in Norfolk County.
The St. Thomas Times-Journal reported that at today's meeting, council was presented with a map of "suspected illegal greenhouse operations"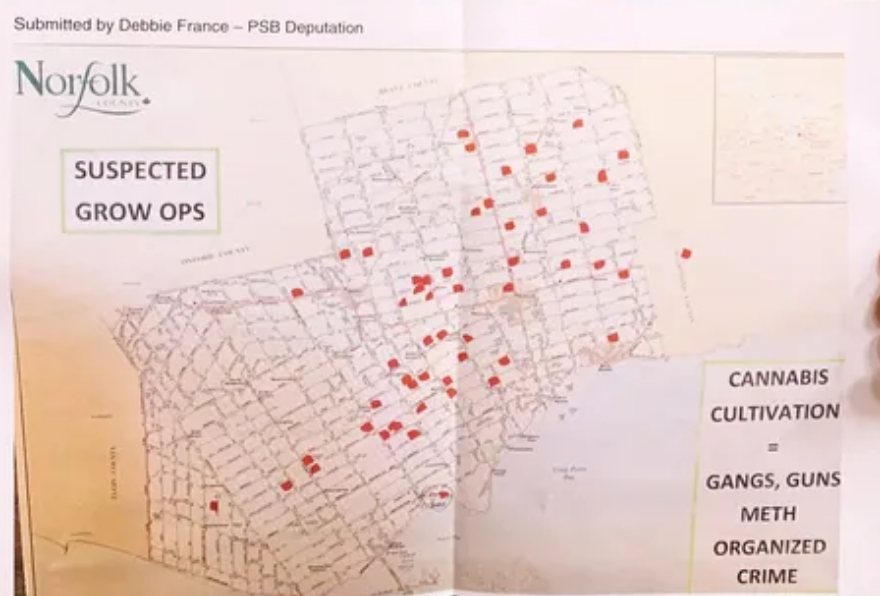 Earlier this year, Diane Finley, the MP from Haldimand-Norfolk raised the issue in the House, saying the current regulations create a " loophole" that large scale growers are taking advantage of. Patty Hadju, the Minister of Health says she will look into the specific complaints.
In August, Ontario Provincial Police say they dismantled a large cannabis grow operation in Norfolk County. Police say this was a large greenhouse in operation abusing Health Canada's designated production licence for medical use.
A local realtor sent out a letter earlier this year to all municipalities in Ontario asking them to look into the issue as well.
Earlier this year, Dr. Mishack Zwane in Saskatchewan was ordered to pay nearly $24,000 after prescribing cannabis to nearly 1,000 patients over six weeks in 2017 while working in Saskatoon. At the time of the offences, Zwane was practicing at Natural Health Services, a downtown Saskatoon clinic specializing in medical cannabis.
The college found Zwane did not follow the Provincial College's rules on prescribing cannabis for medical purposes, and that he billed the provincial health care plan for a full physical checkup for the majority of the 972 patients.
---