One of Canada's oldest retail cannabis chains has recently opened its second location. After more than two years of working through the licensing process, Weeds second cannabis store opened in November in downtown Vancouver. 
While their "soft launch" was on November 13, they are having their formal grand opening on December 10 and inviting the general public to come and check out what they are doing. 
Carol Gwilt and Don Briere operated Weeds Glass and Gifts for more than a decade, opening their first store, Da Kine in Vancouver's Commercial Drive neighbourhood in 2003 and expanding over time to dozens of Weeds locations across Canada. 
They currently operate two licensed retail stores, one in Sechelt and the second at 2580 Kingsway in Vancouver. The Vancouver location is close to their heart as it was the site of one of the first Weeds glass and gifts stores opened many years before legalization.
Gwilt says they had to close all their old stores down in June 2019 as they pursued provincial licences for both their current locations. This meant continuing to pay rent to secure their location as they worked through first zoning bylaws with the city and then later the provincial licensing process.
Although the process of becoming fully legal has been tough, they see themselves as once again blazing a trail for others to follow.
"It's been bittersweet to enter this industry, but it's getting better. You can see it's moving, and we're moving it, however slowly," she says.
"It's coming along and we are having input through different groups of people, but a lot of people who were in the legacy industry are encouraged when they see that we've made it, so they're going to try, too.
While they are also considering another retail location, the next plan is to also get a micro cultivation licence in BC that they hope will be able to fit into the province's farmgate plans in 2022.
"We'd love to have a nice little lounge or retail store, there are so many options," says Briere.
Despite being optimistic about the future, Gwilt says she still sees a lot of problems in the industry that need to be fixed, especially when it comes to product quality and retailers' ability to return product they think is not up to par.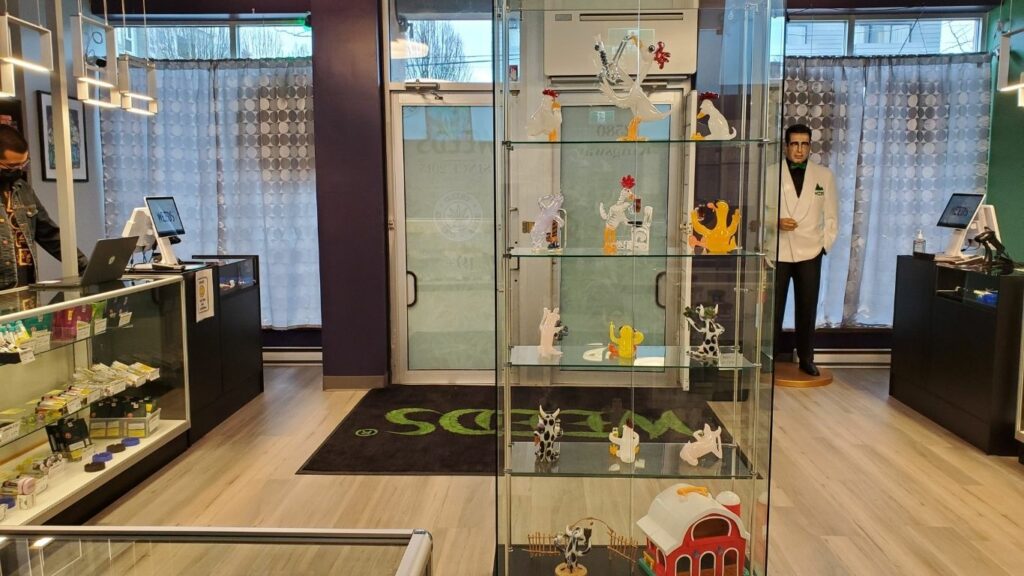 As she did in her stores pre-legalization, Gwilt inspects all the cannabis flower they carry before they sell it, a process that can be costly since she has to purchase a full order sight-unseen and can only inspect it if she then purchases some for herself as a customer.
"Carol scopes everything that comes through the store," explains Briere. "That's the process we've always done. So all the flower we sell, we would happily give to our family."
"My main issue right now is there's a systemic problem with quality in the whole industry and it's being kind of just swept under the carpet," says Gwilt. "Not everybody is talking about this. I feel like kind of an outsider talking about the truth that not everyone is playing by the rules and the LDB is just letting it happen."
"I'm very selective about my menu and there are several companies that I'm just not interested in. I feel like I'm being very selective, but I've run into quality issues over 20 times now in ten months."
Despite finding flower that she says she's not comfortable selling, she says it's been difficult to get either the LDB—the provincial distributor that stores like hers have to buy from—or the producers themselves to always be willing to take the product back.
But despite her complaints with the quality of some product, Gwilt also says there's increasingly some very high-quality flower and other products coming through her store that she's happy to sell.
"There's been some really nice pot out there. One of my old friends, I'm buying his pot, so I'm really excited about that. I have their product on the shelves now, he's one of my old growers, so that's great to see."
Another improvement is that prices are getting better and the variety of products are increasing.
"I'm kind of surprised about the prices, actually," says Gwilt. "I'm selling some weed for $110 an ounce, which is pretty alright for retail."
Another positive change is the number of extracts starting to hit the market, something their customers have been waiting for.
"I'm happy about that," continues Gwilt. "A lot of our customers are very into the extracts and they trust us for what we are able to bring to market. I'm really excited about all the extracts makers that are going to do their best to sell some really nice products. I'm really looking forward to that."
"There is an increase in the terp slushes and the high-end resin and people are really interested in looking at that when they come to a Weeds."
Briere says he would really like to see more one-gram options.
"It's what the market needs and what it wants. If you want to replace the grey market, do things properly. Give people what they want. People can't afford to go out and buy four different types of strains in 3.5 grams or whatever. They need simple packaging and one-gram containers because they want to try a variety."
Despite some of these challenges, Briere is optimistic, especially given how long it's taken to reach this point. 
"There's a lot of people who want to stay involved in this industry," he says. "It's a good industry to be in. This all came out of a dream 20 years ago to have a legal store and sell legal pot. That's always been our dream."
Several other legacy era retailers have entered the legal market in BC. Recently, Village Bloomery, a retailer who has operated in Vancouver for several years prior to legalization, opened their second store at a location in Victoria in October.
---