Candy manufacturer Mars Canada Inc. has won a lawsuit against several illicit online cannabis retailers in Canada who have been selling products using logos and branding associated with Skittles.
The lawsuit, released on Monday, August 15, resulted in a federal judge ruling that three illicit online retailers stop selling and destroy the unlicensed products, and pay more than $45,000 in fines and penalties to Mars Canada Inc.
The companies being sued by Mars were King Tut Cannabis, West Coast Supply, Shrooms Online, Flash Buds, and Sure Buds.
Mars filed the lawsuit to seek declarations that the defendants infringed their registered trademarks, used the trademarks in a manner likely to depreciate goodwill, caused confusion and passed off their goods.
Mars first announced their intentions to target companies using its brands and products in 2021. According to a press release from May 2021, Mars was looking to prevent the illegal misuse of the company's trademarks in the marketing and sale of THC-infused edibles, which closely resemble Mars Wrigley's genuine products such as SKITTLES® and STARBURST®. Mars Wrigley does not manufacture or sell any products containing THC.
Mars used a private investigator to review the websites of those advertising products using the Mars-owned brands, and to purchase the products.
Two of the companies investigated, West Coast Supply and Shrooms Online, said they did not carry the products, although Mars' representative provided screenshots from those websites showing such products advertised.
A third, Sure Buds, listed the products but an order placed by investigators was not processed.
Mars' investigators did buy and receive such products from the fourth, Flash Buds, the court heard.
The Plaintiff, Mars Canada Inc., acknowledged that there was insufficient evidence in the motion record to support default judgment against the fifth business, King Tuts Cannabis. The Plaintiff's motion was dismissed in respect to King Tuts and Sure Buds. King Tuts currently lists cannabis products such as "Zkittles" drink mix on their website.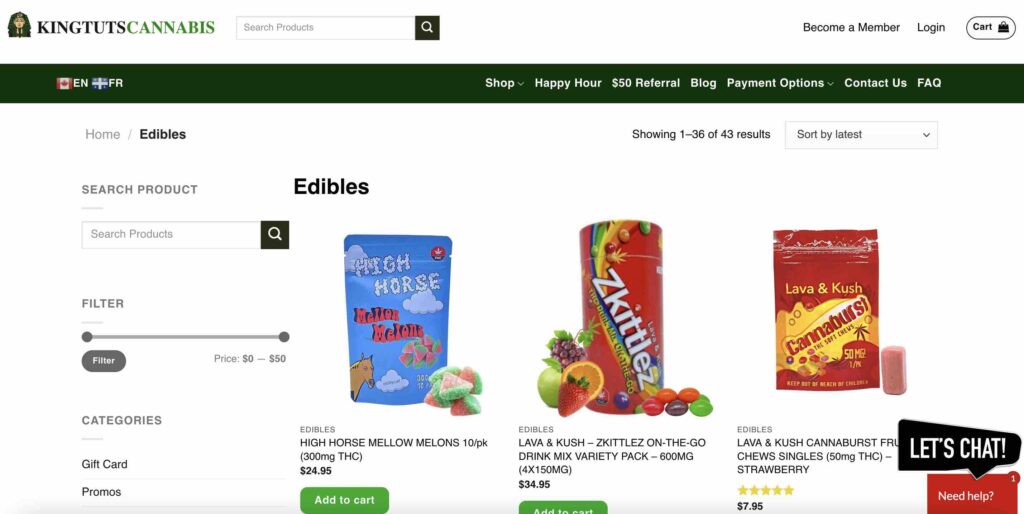 The Motion is granted in respect to West Coast Supply, Shrooms Online and, Flash Buds.
None of the defendants responded to the case.
The court ordered that West Coast Supply, Shrooms Online, and Flash Buds must destroy all product and packaging that infringes on Mars Canada's copyright within ten days. They also have ten days to disclose their source of all infringing products and packaging; and
They also must each pay to Mars Canada $15,000 in damages, $30,000 in punitive damages, and $3,200 in costs on this motion and in the action inclusive of all disbursements.
Such products common are in the black market
Black market brands in Canada and the US have often used packaging and branding that mirrors or closely mimics well-known candy brands, and such packaging is readily available for purchase online for products like Skittles, Airheads, Jolly Ranchers, Nerds, and many other candies. Popular brands of chips like Doritos, Fritos, Cheetos and Ruffles are equally common.
In Canada, the Newfoundland and Labrador Liquor Corporation (NLC) issued a public safety advisory after the NLC's Regulatory Compliance and Enforcement department took custody of many of these types of products in April.
Among the products seized were 50 packages of "Cheetos Puffs", 175 packages of "Medicated Nerds Rope" (Cherry, Grape, Strawberry and Super Potent Formula), 75 packages of "Starburst" candy and 75 packages of "Skittles" candy, 25 "Airheads Extremes" candy, and more
Law enforcement in Canada has also released information on similar products, which can be appealing to children and mistaken with the real, non-cannabis-infused brands.
In February 2021, York Regional Police in Ontario seized illegal cannabis products from a Markham convenience store that was selling them to underage teens. The products included those packaged to resemble popular candies such as Airheads, Nerds, Starburst and more.
Also in February 2021, an Ontario man was charged after a young child ate a cannabis-infused product made to look like Skittles. Health Canada issued a warning last year after several other similar instances of children consuming illegal cannabis candies and edibles.
Ontario Police announced a similar seizure in March 2021 that included Nerds and Hot Cheetos packaging. Earlier the same year police in Montreal said they were concerned with illicit cannabis-infused candy like Skittles they have seized in recent months, according to a report in La Presse. Quebec banned most legal cannabis edibles in 2019 to keep them away from young people.
Such packaging can be easily found online. Producers of these products can buy either the real candies or similar knockoff versions and often spray them with cannabis distillate to give them a high THC potency.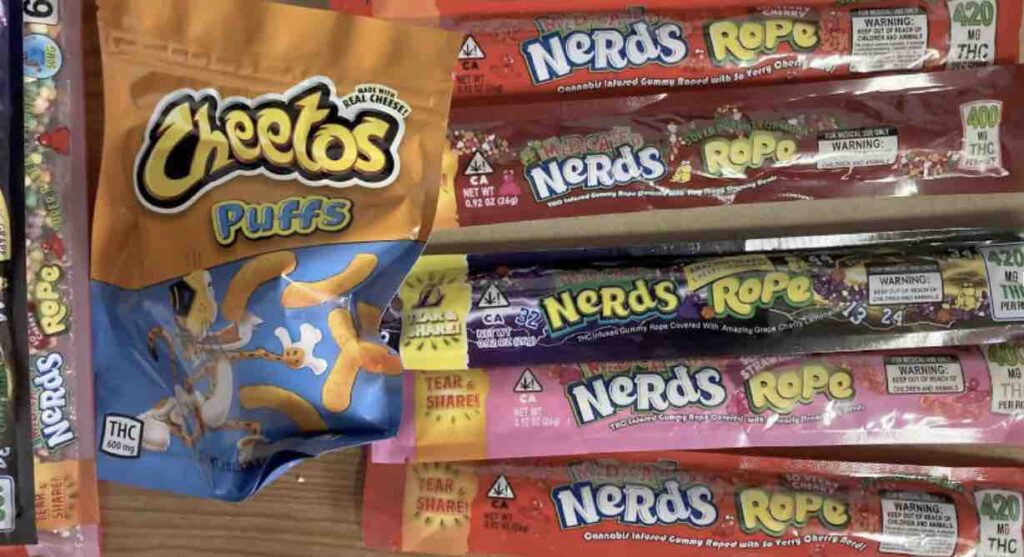 In a press release in 2021, Mars Wrigley said it "strongly condemns the use of popular candy brands in the marketing and sale of THC products, which is grossly deceptive and irresponsible. The use of Mars Wrigley's brands in this manner is unauthorized, inappropriate and must cease, especially to protect children from mistakenly ingesting these unlawful THC products."
In addition to their warnings against these products in the illicit market, Mars Wrigley filed an additional lawsuit in the US in 2021 against a company selling a cannabis cultivar and related products under the name Zkittlez, bearing an extreme likeness to a Mars Wrigley brand. Mars Wrigley says its legal actions in the US and Canada are a testament to its commitment to stop the distribution of these harmful THC products.
In a similar issue, a federal judge ruled in June 2020 that a Vancouver dispensary named Herbs "R" Us Wellness Society will have to pay Toys "R" Us for damaging the ''goodwill'' of the Toys "R" Us name. Another Vancouver dispensary has been operating under the name Budway, with a logo mirroring that of popular sandwich chain Subway.
---