Micro cannabis licences continue to be the most popular licence type according to newly updated numbers from Health Canada.
There were 163 federal cannabis production licence applicants in queue with Health Canada and 906 active licence holders as of September 30, 2022. Ninety-eight of those new applications were micros.
The new figures from Health Canada show how many applicants are in the licensing queue, how many licences are submitted, and the total number of licence holders broken down by licence type as well as which licences are outdoor, and which are affiliated with an Indigenous licence holder.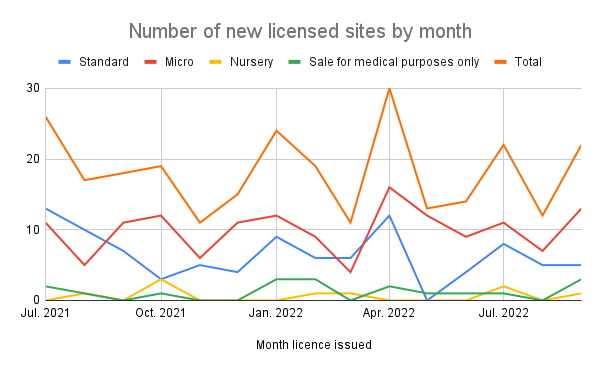 Of the 163 applications in the queue as of the end of September, 98 were micros, 52 were Indigenous applicants and 47 were outdoor cultivation sites. The majority of these applications are for micro licences (cultivation, processing, or both), while 53 were for standard. Another four were nursery applications and eight were applications for a medical sales only licence.
Micro licence types have become increasingly popular and often eclipsed the amount of new standard licences being issued in the past year. Every single province with licences in the queue had more micro applications than standard, and 31 of the micro applications are for outdoor sites. All six of the licences in the queue in Manitoba were for micros.
The majority of applications were in British Columbia (49), Quebec (42), Ontario (36), and Alberta (16). There were no licence applications in the queue in Newfoundland and Labrador, Northwest Territories, Nunavut, PEI, or the Yukon.
The majority of new Indigenous-affiliated federal licence applications was in BC, with 24 in the queue, followed by Ontario with eight, Quebec with six, and Alberta with seven.
These numbers are down from the previous update Health Canada released in October 2022 that showed 205 applications in the queue as of June 30, 2022.
The total number of revoked and expired licences as of September 30, 2022 was 109. Eight of these expired, three were revoked by Health Canada, and 98 were revoked by the licence holder. This is an increase of 16 licences that were revoked, with one new expiration and 15 new revocations at the request of the licence holder.