Micro cannabis licences continue to grow in popularity in Canada, at almost 42 percent of all licences issued as of March 31, 2023. Just over half (51 percent) of licences were standard, three percent were nursery licences, and nearly four percent were medical-sales only licences. 
At the current pace of licensing, the total number of micro licences could surpass standard licences in 2024.
Totals were 151 cannabis production licences in the queue and 913 active production licences in Canada as of March 31, 2023, according to Health Canada's newest figures.
Of those active cannabis production licences, as of March 31 this year, 470 were standard licences, 381 were micros, and 26 were nurseries. Fifty-five of these licences were Indigenous-affiliated (six percent of all licences), and 158 were outdoor growers.
Of those applications seeking a licence, 44 were Indigenous-affiliated and 37 were for outdoor licences. Fifty-six of the applications were for standard production licences, 84 for micros, and two for nurseries. Most applications were in BC, Ontario, and Quebec. Prince Edward Island, Newfoundland and Labrador, Yukon, and Nunavut had no applications in the queue.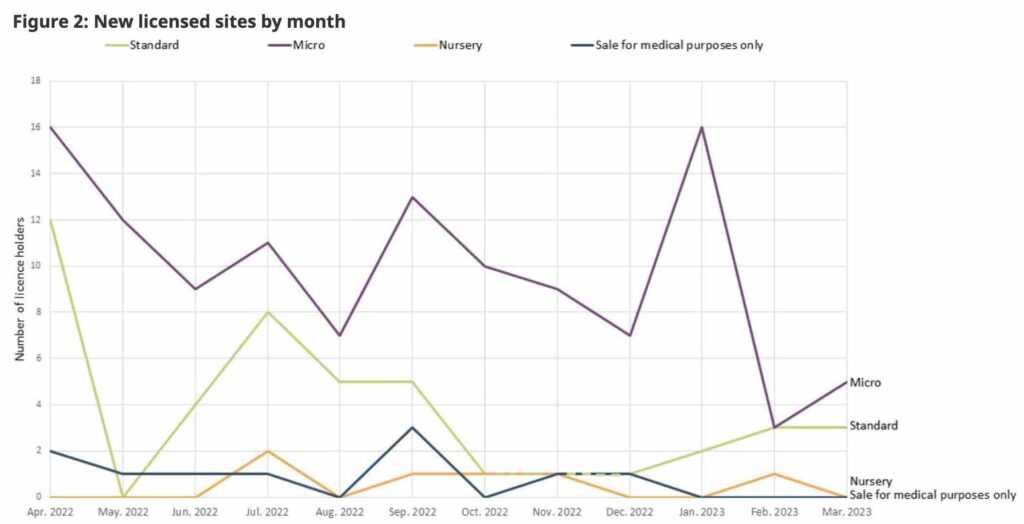 BC is still home to the most micros with 91, followed by Quebec with 87, and Ontario with 76. Micros are the majority of licences in Manitoba, Quebec, Nova Scotia, PEI, and Saskatchewan. Indigenous-affiliated applications—which have access to the Indigenous Navigator program through Health Canada—were also more likely to be for a micro, with 29 out of 55 licences being micros. Thirty-six of these are medical-only sales licences.    
As of June 16, another 36 micro licences and another 13 standard licences were issued, along with one nursery and four medical-only sales licences. A medical-sales only licence allows a business to manage cannabis sales, generally through an online platform, without ever producing or touching cannabis.
This represents a decline in applications in the queue compared to the previous update posted in March, covering up to the end of 2022, when there were 175 applications to grow or process cannabis commercially, the majority of them micros. 
Of those 175 applications by the end of 2022, 65 were for standard licences, 99 were for micros, and four were for cannabis nurseries. Of those, 44 applications were from Indigenous applicants, and 44 were for an outdoor cultivation licence. Similar to the first three months of 2023, Newfoundland and Labrador, Northwest Territories, Nunavut, Prince Edward Island, and Yukon Territory also had no applicants.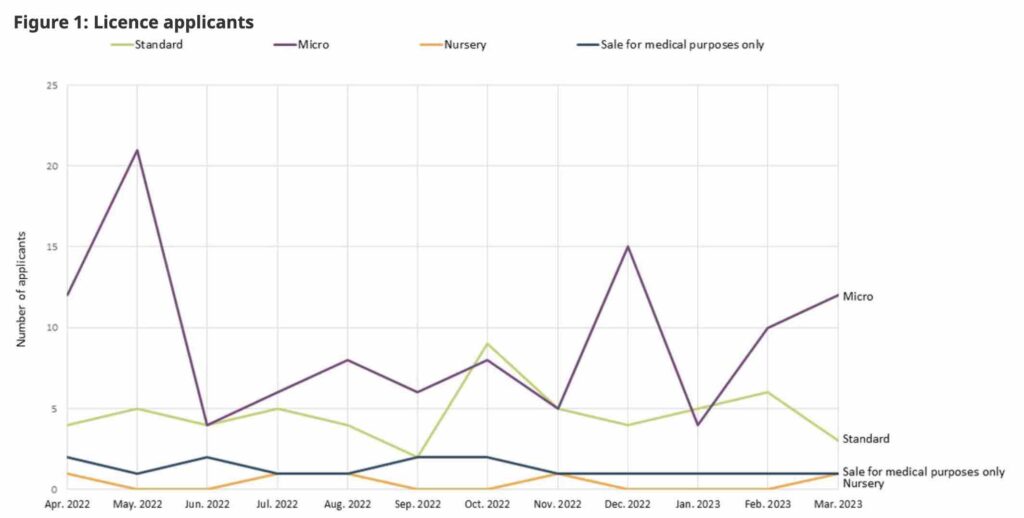 While new applications continue to come in, the number of licences throwing in the towel continues to increase as well. As of March 31, 2023, there were 166 licences either revoked or expired—146 of these were revoked at the request of the licence holder, while three were revoked by Health Canada and 17 expired. Thirty-three of those revocations were in the first three months of 2023.
Between March 31 and June 16, 2023, there were another 24 new licences issued, along with 21 licence revocations, four expiries, and one licence suspension.
---