OCS confirms that confidential store sales data from the provincial cannabis distributor was leaked to the public.
Following reports online from cannabis retailers in Ontario in April, the OCS sent out a letter to retailers and licensed producers confirming that the data leak occurred without the OCS' permission.
Although details of the leak are still unconfirmed, StratCann has discussed the issue with stakeholders in the Ontario market who report the data contained ranked sales info on every cannabis store in the province.
If released, such data could be very valuable both for producers seeking to better understand which stores have the highest sales, as well as any companies seeking to buy out existing retailers.
The OCS has notified the OPP, who is conducting an investigation into the issue.
Daffyd Roderick, Senior Director, Communications and Social Responsibility, provided StratCann with this comment:
"This data was misappropriated, it was not a failure of our IT systems or security. As this is a criminal matter under investigation by the OPP, we cannot comment further."
A representative for the Ontario Provincial Police has confirmed it is conducting an investigation into the issue and will lay criminal charges if warranted.
The letter sent by OCS today to retailers and producers states, in part:
"This data was not disclosed by the OCS, nor have we provided any permission or consent to distribute or use this data outside of our organization. The data was misappropriated, disclosed, and distributed unlawfully. As a result, we trust you will refrain from sharing or using this stolen data in any way.
"Since we became aware of this issue we took immediate steps to address this situation: we restricted access to our internal data reports; commenced a comprehensive investigation to identify the source of this problem; and notified the Ontario Provincial Police. The OPP is conducting its own review and investigation into the misuse of this data within the cannabis industry."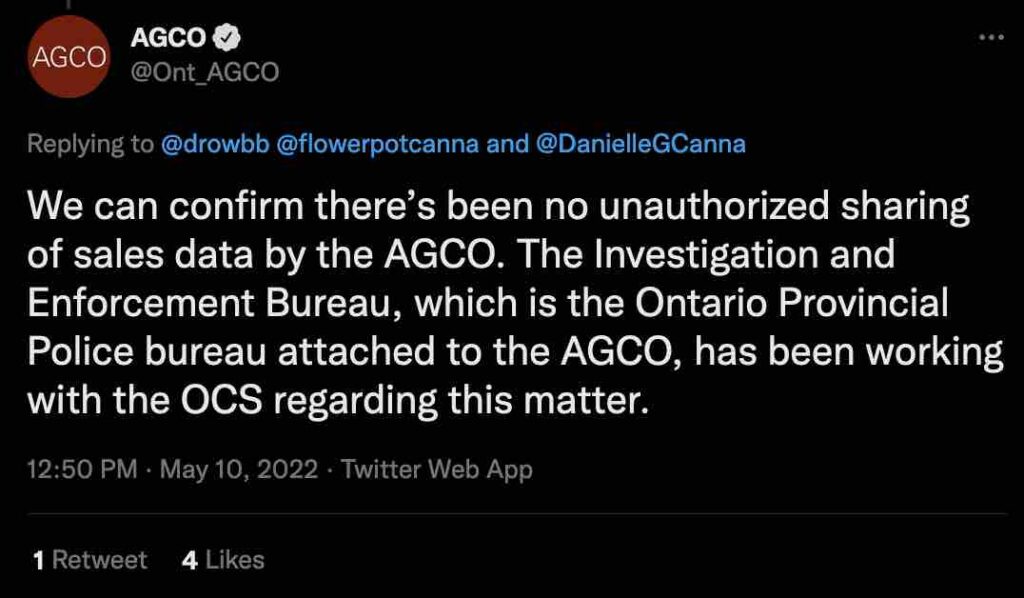 ---