Retail cannabis sales increased again in April for the second month in a row, following a post-holiday lull in January and February.
Ontario and British Columbia, as well as Alberta and Saskatchewan, helped drive retail cannabis sales up by just over one percent in April compared to March.
Retail cannabis sales in Canada increased by just over $5 million in April compared to the previous month, despite month-over-month declines in sales in the six other provinces. Sales in Yukon were flat, and sales figures from the Northwest Territories and Nunavut were unavailable.
Sales in Canada hit their highest level last December, at $425.9 million, before declining in the post-holiday downturn in January and February. Sales increased again in March to $406.4 million and $411.7 million in April.
Sales across Canada continue to increase year-over-year, although increases in 2023 have been less significant than in previous years. This data correlates with a decrease in new retail stores nationwide and, potentially, consumer saturation among those currently using the legal market.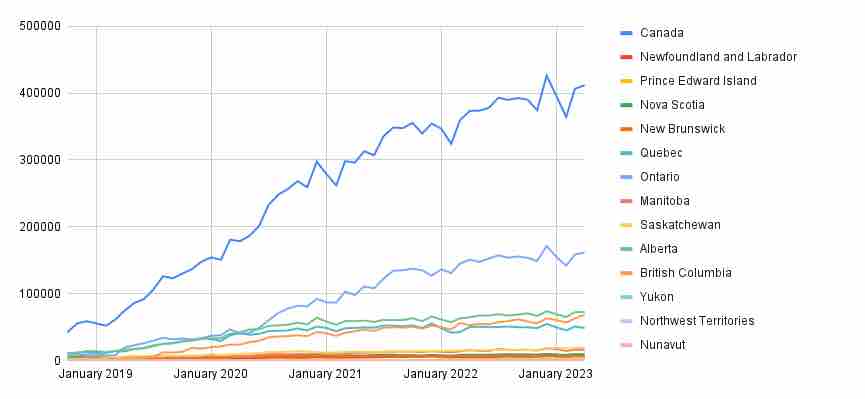 Atlantic Canada saw the most significant decline in April compared to March, with retail cannabis sales in Newfoundland and Nova Scotia declining by nearly four percent, PEI declining by more than two percent, and New Brunswick declining by less than two percent.
Every province and Yukon (NWT and Nunavut figures are not available) showed a year-over-year increase in sales compared to April 2022, except for Quebec, which saw a slight decline.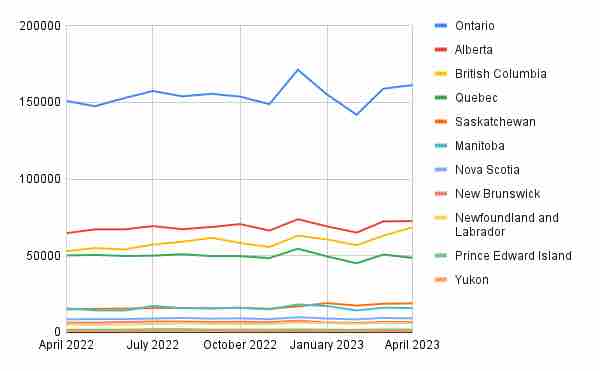 While cannabis retail sales continue to increase on a year-over-year basis, looking at the trend of sales figures from January 2019, the rate at which sales are increasing is declining, if not levelling off at around $420 million a month.
Sales tripled year-over-year from January 2019-January 2020 and nearly doubled the following year. From January 2021-January 2022, sales increased by about 25 percent. In the most recent year, from January 2022-January 2023, sales only increased by about 14 percent.
The number of retailers across Canada has also been levelling off in a similar trend. Quebec only added about ten stores in 2022, and sales in the province were nearly identical in the past two years, according to its most recent annual report.
Ontario saw a significant spike in retailers from 2020-2022 but has been slowing in the last year. The province has been hovering around 1,700 producers for much of the past year. Alberta has also seen significant retail growth in the first few years of legalization and has settled out around 750. While these provinces still see new retail licences issued, these are often accompanied by other retail closures.
BC is the only province to have seen significant retail expansion over the past year, with around 100 public and private stores added from June 2022-June 2023. Saskatchewan added about 40 stores but has not listed its annual sales report for the past fiscal year.
Despite this slowing in sales, the legal cannabis market does continue to capture more of the overall market share from the illicit market. A survey from late 2022 showed that 67 percent of those who consumed cannabis in the previous year "never" obtained their products from illegal sources. This was an increase from 63 percent in 2021 and 55 percent in 2020.
---