Ontario sold more than 63 million grams of legal cannabis in the first three months of 2022, representing over $405 million in sales.
This amount—a 1.6% increase in sales and a 7.2% increase in total grams from the previous quarter—represented 40% of all legal cannabis sold in Canada. Ontario's legal share of the total recreational market in Q4, 2021 was 56.9%, according to data from Statistics Canada.
In Q4 2021 (January-March 2022), 63,700,000 grams of legal cannabis were sold in Ontario, an increase in volume of 7.2% compared to the previous quarter.
Sales continued to increase even as new store openings slowed, with 1,460 authorized cannabis stores operating across the province at the close of the final quarter of the 2021 fiscal year, an increase of 10% from the previous quarter.
While the pace of store openings slowed from previous quarters, 16 new communities in Ontario received a legal cannabis store, for a total of 233 municipalities across the province. The average distance for consumers in Ontario to travel to a retail cannabis store is now 4 km.
Legal cannabis stores in Ontario brought in over $390 million in revenue and sold over 61 million grams of cannabis products in this final quarter. Another $14.6 million in sales occurred through OCS.ca.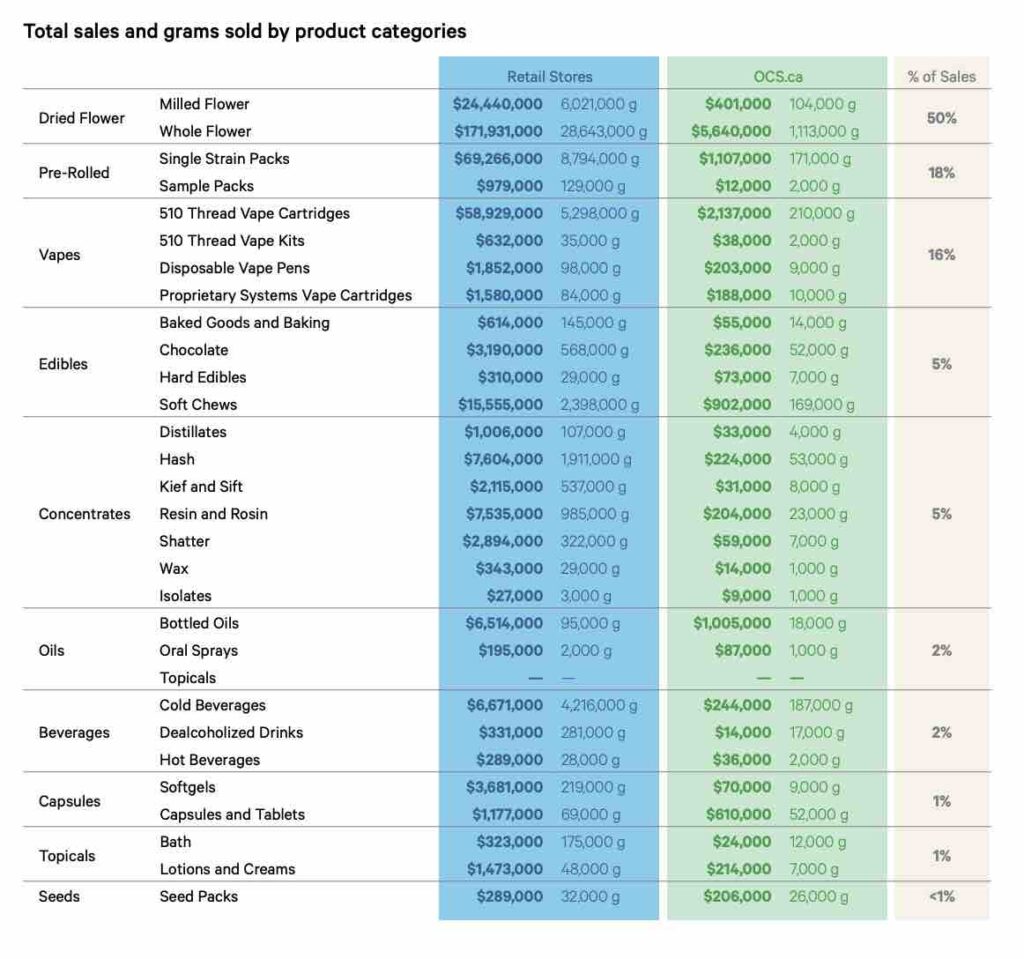 After small declines over the 2021 fiscal year, dried flower sales in dollar shares actually increased in Q4 by 1%, driven by a 21.8% increase in milled flower sales. Cannabis concentrates also increased by 1% compared to the previous quarter. Pre-rolls, which have been seeing consistent growth in sales in previous quarters actually dropped in sales by 2%.
Dried flower and pre-rolls accounted for 68% of total sales in the province, followed by vapes at 16%, and edibles and concentrates each at 5%. Cannabis oils and capsules represented another 3% in sales, beverages 2%, topicals 1%, and seeds less than 1% of total sales.
Most sales (96%) were through brick-and-mortar private cannabis stores. Sales from OCS.ca's online platform represented less than 4% of total sales.
New visitors to OCS.ca decreased by 27% to 800,000, compared to 1.1 million new visitors to the site in the previous quarter. However, conversion on the site grew to almost 9%.
For vape pens, 510 carts were by far the most popular with 94% of all vape sales in stores and 83% of all vape sales online. Soft chew edibles (gummies) represented 58% of all edibles sales in stores and online, followed by cold beverages at 25% in stores and 16% online. Chocolates represented 12% of all edibles sales in stores and 16% online. 
For concentrates, hash sales and resin/rosin sales each represented about 35% of sales in stores and 39% and 35% of sales online, respectively. Shatter sales dropped in Q4 in this category to 13% of sales in stores and 10% online.
Vape pens represented the product category most likely to experience consumer complaints, primarily for issues like clogging and leaking. These kinds of complaints, however, decreased from the previous quarter while complaints about topicals increased.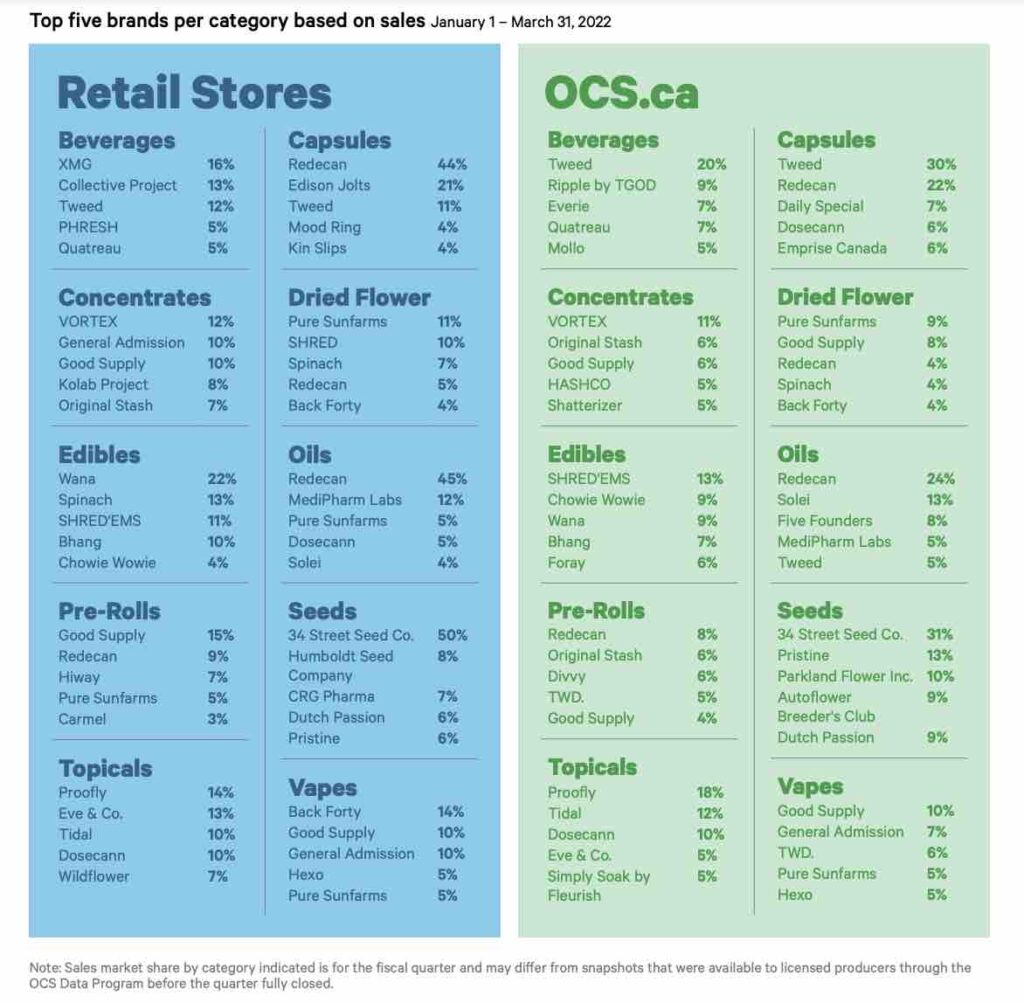 Consumers buying dried flower online were more likely to pay around $3-$6.50 a gram for cannabis compared to those purchasing in stores.
Retail chains continue to take a significant portion of the Ontario market. Tokyo Smoke had 60 stores operating in Q4, while ShinyBud Cannabis Co had 44, Spiritleaf had 43, Sessions Cannabis had 42, Fire & Flower had 37, True North Cannabis Co. had 36, High Tide had 33, One Plant had 25, Miss Jones had 21, and Value Buds had 19.
The OCS says the data from this most recent quarter is "evidence of a vibrant and resilient cannabis marketplace" where significant trends in macro data are now changing less than in the first years of legalization. Because of this settling of the marketing, moving forward the OCS will only be publishing insights publications twice a year.
Ontario sold more than $1.5 billion worth of cannabis in fiscal year 2021 ($405,000,000 in Q4, $398,700,000 in Q3, $393,900,000 in Q2 and $307,000,000 in Q1).
---