Ontario's second cannabis farmgate store opened this week, located on the outskirts of Toronto near Toronto Pearson International Airport.
The Royal Cannabis Supply Co, a retail store connected to Medz Cannabis, a federally licensed producer, opened its doors officially on July 8. Medz is the second cannabis producer to have opened a farmgate location on the same site as their facility. The first was Thrive Cannabis in Simcoe, which opened on April 20 of this year. 
The Royal Cannabis Supply is the first of such cannabis farmgate licences in the Greater Toronto Area, close to not only a major airport, but also to Humber College and York University.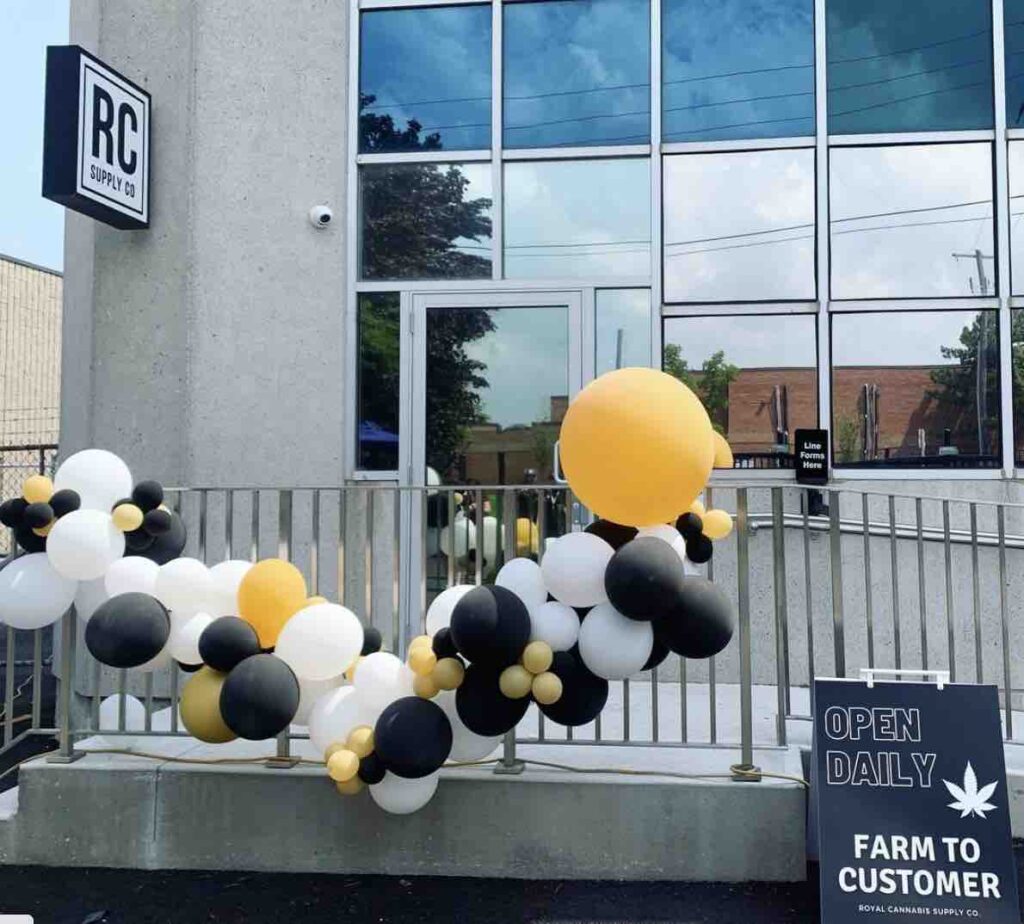 A so-called "cannabis farmgate" retail location operates like any other licensed retailer in Ontario but has the ability to sell its own product on-site. This provides for a quicker turnaround time from harvest to shelf, since products are not required to be sent to the provincial distribution warehouse run by the Ontario Cannabis Store.
Instead, products grown and processed on-site can then be stored on-site and released for sale directly into the store. Retailers can order products from other producers through the traditional provincial distribution system, as well.
According to the AGCO, as of July 12, 2021, there are seven producers who have received their Retail Operator Licence (ROL) from the province; Tweed Inc, Thrive Cannabis, Dykstra Greenhouses, Medz Cannabis, Muskoka Grown, Sensi Brands, and Level Up Infusions.
Three of these have also received their Retail Store Authorization (RSA); Thrive Cannabis, Medz Cannabis, and Sensi Brands. Only Thrive and Medz are open as of this time. Before a store is authorized to open their "farmgate" location, the AGCO has a the final pre-opening inspection. If they pass this inspection, the store operator is then issued an approval letter. At that point, the store is authorized to open, but the opening date is determined by the licence holder, not AGCO.
Several approved locations told StratCann earlier this year that they are pausing or stepping back from the process, pending a further look into its viability for their location or business.
The Medz location at 105 Claireport Crescent in Etobicoke includes several other production sites, including Fritz's Cannabis Company and Hash Co, both of which can also be sold directly into the Royal Cannabis Supply Co. The retail store is open 12pm-8pm M-F and 11am-7pm Saturday and 11am-5pm Sunday. They also offer online sales and expect to offer delivery soon, as well.
Ontario is the first province to have allowed federally-licensed cannabis producers to open a retail store on-site, although British Columbia has said they hope to have their own similar program in place by 2022. The provincial government there has recently begun talks with industry stakeholders to move the file forward, along with their plans for direct sales and potentially some form of consumption lounges.
While cannabis production, from growing to packaging and processing, is managed through federal licences, provinces control cannabis distribution and retail within their promise, including any such 'farmgate' retail models.
---