The third cannabis farmgate store in Ontario had their grand opening today in St. Thomas.
Station House Cannabis is the retail location attached to Sensi Brands, a licensed cultivator and processor about 2 hours southwest of Toronto, who received their farmgate licence from the province earlier this year.
The store features unique products grown and processed on site, as well as an array of products available through Ontario retailers. The Station House, named in reference to St Thomas being known as the railway capital of Canada in the early 1900s, is designed to look like a train station. Located on the main thoroughfare in St. Thomas, the design of the retail store also gives consumers a view into their cannabis facility, through video feeds into Sensi's grow rooms.
Long term, they say they also plan to build windows directly into their grow rooms to give an even more direct view into their production methods.
"The opening of our farmgate store is a landmark moment in our company's history (as is) our success in launching highly desirable, relevant cannabis brands and showcasing them in an interactive way to consumers", says Sensi Brands' Founder & CEO Tony Giorgi.
"We are very pleased to offer a plant-to-consumer experience in partnership with our eco-system of Licensed Cultivators, many of which are based in Ontario, and proudly showcasing our market-leading locally grown, processed and packaged cannabis products."
Giorgi founded Sensi Brands in 2019, after first founding the Flowr Group, with two locations in BC. He is also a board member of the Canadian Cannabis Council.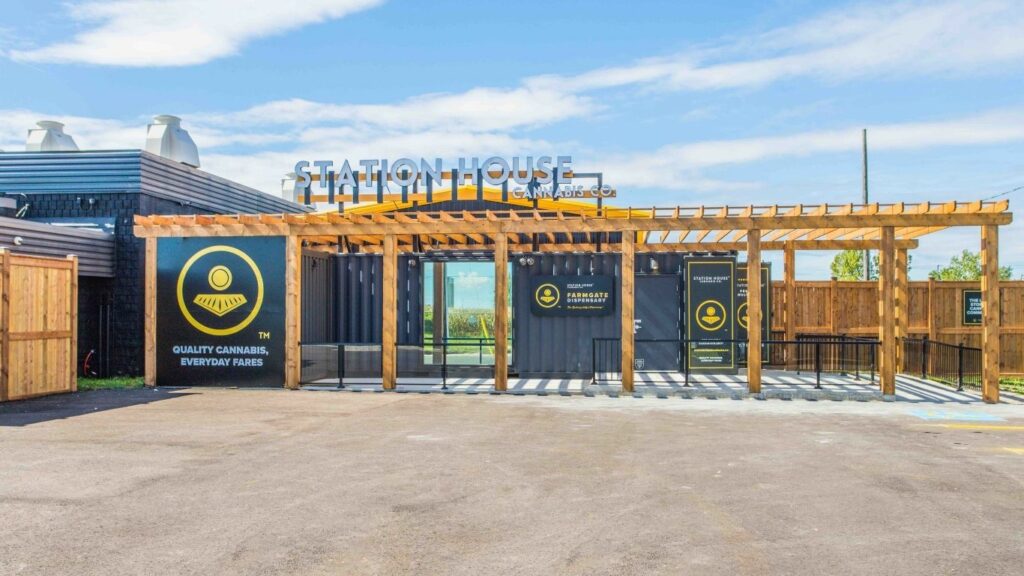 Since launching Sensi Brands in January 2020, the company has experienced rapid growth from 4 to over 70 employees in the past 18 months and has become one of the largest employers in St. Thomas. "We are very proud of our roots in St. Thomas and the opportunity to engage with the local community and provide further employment opportunities as we continue to execute our business plan", says Giorgi.
The Station House is the third cannabis farmgate store in Ontario. The first, Thrive Cannabis in Simcoe, opened in April. The second, the Royal Cannabis Supply Company, connected to Medz Cannabis in the outskirts of Toronto near Humber College, opened in July.
A so-called "cannabis farmgate" retail location operates like any other licensed retailer in Ontario but has the ability to sell its own product on-site. This provides for a quicker turnaround time from harvest to shelf, since products are not required to be sent to the provincial distribution warehouse run by the Ontario Cannabis Store.
Instead, products grown and processed on-site can then be stored on-site and released for sale directly into the store. Retailers can order products from other producers through the traditional provincial distribution system, as well. 
According to the AGCO, as of September 27, 2021: 22 Licensed Producers (LP) have applied for a ROL, and 11 have submitted a request for a Retail Store Authorization (RSA).
The following LPs have received a ROL 1. Tweed Inc 2. Thrive Cannabis 3. Dykstra Greenhouses 4. Medz Cannabis Inc 5. Muskoka Grown Ltd. 6. Sensi Brands 7. Level Up Infusions 8. Loosh Inc.
Three of these have also received their Retail Store Authorization (RSA) and are open for business; Thrive Cannabis, Medz Cannabis operating as Royal Cannabis Supply Company, and Sensi Brands operating as Station House Cannabis Co.
Before a store is authorized to open their farmgate location, the AGCO has a final pre-opening inspection. If they pass this inspection, the store operator is then issued an approval letter. At that point, the store is authorized to open, but the opening date is determined by the licence holder, not AGCO.
Several approved locations told StratCann earlier this year that they are pausing or stepping back from the process, pending a further look into its viability for their location or business.
New Brunswick announced their own cannabis farmgate licence this past August and BC has said they expected to unveil their own cannabis farmgate licensing platform in 2022.
---