Alberta's cannabis regulator announced today they will now allow producers to give cannabis samples to retailers. 
Alberta Gaming, Liquor and Cannabis (AGCL) posted changes to provincial regulations today. Starting March 23, cannabis representatives in Alberta may provide a licensee with cannabis product samples for marketing purposes. The samples can be up to 3.5 grams of dried cannabis or its equivalency and must meet all federal packaging and labelling requirements. 
Tim Mallett, CEO and CoFounder of Alberta Bud Inc. and president of the Alberta Micro Cannabis Licensing Association (ACMLA), is supportive of the decision.
"The ACMLA is encouraged by today's announcement. We hope that this small change will be the first of several much-needed changes to the regulation of cannabis in Alberta"
Raj Toor, the owner of In N Out Cannabis and High Bar Cannabis in Alberta, says the change is welcome, and one that is long overdue. Root, who also operates two cannabis stores in Saskatchewan, points out such samples have been allowed in that province for some time. He's glad Alberta is now allowing it, too. 
"I think it's about time that the AGLC recognizes that it's important for budtenders and management to be able to sample those products," says Toor.
He points out that budtenders, and even management, can't necessarily always afford to purchase those products in order to be informed. 
"I think it makes a big difference. It really helps the budtenders share their experiences with people who are coming in."
"For them to be allowing samples at this point, it's good to see that the AGLC is taking steps in the right direction to understand the needs and requirements of the industry. There are a lot of other outstanding issues that we want them to deal with, but it's good to see that they are generally making progress in the right directions."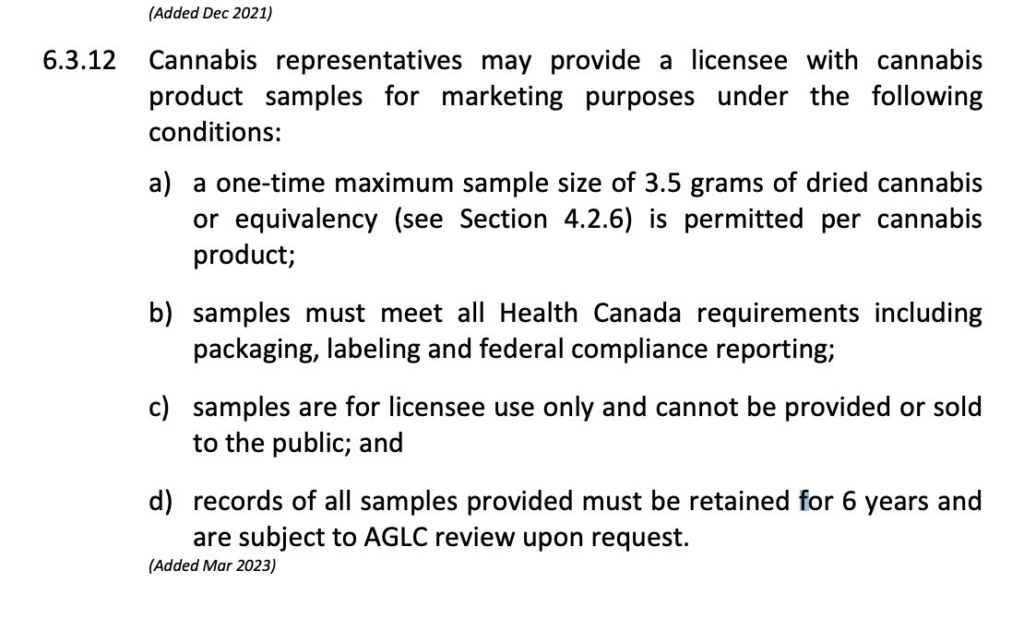 Ron Gauthier, the CEO of UpRyze, a micro cannabis producer in Alberta, says he's happy to hear about the change, which he also points out has been allowed in provinces like Saskatchewan where he also sells products. 
"I think that's great. For us to have the ability to give samples, this really helps out in other provinces where we can do this, so it will help here. The quantity is right for people to have enough to sample it. So that's great. Now you can get more of that direct feedback on your product."
Still, like Toor, Gauthier couches his support of the policy change with overall frustration with the Alberta market. He says that despite being located in Alberta, he opts to sell his products in other provinces where distribution systems are easier and there are fewer fees. 
"It costs me nothing to list products in Saskatchewan and Manitoba. There is so much wrong with this market in Alberta, and its too expensive to do business here, especially for small businesses. It's almost like they want it to fail."
Logan Dunn, the owner of Dunn Cannabis, a micro producer in BC that sells into several provinces, including Alberta, says he's excited by the announcement, while also poking a bit of fun at Alberta's notoriously strict marketing rules.
"I think that it opens up opportunities to build relationships with retailers outside of our own provinces. I think it's great. It's evolution of cannabis. Slowly but surely the breaks are coming off. One day maybe we'll be able to throw a frisbee with a Dunn Cannabis logo on it, too."
Pure SunFarms, a BC-based producer who also sells into Alberta, shares the excitement, as well.
"Today's announcement by AGLC finally gives retailers in Alberta the ability to experience products they were only ever allowed to hear about before, taking the guesswork out of curating their store offerings," Kyle Watson, VP Commercial, Pure Sunfarms tells StratCann. "Pure Sunfarms looks forward to working with our retail partners and budtenders to showcase our product quality in a transparent way as we work together to give shoppers the experience they expect to receive when making a cannabis purchase."
---
Producers and retailers also have a chance to connect and sample products at StratCann's upcoming industry networking event, Growing Relationships, in Calgary on April 29. Producers and retailers can purchase tickets here.