Surrey City Council may soon consider allowing cannabis stores in BC's second-largest city.
Surrey initially banned cannabis stores entirely. In March, Mayor Brenda Locke told StratCann that the city is developing a plan to potentially consider applications.
The city's Planning & Development Department and the Engineering Department posted a staff report on July 20, to be considered at the next council meeting on July 24, that seeks council approval of a policy framework for regulating cannabis retail stores.
Staff are proposing a general framework for regulating cannabis retail stores in Surrey and recommending a city‐owned site at 13455–72 Avenue in the Newton Town Centre as an initial "pilot" location for a cannabis retail store.
The plan would also initially limit the number of store locations to one in each of Surrey's six Town Centres as designated in the Official Community Plan (City Centre, Guildford, Fleetwood, Newton, Cloverdale, and Semiahmoo), with a preference for a city‐owned site in each Town Centre.
For these locations, the city would hold a competitive process to select a business operator based on specific criteria and a scoring system that is still to be determined. If no city-owned site is available in a Town Centre that meets locational criteria, a competitive process would be held to select both a site and business operator.
If Council supports the Newton Town Centre pilot site location, staff will prepare a city‐initiated rezoning proposal for Council's consideration in the Fall of 2023, along with a concurrent selection process of a business operator for this location.
Staff also recommend that the city close and refund application fees for two locations previously filed with the city before any regulatory framework. These locations are 7380 King George Boulevard (7923‐0066‐00) and 13650–102 Avenue (7923‐0048‐00).
If Council approves the recommendations in this report, city staff will bring forward a more detailed report regarding the retailer selection process, licensing conditions and criteria, as well as a proposed monitoring and reporting process for council's consideration.
Vikram Sachdeva, the CEO of Water Leaf Management Services, a Songhees Nation business initiative, says he's pleased with these initial plans for a cannabis policy framework. Acknowledging that the city has taken a cautious approach to cannabis retail policy compared to other municipalities, Sachdeva says, "I wholeheartedly embrace this unique approach because I understand that each city and community has its own specific needs. I am enthusiastic about collaborating with the City of Surrey to ensure the success of their approach."
Water Leaf Management provides operational services to all Seed & Stone and Songhees Cannabis stores. Seed & Stone holds the distinction of being the first to obtain licenses in Delta, Hope, and Coquitlam, and has recently applied to be the first retailer in Pitt Meadows.
Pitt Meadows, another BC city that banned cannabis retailers at the beginning of legalization, just announced its plans to begin hearing applications on a case-by-case basis.
The Surrey Board of Trade released a report earlier this year calling on the local government to begin allowing cannabis retailers to operate in the municipality. Jasroop Gosal, Policy & Research Manager for the Surrey Board of Trade, says it has concerns at how long the proposed plan will take to implement.
"This framework is going to result in a lengthy implementation timeline," said Gosal in a press release. "Many cities from across the province allow retail operations to occur on private land, which meet the prudent criteria put in place by the Provincial Government. The report also doesn't indicate a timeline for the pilot, initial phase, or future phases."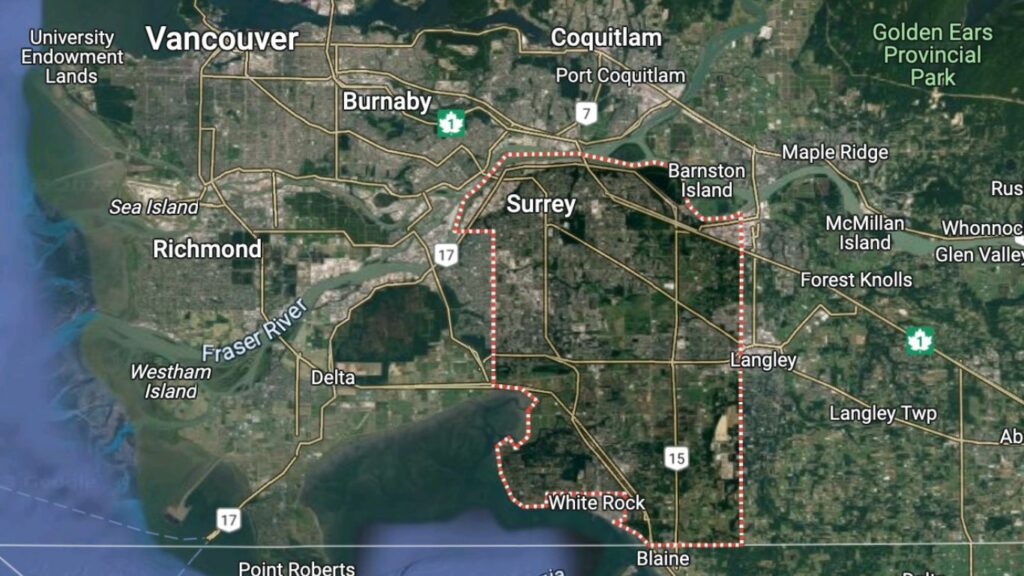 ---
Related Articles
Featured image of Queensborough Cannabis Co in Delta, on the border with Surrey. Both images via Google.
Editor's note: This article has been updated to include new comments from the Surrey Board of Trade.