Police in Ontario are investigating two similar break-ins at a cannabis stores this week.
Police in Hamilton say that around 2:50 in the morning of March 15, three suspects allegedly approached the store off Upper Middle Road and smashed the glass on the front door, with two of the individuals gaining entry to the business while a third waited in a car.
The two intruders then apparently smashed glass display cases, making off with cannabis products before fleeing the area. No suspect or vehicle descriptions are available.
A second early-morning break-in of a retail cannabis location in Ontario, this time in Guelph, took place at around 4:50 AM on Thursday, March 17. Witnesses called police and reported three people in a vehicle at the business near the intersection of Silvercreek Parkway North and Willow Road.
Similar to the robbery two days prior, two of the individuals smashed the glass door while the third remained in the vehicle. Police say they fled in the vehicle after stealing approximately $2,000 worth of product.
Police are continuing to investigate both break-ins. Reports from speaking to business owners in the area say both locations belonged to Canna Cabana, a chain of retailers with at least eight locations in Ontario.
Omar Khan, the Senior Vice President of Corporate and Public Affairs at High Tide Inc— the company that owns the Canna Cabana retail chain—was unable to speak about any specific issues due to ongoing police investigations. 
However, he points out that the increase in these types of crime is not just at cannabis stores but an overall increase in robberies of many different types of stores such as pharmacies, liquor stores, convenience stores and gas stations—increases that began around the beginning of the COVID-19 pandemic. 
"Based on our own experience, but also in talking with other retailers and various police services across the country, it's clear there has been a marked increase in robbery attempts at cannabis stores really since… the onset of the pandemic," says Khan.
One of the issues High Tide and others in the cannabis industry say makes cannabis stores a tempting target for break-ins and robberies is the window coverings many provinces still require.
"We've identified one regulatory issue that we think makes us, as cannabis retailers, particularly enticing targets, and that's the window covering requirements," he continues. 
"If you're looking to rob a store and one of your options has window coverings—which means nobody outside the store can see what's going on—you can see how that would make it a more enticing target than others."
On March 4, Toronto police announced that they had arrested three men connected to break-ins at multiple cannabis stores in the northwest area of the city.
Images shared by Toronto Police showed numerous packages of recovered cannabis in that case.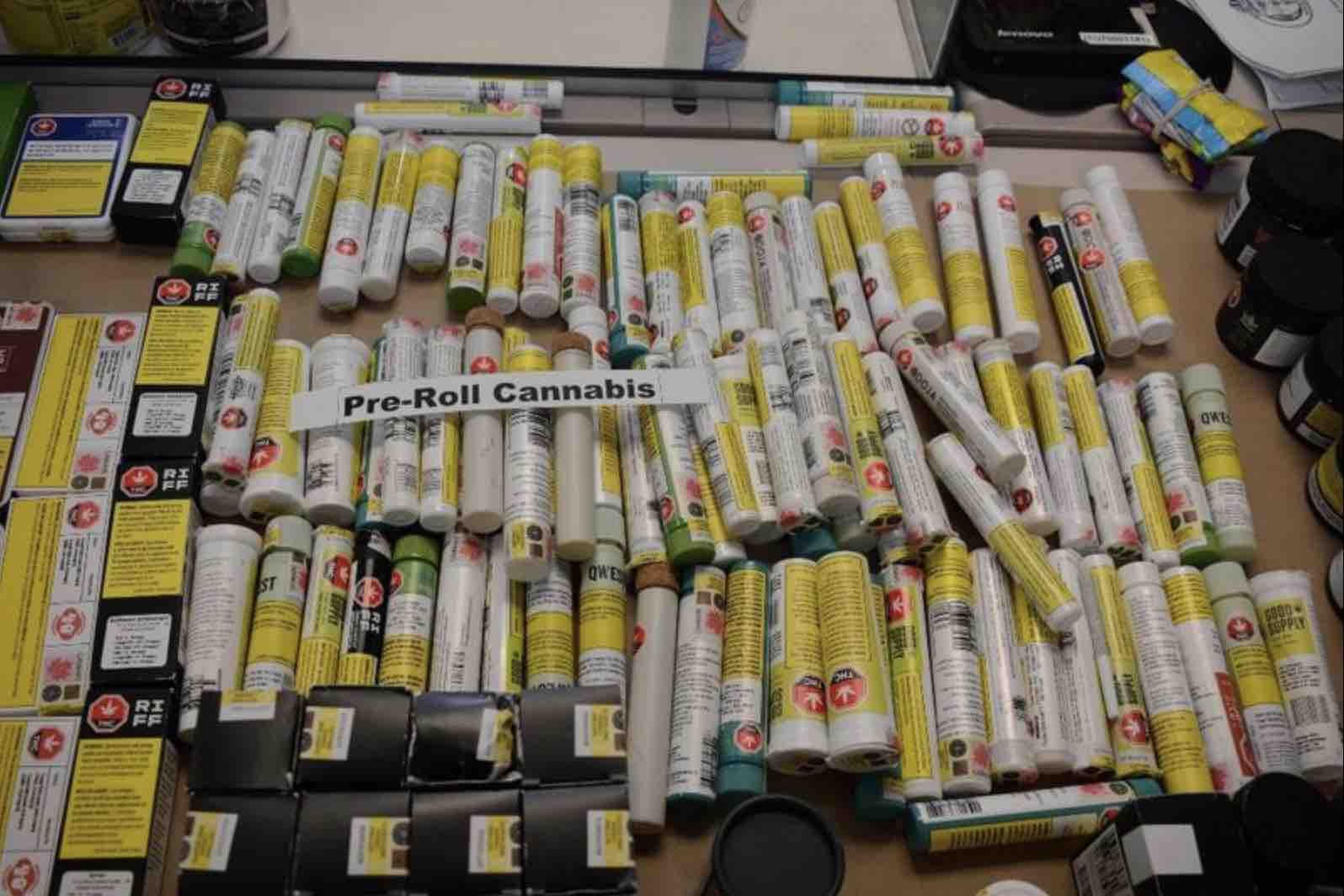 Robberies of cannabis stores have occurred sporadically for years now, across Canada. In October, a cannabis store in Toronto was burgled, with numerous cannabis products stolen, prompting Toronto Police to put out an alert.
Alberta has seen a handful of cannabis store robberies and burglaries. In September, a Calgary cannabis store was robbed. In December 2020 and January 2021, two other Calgary area cannabis retailers were robbed.
In June of last year, another cannabis store in Calgary was robbed at gunpoint by four men, and in February a man allegedly assaulted an employee and robbed a BC Cannabis Store in Oliver, BC.
According to a recent CBC report, there were 29 cannabis store robberies last year in Alberta, and 10 so far this year. Almost half of these instances involved violence or threats of violence.
Police in BC said a couple robbed a cannabis store in Kelowna in November. In September, an Alberta cannabis store was robbed.
Robberies of cannabis stores are not limited to legal retailers. In BC in early 2020, a masked man robbed an unlicensed cannabis store in Abbotsford. In 2016 a Vancouver cannabis dispensary was robbed at gunpoint, as well. In May 2015, thieves broke into the same store by crashing a van through its front window. Another unlicensed dispensary in Vancouver was robbed in 2019.
---