Unlocking Insights for a Thriving Cannabis Industry – Actlabs Leading the Way
Actlabs, founded in 1987 by Dr. Eric Hoffman, a pioneering Canadian geochemist, has emerged as a global leader in analytical testing services. Expanding its footprint to include 15 state-of-the-art laboratories across Canada and worldwide, Actlabs offers comprehensive solutions for diverse markets and industries.
From geochemical exploration to life sciences, pharmaceuticals, agriculture, environmental, materials testing, and since mid-2019, cannabis, Actlabs is at the forefront of innovation and reliability.
With a visionary approach, Cassidy Weisbord, Actlabs' dedicated National Account Specialist, in partnership with an industry-leading team of committed professionals, is driving the company toward new heights in the evolving cannabis industry. Actlabs recognized the burgeoning potential of cannabis testing and leveraged its well-established divisions in agriculture and life sciences to quickly engage in this market.
Today, the Actlabs cannabis division supports domestic and export-focused producers, processors, extractors, and manufacturers commercializing a wide array of medical and recreational products and services.
Unlocking Excellence through Knowledge and Experience
One of the significant challenges in the cannabis industry is the lack of a cohesive testing standard in Canada, leading to ambiguity in methodologies and key performance metrics. At Actlabs, we thrive on over a decade of experience, not only in cannabis testing but also in related industries such as pesticides, heavy metals, and microbial contaminants. Our rigorous and validated testing methods, coupled with easily understandable reporting formats, provide our clients with the highest level of confidence in their products.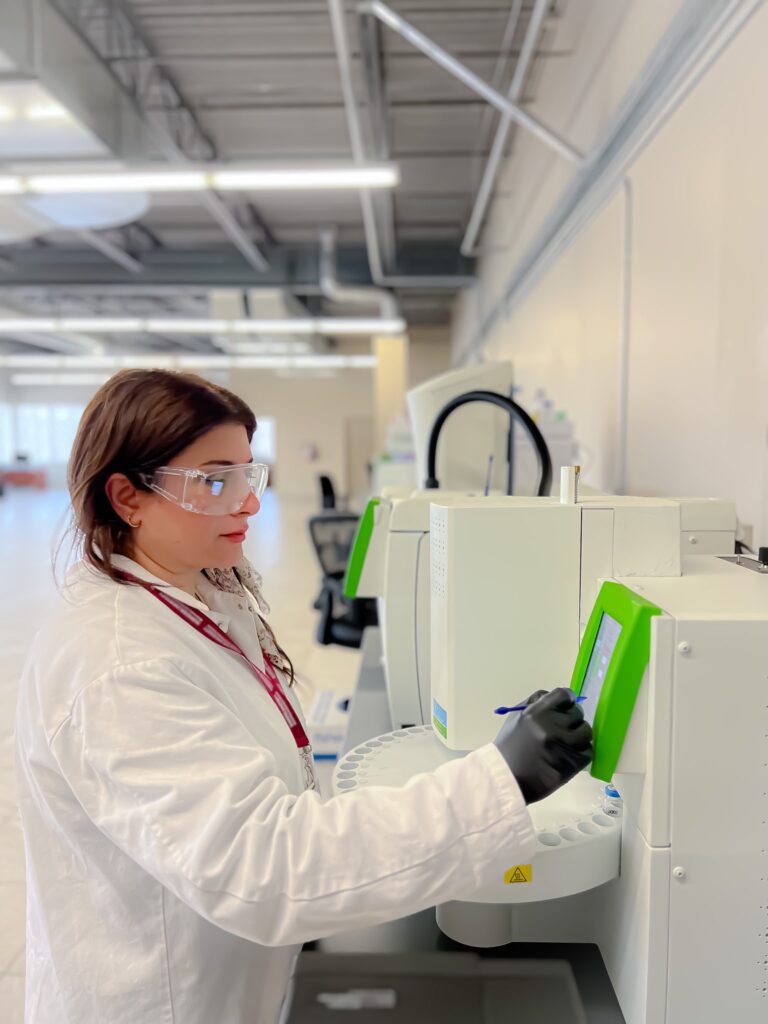 Empowering Cannabis Growers of All Sizes
Cassidy believes in driving key factors that matter most to our cannabis testing clients: compliant and knowledgeable testing, competitive pricing, and rapid turnaround when required. Actlabs stands as a trusted partner for cannabis growers, from large LPs to start-up micros & processors and individual growers. We take pride in offering equitable pricing for all services, ensuring that affordability does not compromise quality.
Rapid Turnaround with Unmatched Precision
Understanding the dynamic nature of the cannabis industry, Actlabs commits to a 7-10 business day delivery for comprehensive testing to facilitate Certificate of Analysis (C of A) release. Additionally, we offer expedited 1-2 business day turnaround for specific requests like potency, terpene profiles or pesticide screening, crucial for making time-sensitive decisions during harvest, phenotyping, or product labelling.
Equipped for Tomorrow's Cannabis Landscape
At Actlabs, we recognize that the cannabis industry's future lies in new product formulations and complex research. As the industry moves beyond its current stage, the need for advanced testing regimes will become apparent. Our extensive and well-equipped privately-owned contract labs in Canada are poised to cater to regulated development, research, and investigations tied to product formulations, customer complaints analyses, contaminant identification, and more.
Join Us in Pioneering the Future of Cannabis Testing
With a commitment to excellence, Cassidy Weisbord and the entire Actlabs Team are determined to lead the way in shaping the cannabis industry's future. Explore our cutting-edge services and technologies at Actlabs.com or contact us at [email protected] to discover how we can unlock insights and provide solutions for your success.
Content Sponsored by: Actlabs
---