| | |
| --- | --- |
| COMPANY: | Rosebud Cannabis Farms |
| LICENCE TYPE: | Standard Cultivator |
| APPROACH: | Outdoor |
| TIMELINE: | ~9 months (fall 2019 to May 2020) |
| COST: | n/a |
| FACILITY: | Outdoor, greenhouse |
Che' LeBlanc, the Founder and CEO of Rosebud Cannabis Farms, has been growing cannabis for over twenty five years, describing himself as a second generation cannabis grower.
Although he grew up in Alberta, he says he came to the mountains of southeastern BC several decades ago in part because of his love of cannabis and the history of the area as a hotbed of other passionate growers.
Growing and breeding cannabis for decades, LeBlanc says he got his MMAR licence to grow for himself for medical purposes in 2009 and began preparing for legalization around six years ago as he saw the writing on the wall when some US states began legalization.
But it wasn't until non medical cannabis was legalized in Canada that he says he really started preparing to make the transition into the fully legal cannabis market.
Initially started as a cannabis nursery, Rosebud Cannabis Farms eventually pivoted to an outdoor cultivation licence application in 2019, applying in the fall and receiving their cultivation license this past May.
I think we're fast approaching outdoor genetics that will go toe to toe with most of the indoor stuff, and at that point the high cost of production for indoors just doesn't make sense anymore. So we're excited to demonstrate that outdoor genetics can compete with indoor flower.

Che' LeBlanc, Rosebud Cannabis Farms
LeBlanc says the main reasons they pivoted was the Health Canada decision to allow outdoor in combination with challenges getting funded for their greenhouse, but they also felt they could do more under a standard cultivation licence including building a nursery down the road. It just made the most sense for them.
Passionate about genetics and breeding, describing himself as a "pollen chucker from way back", LeBlanc says he's been developing indoor and outdoor strains that he is very excited to share with consumers, both as finished products, as well as starting material for home growers.
In this first year, they have planted around five to six thousand plants on two acres, with plans to expand to two new fields next year and begin developing their greenhouse in year three.
Growing outdoors in the Kootenays, he explains, requires specific genetics suited to the region and capable of an earlier harvest.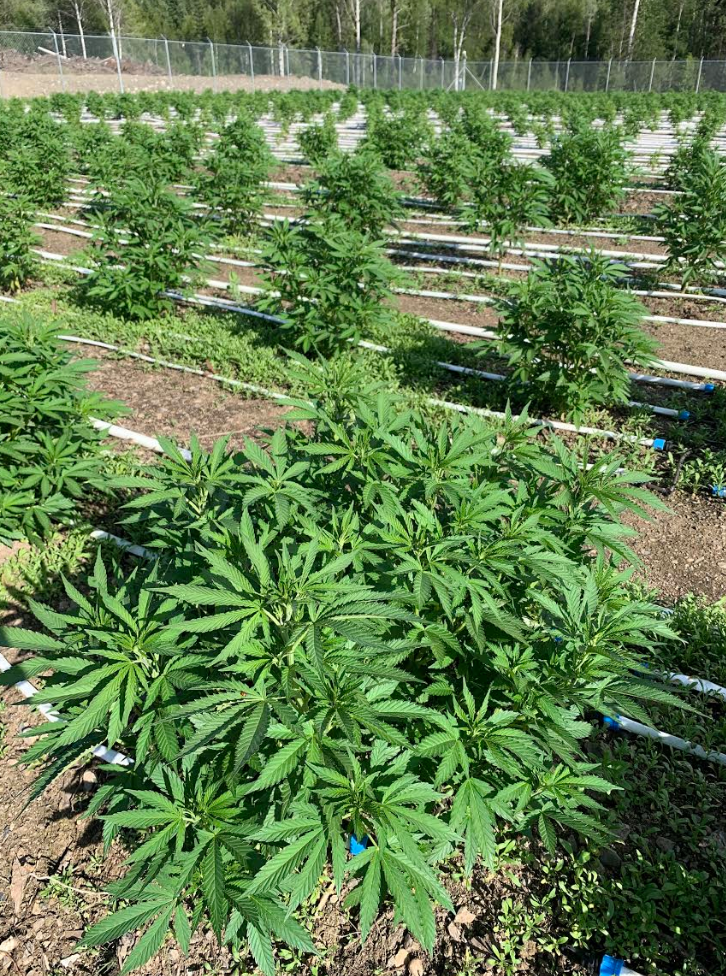 "These are very specific genetics and are very well-proven outdoors. We're very picky about what we plant. Genetics is my biggest passion and the thing I am most excited to work on. We've been developing outdoor specific strains for about a decade, experimenting with this sort of approach. I think it's the future of cannabis production.
"By incorporating acclimatized, localized genetics with ruderalis or autoflowering genetics and then not only continuing to select the right genetics, but improve on cultivation techniques, we're able to get the best of both worlds, a hardy plant that also produces well with high THC and all the other boxes we want to check, but also can finish early when the sun is still high in the sky, which is important where we are in BC, Canada, to avoid things like bud rot and powdery mildew. Ideally we want to harvest some time in September."
Although outdoor cannabis products in Canada often don't have as good of a consumer reputation as indoor, LeBlanc says he thinks that will soon change under legalization as growers like himself have a chance to not only select the right genetics, but give them the proper care they need.
"I think we're fast approaching outdoor genetics that will go toe to toe with most of the indoor stuff, and at that point the high cost of production for indoors just doesn't make sense anymore. So we're excited to demonstrate that outdoor genetics can compete with indoor flower. Ultimately, the proof is in the pudding. Nothing is more meaningful than actually sampling the product and comparing it side by side."
As excited as we are to be in this position and have plants in the ground, we are equally as excited to help the cannabis community make that transition and establish our place in the industry. We hope to have some influence on the rules to help others come in, it's always tough blazing the trail.
Rosebud now has 5,500 plants in the ground, growing under what he describes as their living soil and permaculture practices, using living soil systems and regenerate practices rather than relying on synthetic fertilizers on their two acre footprint.
With only a cultivation licence at the moment, he says they are in talks with several processors to bring their product to market, including genetics for home growers, and are looking to utilize a freeze drying method for their cannabis to both better manage microbial levels as well as quickly preserving it for future processing.
Long term, they hope to work towards their own processing licence, and are looking towards a future farm gate system that would allow them to not only sell cannabis on site, but also provide tours for people coming to the region.
"It's a good way to keep the money in the hands of the grower," says LeBlanc. "As prices go down, I think it's a great way to build longevity, to create a model in the long run to make small farms more viable and profitable.
"Just like wine tours, we would like to see something where people can come see the product, try the product and if they like it, buy the product. We don't need to reinvent the wheel, it's already happening in other industries so it makes sense to utilize that model for cannabis."
Ideally, though, he sees farmgate as only one piece of a larger vision he's trying to create.
"The cannabis operation, I would say, is the heart of a bigger picture here. The plan is to build a multipurpose venue next to this beautiful, remote alpine lake that we're located on and give people the opportunity to come learn about nature and live with nature in a more harmonious way. The ecotourism ties into the cannabis tourism which ties into the farmgate, so really it is a big part of our plans for the future.
Now that they are licenced and working within the system, he says he is excited to start helping others, especially the community in the Kootenays, to make that transition.
"As excited as we are to be in this position and have plants in the ground, we are equally as excited to help the cannabis community make that transition and establish our place in the industry. We hope to have some influence on the rules to help others come in, it's always tough blazing the trail. And, we're passionate about helping this industry go back to its roots."
---