Smoker Farms is an indoor micro cultivator, licensed in June 2020, located just outside Kelowna, BC.
Sheri and Jeff Aubin, the couple behind the company, began looking at the micro cultivation licence soon after legalization, with head grower Jeff looking to transition out of the black market while still continuing his passion for growing cannabis.
With over a half dozen harvests under their belt now, and several crops sold in the provincial markets, including their home of BC, the couple says they are beginning to get a handle on things.
Growing in rock wool on flood tables within their 200m2 of cultivation space, Jeff has focussed on two strains early on, The Ultimate, and a Master Kush Ultra he says he's been growing for 15 years. But despite being confident in his growing skills, honed over 25 years in the black market, he says getting product into retail stores and then into consumer hands in such a highly saturated market is not easy.
"As craft growers, it's hard for people to know who we are when they have, you know, so many different choices of 20% weed in the dispensary," he explains. "So how can they know who we are, and what we're doing? It's slow going, but we're hopeful.
"We need to be heard, we need to be found. And the provinces have only so many SKUs they can buy. So that's a big challenge"
It's been a steep learning curve, he says, with advantages and disadvantages. While he was ready to get out of the black market, learning how to run such a highly regulated business has been a big change.
"I had been a black market grower for 25 years now, and I knew I wanted to get out of the game and I didn't want to deal with all the bullshit anymore, looking over my shoulder waiting on people to knock on your door, that kind of thing," says Jeff.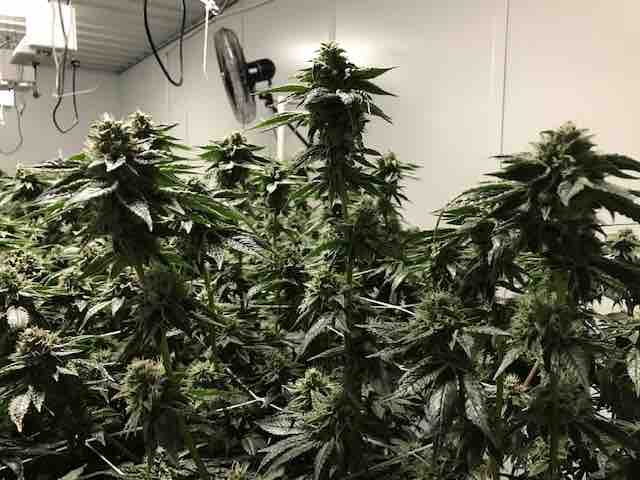 "It's not easy being legal, either. It's great to be open about what we do and know that we aren't going to be arrested, but it's not easy. It's just work work work. It's hard to break into the retail space. So hopefully the money comes. I just love growing weed, and I hope the rest of it works out."
"I wear a lot of hats," he continues. "I'm facilities management, an electrician, a plumber, head grower, you name it. And if there's something I don't know, there's a lot of people here in the community who can help me. But it's basically a husband and wife team for the most part, other than help with harvesting or trimming."
With only their micro cultivation licence, Smoker Farms has to sell their product in bulk to another processor who packages it and deals with selling it to the provinces who then sell it to retailers. Although this means they make a little less on their cannabis, it also means they have fewer expenses associated with it, such as packaging, excise taxes, provincial recall insurance, and the time dealing with provinces and retailers.
"We're not interested in a processing licence whatsoever," he says. "For us, we're pretty good at what we're doing here, we don't want to complicate things any more than we need to. So we're okay with selling to someone else to package and sell it."
Although he's hopeful about the legal market and ready to stick it out for the long haul, he cautions anyone else looking to make the move into the market to be prepared to spend a lot and wait a long time to make it back. He estimates he spent around $700,000 retrofitting his facility to expand it and bring it into compliance, transitioning the warehouse he was growing under a medical licence into his indoor micro facility.
"Whatever you think your budget is going to be, probably triple it. There are so many hidden costs. And not only that, but once you get your licence, you might think you can grow some weed and get some revenue in a few months, but it doesn't work like that.
"It takes a long time to get into stores and then get paid. It's complicated. There's no quick money or instant gratification here, it's all very long term. It's a new, challenging market and unfortunately, you have all these big multi-million dollar companies out there selling product into the market that isn't very good and it turns people off. So that's a challenge for us to convince people to give us a try if they've been burned like that."
---