A company seeking to develop several dozen cannabis production licences across Canada in the coming years reached a significant milestone in January with their first micro cultivation licence.
Located just outside of Calgary, The Micro Collective's first micro cultivation licence already has plants growing in it, destined for provincial markets through a third-party processing partner.
In the long term, the company plans to also build their own processing centres for what they hope to be more than 20 micro cultivation licences under their umbrella, across Canada.
All of these micro cultivation licences would then be supplied with fully-vegged plants by the company's cannabis nursery licence, also located near Calgary. Currently licensed as Stigma and Stamen (undergoing a name change at the moment to bring it under The Micro Collective banner), the nursery was the first to be licensed, in late 2020.
A second micro cultivation licence was submitted last year and is expected to be issued in the next 30 days.
Micro Collective's CEO, Ed Wilson, explains that by having a separate nursery to start their genetics before the flowering stage, they expect to be able to harvest a room in about eight to ten weeks, with two to four flowering rooms in each micro utilizing its 200m2 of flowering space.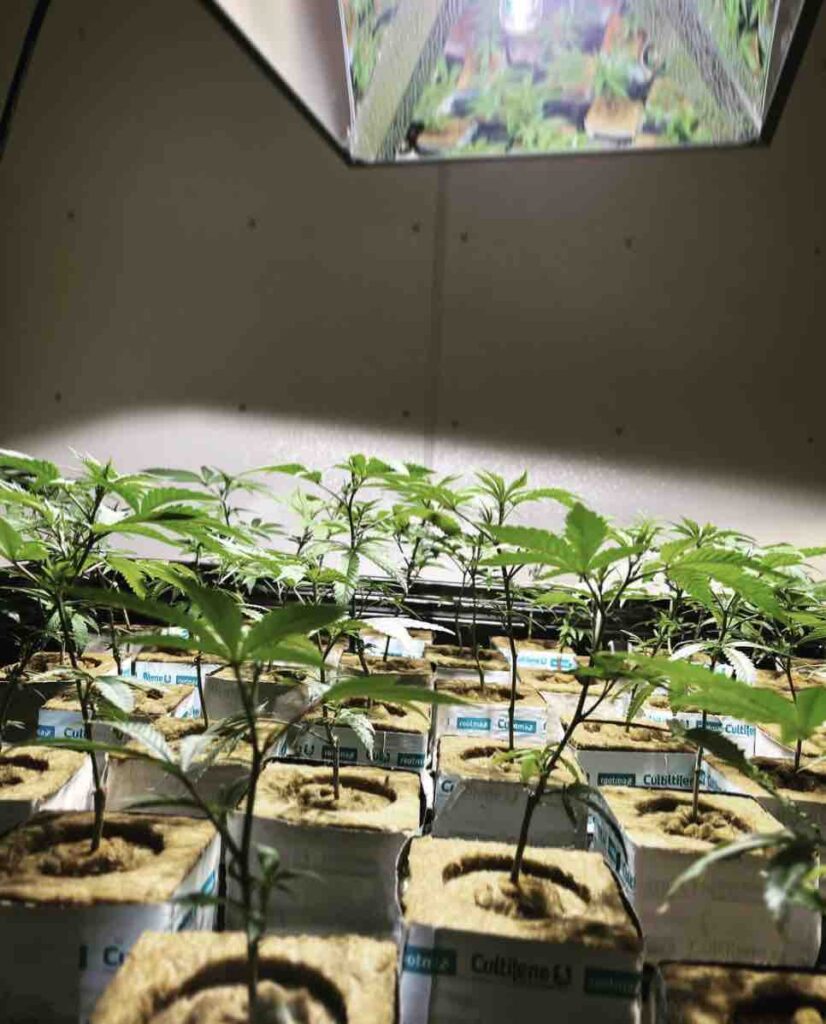 Wilson and his small team chose to take a slow, steady approach to licensing and capacity by utilizing the micro licences as an easier entry point.
"Primarily, it's the cost and ease of getting through the process," says Wilson. "It's much more cost-effective, the security requirements are much less stringent, and when dealing with municipalities we've found they are much more amicable to having a small agricultural building, as opposed to a big warehouse."
Although they have lofty long-term goals, Wilson says their step-by-step approach along with some unique partnerships with landowners, and doing much of the work themselves, has helped them keep costs much lower, with minimal debt, than some other licence holders.
"Controlled growth is something we're not seeing enough of in this industry," he adds. "We're seeing people throwing every penny they can at it. And maybe more than they should have, and now they're in trouble. We're taking a different approach and I think it can give us a real advantage, especially as the market sorts itself out."
"Take your time, and get creative. Just because it's the standard answer for everybody else, doesn't mean it has to be the standard answer for you. You don't have to listen to what everyone else is doing and spend $2.5 million to build one of those facilities that are going to be an albatross on your back. Take your time. The industry isn't going anywhere. Do it right."
Kailey Parkin, The Micro Collective's Chief Growth Officer, gives one example that saved them potentially hundreds of thousands of dollars by doing their own HVAC system, rather than going with a contractor who had worked with other licence holders.
"Do your research, just because it doesn't come on your doorstep in a little plug and play box doesn't mean that it can't work. Get creative and do it yourself."
Although Wilson says their partnerships with third-party processors are agreeable, once they can have their own standard processing licences, they also hope to take more control of their product with their two future standard processing centres. The long-term plan is for about 20 micro cultivation licences in both western and eastern Canada, with one nursery operating in a full-size micro footprint and one to two processing licences to serve both divisions.
Their second micro licence will also be in Alberta, but they are also in the process of looking at properties in British Columbia and other parts of western Canada.
Although the Collective currently has one head ("master") grower, Jerry Drews, for their micro cultivation licence and nursery licence, they also intend to begin apprenticing new growers to operate each new micro licence that comes along. They estimate each facility can be managed by two full-time employees, trained by their head grower, with additional staff for harvest and other periodic tasks.
"It's a matter of taking people who are very interested in growing, but maybe don't have the experience to be a licensed master grower with Health Canada, and giving them that experience, giving them the benefit of working in a facility while having the safety net of an apprenticeship program," says Wilson.
"I'm a big believer in being able to learn like that".
In the meantime, the first cannabis plants are already beginning to flower in the Micro Collective's first hybrid greenhouse and could be on shelves in Canada by this summer, most likely under a third-party's own label.
Although still in its infancy, Parkin says she thinks the small, "craft" approach of micro licences will allow the cannabis industry to evolve in a way that will be similar to the beer industry.
"The craft play is really going to be able to stand on its own as well," she says. "I think there are a lot of similarities. There's room for big companies and smaller craft ones, just like with craft beer. We still have a way to go, but I can see a very different cannabis market in five, ten years."
---