| | |
| --- | --- |
| COMPANY: | Grump Weed |
| LICENCE TYPE: | Micro Cultivation, Micro Processor |
| APPROACH: | Aeroponics |
| TIMELINE: | n/a |
| COST: | n/a |
| FACILITY: | Purpose-built indoor production space |
Grump Weed is a micro cultivator and processor in Manitoba who, in partnership with a BC-based micro-processor, has products just beginning to arrive on shelves in some provinces.
Started by David Hargreaves, the CEO and President, Grump Weed is a three-person team managing the indoor production space in Minnedosa, a few hours west of Winnipeg.
Grump Weed is a continuation of his and his crew's long-standing work with and appreciation of all things cannabis. Growing previously under the medical regulations, Hargreaves says he saw the opportunity to shift production over to a micro licence shortly after legalization and quickly started the process of building their facility and working through the application process. The micro facility was licenced by Health Canada in May 2020.
Following some initial breeding and pheno hunting, both with their own genetics as well as a partner nursery, they've now grown out two crops with one (Ice Cream Cake) already on shelves in Saskatchewan and another (Powdered Donuts) awaiting testing results.
Although they have their own processing licence, they've chosen to work with another micro-processor, Joint Ventures Craft Cannabis in BC in order to package their product and get it into the provincial markets.
"In my mind, it's better to team up with someone who specializes in the packaging and the sales licence part of it. People don't realize how much work goes into that. Not even just getting the sales licence. You need to be able to deal with so many other things, like handling a recall, insurance. It's a lot."
Joint Ventures uses a NitroTin to package the cannabis, that Hargreaves says was a big advantage to working with Joint Venture rather than packaging their own product, despite being an added cost.
"In my mind, it's worth it," he says. "Premium packaging is going to make sure your product stays good and you can't put a cost on that. I think the biggest issue with some of the big LP is the final processing and packaging. It's not keeping in the freshness of the product and I think a lot are going under because of it."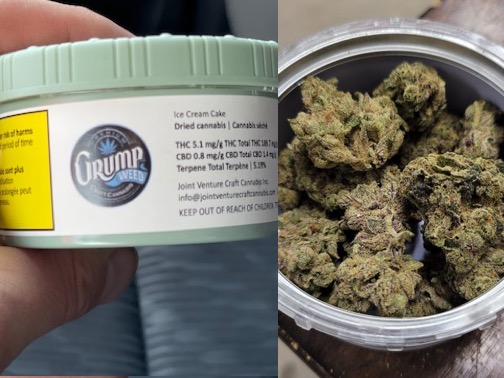 Although he says partnering with Joint Ventures has helped them access distributors and build their brand, Hargreaves also says it takes a lot of work on his part to maintain a relationship with retailers, especially in his home province.
"You have to have a relationship with the stores. As a craft producer, we're pioneering this industry. It's our job to educate the stores on why our product is better than the big guys."
He says this lack of focus on marketing and relationship building in the supply chain can be the difference between success and failure for many growers. Even if you are partnering with others, being able to build a demand for the product is the grower's responsibility, too.
"I think the big issue is a lot of guys are saying 'I'm going to grow weed and it's going to sell'. But you have to look at the whole supply chain, and put yourselves in the shoes of the people who are buying it," explains Hargreaves. "You're looking at the stores and asking why are they going to buy it, and looking at the wholesalers and asking why are they going to buy your product, and figuring it out as you go. If you think you can just grow a product and it's going to sell, you're crazy."
"It's figuring out what the stores want, what the customers want, and even if you're not going after direct-to-retail, without figuring that out, no one is going to want to buy your product."
Although they are considering expanding their footprint in the future, Hargreaves says he's not in any rush to expand.
"We wanted to start small, get our feet wet, get things figured out and then maybe expand from there. But I don't want to get too big. Right now there's just a few of us (working here) and in my mind, that's where the craft quality comes from. It's from the owners growing it and perfecting it."
---