The Ontario Cannabis store, through a third party, operates the largest legal cannabis warehouse in the world.
The cannabis you buy online or at a private retail store in Ontario has reached the end of a long journey that saw it pass through numerous hands, trucks, pallets, and conveyor belts before making its way into your hands.
This entire process is overseen by an enormous team working around the clock to keep the world's largest cannabis warehouse moving efficiently and effectively.
With 220,000 square feet of space, the discreetly-located warehouse processes the equivalent of approximately 1,100 kg of dried cannabis every day from more than 250 of Canada's federally licensed cannabis producers. A team of about 400 employees operates the facility 24 hours a day, connecting almost 1,700 privately owned retail stores across Ontario with more than 3,000 products.
Every week on average, 1.7 million units—the equivalent of almost 7 million grams of cannabis— arrive at the Distribution Centre operated by third-party Domain Logistics, not including products sold through OCS' Flow-Through program.
Weekly, the OCS also ships roughly the same amount of product; 1,100 kilograms of cannabis is transported to Ontario's retailers every single day.
OCS President and CEO David Lobo says the provincial agency is confident in its ability to adapt and evolve to continue enabling the growth of Ontario's cannabis marketplace. Although it still has challenges it is working through, Lobo points to improvements in the product call process, a revised pricing structure, changes to insurance requirements, and transforming the retailer ordering process to ensure fewer short shipments.
"Our strategy is laser-focused on building best-in-class wholesale capabilities and providing a seamless, "user-friendly" experience for both LPs and retailers. We see ourselves as the conduit between high-quality, tested and traceable cannabis products from Canadian LPs and the dynamic and varied retail experiences being offered across the province," he explains.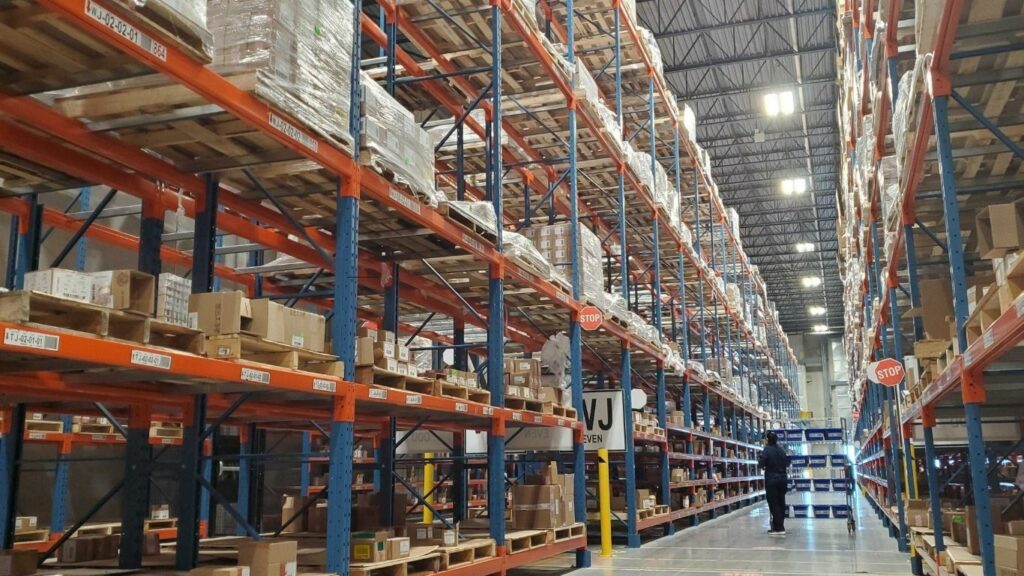 "We know that more than 96 percent of all legal cannabis purchased in Ontario is purchased through private retail stores. As Ontario's sole legal cannabis wholesaler, we are committed to being the best business partner we can be for retailers and producers by listening to feedback, reducing friction in our processes and making investments in the industry."
The entire process—from receiving a shipment from a producer, storing it in the sprawling warehouse, and sending it out to retailers and directly to consumers—is highly complex and choreographed. The distribution centre currently handles more than 3,000 SKUs at any given time, with about 800 new SKUs per quarter, an increase from about 200 per quarter in the early days of its operation.
The path all packages take when entering the highly-secured facility is similar to other distribution centres, with pallets being carefully reviewed and checked in. Packages then make their way through a complex, partially-automated system that follows them along conveyor belts and in elevators to see them stored before being packaged for shipment to retailers and, in some cases, consumers who purchased through the OCS's online retail platform.
Domain Logistics manages the distribution centre for the OCS. In the early days at the first warehouse in Oakville, they processed all orders manually. They have since moved to automate much of the process, increasing efficiency and ensuring products make it to retail clients and direct-to-consumer through their online platform.
Products are stored and processed on racks that are several levels high. They are manually and digitally checked for each order before they're placed on another pallet and truck to make their way across the province.
Each package gets checked, double-checked, and triple-checked before distribution to retailers and consumers through various delivery services. All for you to roll up, light up, and smoke! (or however you responsibly choose to consume).
Flow-Through
In addition to its standard wholesale and consumer shipments, the OCS distribution centre also manages a growing portfolio of Flow-Through products—around 350 as of publication—which allows retailers to select specific products not already stored in the warehouse.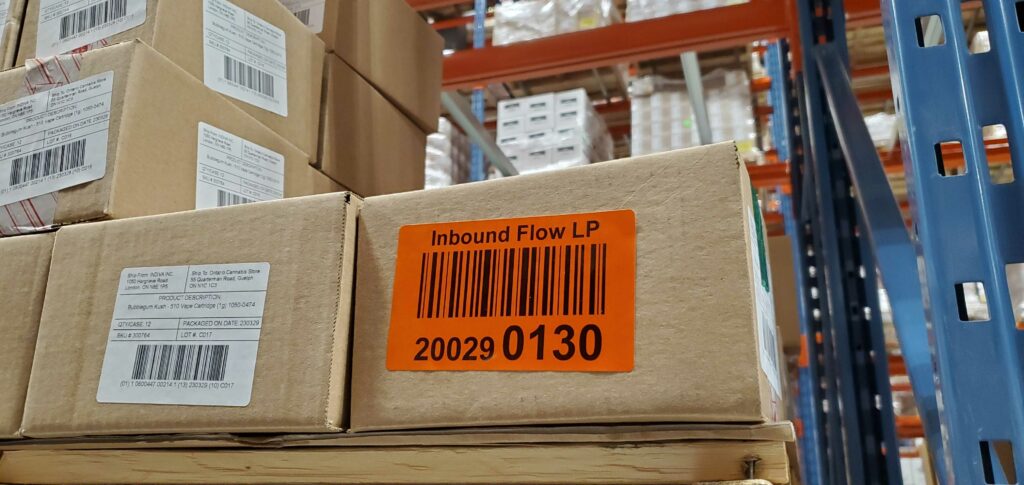 Flow-Through gives retailers a chance to stock unique and seasonal innovations that can help them distinguish themselves from their competitors.
"For licensed producers, Flow-Though is an opportunity to introduce greater innovation, including small-batch, niche, short life cycle and seasonal products," says Lobo. By enabling LPs to determine how much inventory to make available for retailers, Flow-Through is helping producers drive inventory allocation and availability, while gaining a better understanding of market demand for a product."
Lobo also says once the Flow-Through program is operating at 100% capacity, the agency will begin looking at other changes to further streamline distribution and offer pathways for more unique products.
So the next time you find yourself enjoying cannabis in Ontario, pause between hits to contemplate the work it takes to help it find its way to you!
---