Wildwood Flowr Inc. is an outdoor micro cultivation in Westcock, New Brunswick, with a focus on regenerative, organic agriculture.
Tucked away on the back end of a three-acre property, and surrounded by shipping containers—camouflage to blend in with the landscape—head grower Randy Flemming is tinkering away with different varieties, trying to find the right ones that are ideal for his small piece of New Brunswick.
The outdoor grow is in a courtyard formed by the shipping containers, creating what Flemming says is a secure boundary, as well as helpful production space for drying, trimming, office space, and in the future small scale processing.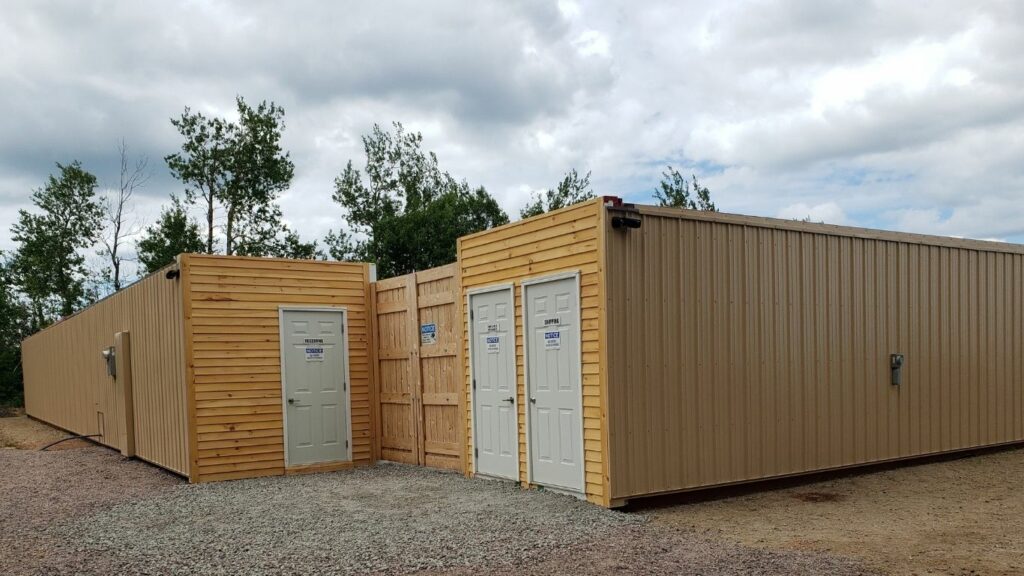 The shipping containers, in addition to creating indoor working space, create a 6,400 sq ft courtyard that allows for their allotted 200 m of cultivation space (~2,153 sq ft), plus enough room to move around.
"It allows us a lot of space to plant out and gives us room to work" he explains. In the meanwhile we have these nine and a half foot shipping containers around it so you've got this incredible security and fantastic wind block, so we went with that. And then we covered the outside to blend in better with the surroundings, which it does really well."
He says at first some neighbours were skeptical, but now that they see what they've done, the response has been supportive.
"They weren't sure in the beginning what it would look like and now they keep giving us compliments, so it's going well."
Licensed this past April, Flemming and his daughter Jenna Miller had 80 plants in the ground by the end of June, a handful of different phenotypes Flemming wants to continue to experiment with, while also producing what he expects will be several pounds of cannabis per plant, to be processed into cannabis oil for use in other products.
While his partner Av Singh focuses more on the processing—submitting their own processing licence this year and working with other processors in the meantime—Flemming is focused on selecting the right varieties.
He says he's spent many years growing under a medical licence or as a hobby, although often more for research purposes than for large yields.
"I wasn't growing as much cannabis as I could, I was growing to figure out what causes each deficiency, how do I feed these deficiencies or problems, how do I find the most stable genetics," says Flemming.
This allows him to better learn exactly how to deal with any problems that might arise, but doesn't prevent him from feeling confident that he can get several pounds per plant, based on past yields.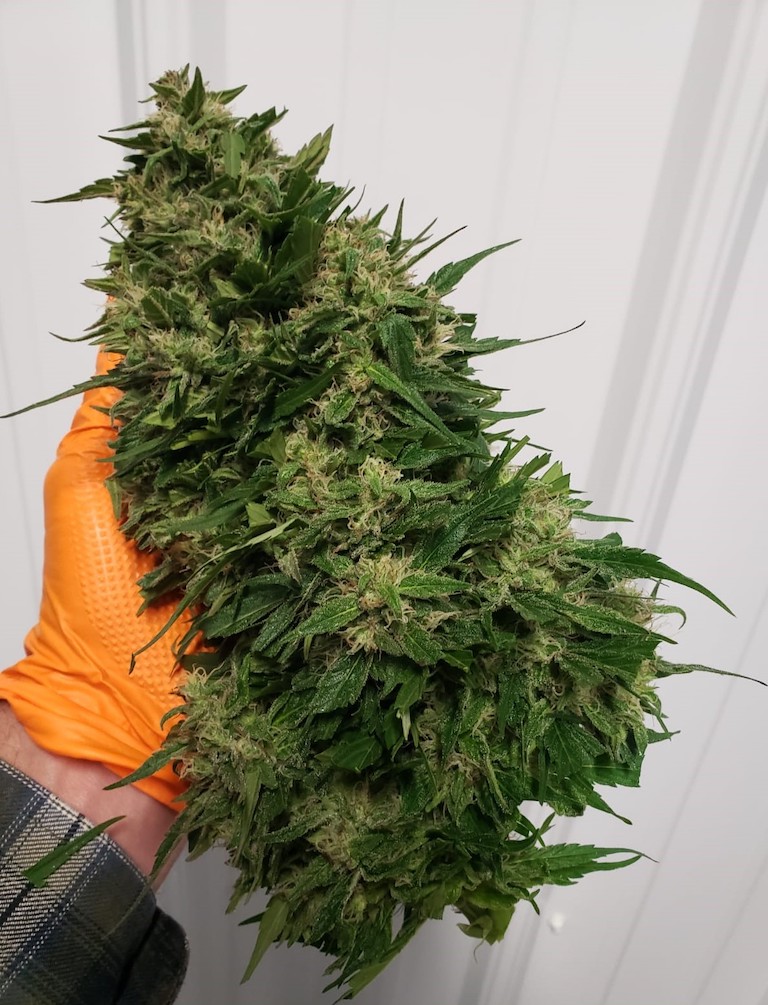 Ideally, he also wants to get a nursery licence, so he can have more space available to experiment with different varieties, trying to find some more stable and more appropriate for outdoor growing in New Brunswick.
"I believe that the more people who are willing to put the effort into doing things like that, the more stable a variety that gets put into the marketplace. In the future, I'd like to own a nursery, to back crop these seeds to give something to farmers so that they can drop ten thousand of these seeds and it is extremely close in terms of the COAs of the plant beside it."
"If no one is truly back cropping their genetics, eight maybe ten times, there's something missing," continues Flemming. "So I want to champion that and be a steward of that, and not just hybridize everything that comes along that we can get in our hands for a profit."
By focusing on a low-cost, organic production method, growing directly in the soil and using things like fermented teas to fertilize the plants, Singh says they can keep their overall costs of production very low.
Singh, who also helped Flemming with the federal licensing process, says keeping this low cost of production is incredibly important, especially for small-scale outdoor growers, with current outdoor prices often well under a dollar a gram.
"It's really important to understand what your cost of production is going to be," says Singh, "so that you'll have realistic expectations on what your return will be. If you can produce your product for twenty cents a gram that's great, make sure you're formulating relationships with processing companies, and then hopefully, as outdoor, you'll get forty or fifty cents a gram."
Flemming says one option that many micro cultivators put their hopes on to get a better price produce for their product, cannabis farmgate, isn't for him. Although he's open to operating a small store in another location if New Brunswick allowed it.
"In our particular circumstance, I wouldn't want it. But if I could have a secondary location in town or something like that I would probably do that. The trouble with putting it here is it puts a lot of pressure on the neighbours for traffic that didn't exist before."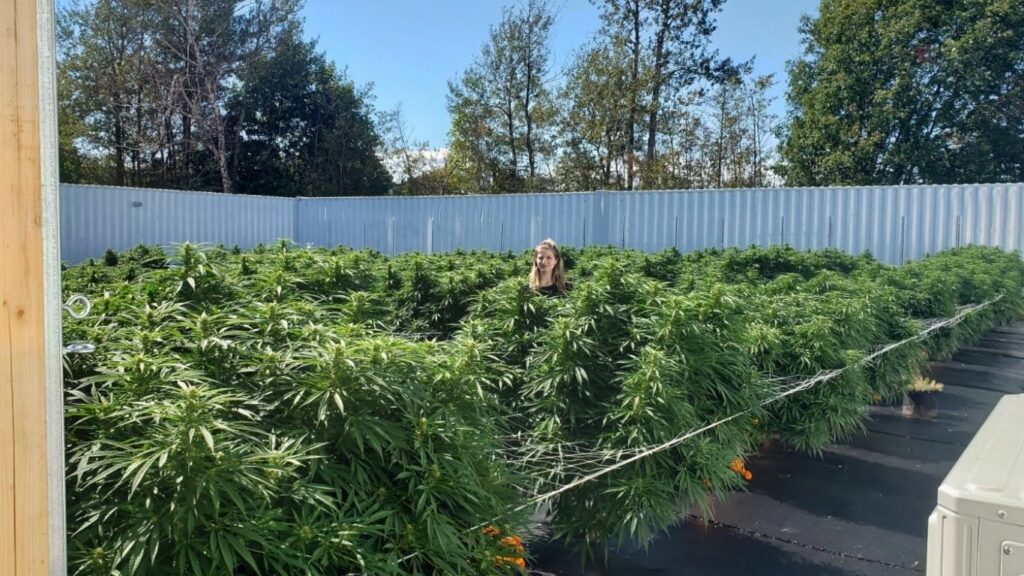 He says that those who are pinning their hopes on it, to be cautious in terms of expectations, should it ever become a reality. Rather than a small farm stand, he says he expects there will be a need for the same types of rules already in place for cannabis stores.
"I think a lot of people may not be prepared for that, so I hope they are looking into it," he says.
Instead, he says he wants to just produce low-cost outdoor flower for extraction.
"Our goal is extraction, whether we produce the extract ourselves, or work with someone else until then."
---