Started by a handful of trusted friends and cannabis enthusiasts with different levels of experience in both the cannabis industry and consumer packaged goods, the team at OMG has already brought two micro-grown cultivars to the Ontario market, with a growing number of producers waiting in the wings.
Craig Penstone, who spends much of his time visiting micros across Ontario, says they created OMG to help small growers navigate the sometimes difficult and complicated provincial listing process.
"We are seeing 1-2 person operations, with 10m x 20m of grow space, consistently outgrow the big guys in their small grow rooms, only to get slaughtered on route to market: zero credit for their harvests, getting paid on consignment, or not at all. Growing the best flower and bringing it to market are two completely different skill sets," says Craig.
"We wanted to help change that. We have experience in bringing new products to market, so why not use our skills and resources to help local growers. That's been our focus, staying local and sharing our skills with craft growers who have the kind of flower we love." says Martin.
Part of that experience comes from Martin Fedor, Jeff Phisanoukanh, and Victor Lai, who bring years of experience in consumer-packaged goods, as well as experience at a larger LP where they brought many new cannabis products to market.
"We are product developers and innovators, and we have brought many products into the cannabis market," says Jeff. "We know there are great growers out there who can produce excellent flower, but navigating the market takes focus away from what they do best: growing. So, in that sense, OMG is a cooperative where we help those small local growers get their flower into Ontario."
The team's process in selecting the right strain includes a visit to the facility to evaluate their grow methods and their flower. It's not only about the numbers, they review the bud for unique genetics, appearance, aroma, flavour, density, and overall bag appeal.
"Helping growers get products approved and listed by the OCS is part of it", says Craig. "Another piece is visiting retailers/budtenders and educating them about these growers and the unique and high-quality flower they grow."
"Most people don't fully understand just how small micros are compared to every other legal option," says Craig. "So a lot of our work is education. Consumers want to support local and craft, but they just don't know how to identify those products. We're helping retailers discover these great local products and they can pass that on to their customers."
One way OMG distinguishes itself in the market is they don't charge their micro partners any fees and pay them for their product upfront, rather than on consignment. While micro growers get paid upfront, OMG gets paid months later after shipment to OCS. Although this means more risk for OMG, it's part of their company culture of wanting to help small local growers. "A lot of these small growers are struggling, so getting cash into their hands upfront will help them keep going and survive. The provincial markets aren't necessarily built for small growers. They might have the best flower, but if they don't know how to navigate the provincial buying process, they will struggle to get their product into market," says Jeff.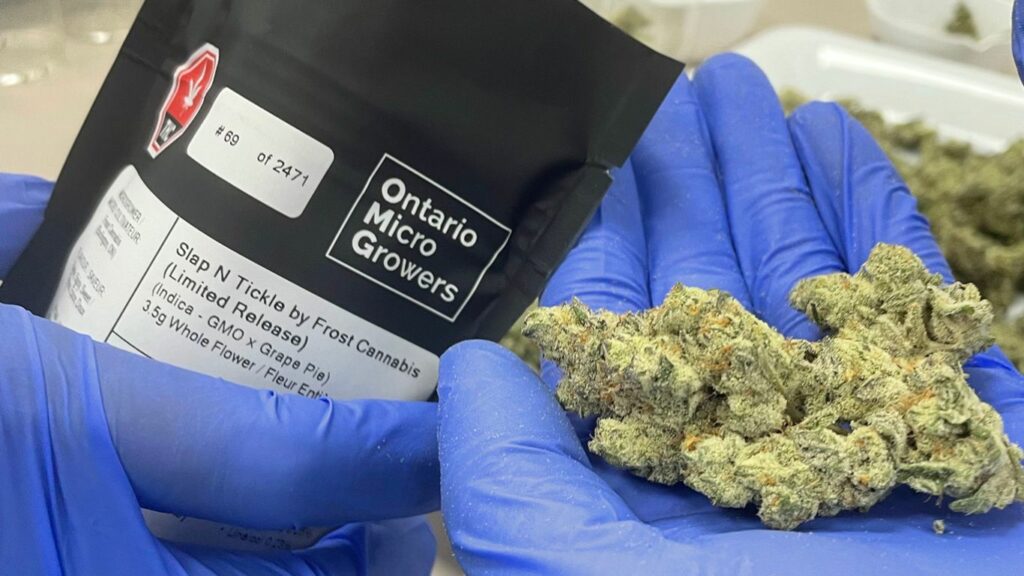 Although they started with two initial strains—Slap and Tickle from Frost Cannabis and Desi from Five Rivers—Jeff says they have many more micros that they hope to launch in the coming months. The next new micro, which will be launching in the new year, is grown out of St. Catharines, Ontario. As a new brand, Jeff explains that the OCS wanted to start with just a few initial 3.5-gram varieties. But long-term they hope to begin offering more strains, pre-rolls and infused pre-rolls.
"We're a grassroots small business," explains Martin, "so we know what it's like for other small growers out there. We know if they succeed, we succeed."
"If there are micros in any province that would like to work with OMG to get their flower into market, reach out to [email protected]."
---