Scott and Brad Acton are two brothers running Frost Cannabis, a micro producer in Burlington, Ontario for just over a year now.
For Scott Acton, focussing on their craft is the most important thing, not growing millions of square feet of cannabis.
Scott is the co-founder of Frost Cannabis running much of the front end of the business, along with Brad who is the head grower, although he says they each end up wearing a lot of hats as a two-man operation.
Licensed in 2021, the brothers manage the majority of the day-to-day operations running their two flower rooms, plus the mother and veg room inside their 200 square meters of grow space.
Also in possession of a micro processing licence and dried/fresh sales licence, Scott Acton says they hope to have their own product on shelves in Ontario around the end of this year.
In the meantime, Frost has released their first four crops—Slap N Tickle, Fire Cake, Bacio MaiThai, and Lemon Shortbread—through a few processing partners, and has popped up in a few provinces. This, he explains, has allowed them to focus on getting the business up and running, dialling in their grow rooms, and beginning to work through their large collection of in-house genetics. (Slap and Tickle is currently available in Ontario through Ontario Micro Growers (OMG)).
Both being experienced growers "on the ACMPR side", Acton says he and his brother really became interested in the micro licence when he saw how little quality cannabis was available as legalization began.
"We were seeing, let's say… a lack of good flower on the market. So it motivated us to do this ourselves. We knew we could grow good cannabis and we knew people wanted something better than what we were seeing."
Part of this approach was bringing in their own genetics that they were experienced with, rather than relying on suppliers.
"We know what we have is good and it's what we like to smoke. So we brought a lot in with us. We know the quality of the genetics is just as important as the quality of the grower, so we just wanted to keep everything in our control."
Another part of keeping everything in-house, he explains, is to begin packaging their own flower, ideally by the end of this year.
Frost received their micro cultivation and micro processing licence in April 2021, and then received their sales amendment, which allows them to sell dried flower to provinces, earlier this year. Although there are still additional approvals to navigate through the provincial buyers, Acton's hopeful he'll find a way to retailers in the GTA.
He says that they expected the first few years to be focused on dialling in their systems in new rooms. Partly because of this, he's utilized other processors who already have agreements with provinces, but ultimately he hopes they will be able to do it all themselves and sell directly into the Ontario market, ideally close to where they work.
"We would love to be in other provinces, but we want to focus on our local area, and Ontario is large enough to take everything we can grow. And I think that's how it should be.
"I think that's the future in this market. You'll have the really big guys—and that's what some people are looking for, and that's great—but then you'll have a lot of little guys who are maybe selling to their community and can grow something better than that. And there's obviously a demand for that too."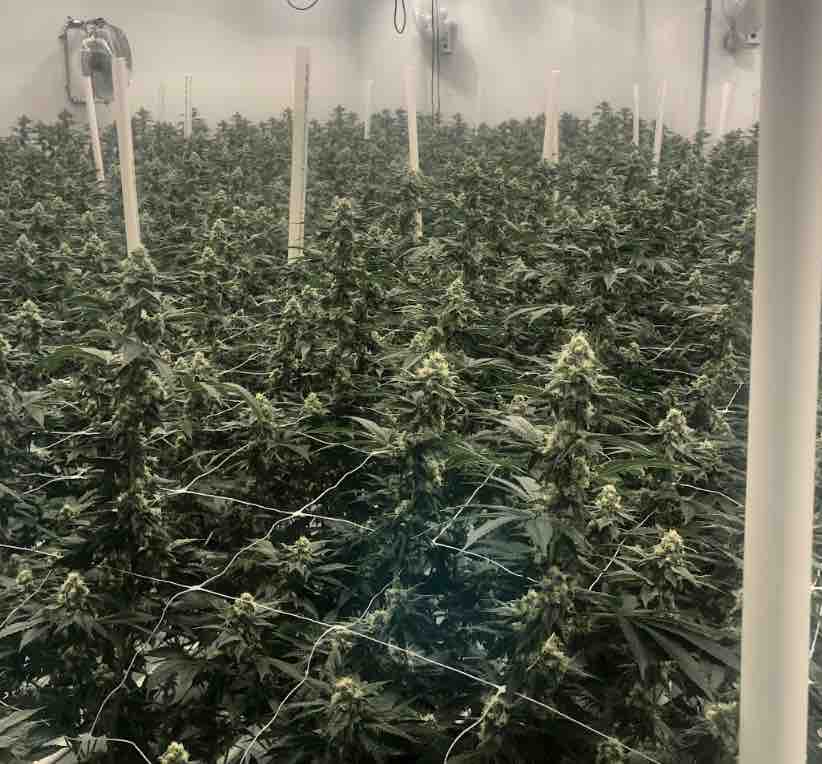 Getting the sales amendment to sell their own dried flower was a big step in that direction.
"That was really big news for the industry. It's going to open the floodgates, letting the market decide whose flower they want to buy. Maybe making it a little harder for the middleman but the growers will have more ability to release their flower more easily, which is where I think the market should be."
Still not using all of their approved canopy space, Acton says they currently pull between 20 and 30 kg a month out of their two rooms. Although he notes it's not as much as the larger growers, it's a manageable amount for the two-person team.
Beyond their growing area, they also have a modest processing space they plan to use to package their own dried flower: hand-packaging after hang-drying, hand-trimming, and curing.
And although the focus is on a high-quality craft product, the price needs to be reasonable too.
"We like to keep it really lean, that's the recipe for our success. It's not the number of plants: it's about having a lower price per gram, and we can do that by doing it all ourselves. The less labour you have in there, the less it is per gram.
"And plus, we love what we do."
Anyone wanting to reach Frost Cannabis can reach out on Instagram at @FrostCannabis.
---