Magi Cannabis is a small, family-run micro-cultivator on Salt Spring Island, in British Columbia. Josh Beckett and his partner Nadine are long-time islanders, with deep roots in the community.
Beckett is a second-generation cannabis grower who grew up with a love of the plants. Since 2009 Beckett worked with medical patients and developed a deeper understanding and appreciation of cannabis's use in pain management and palliative care.
The process of transitioning from supporting medical patients to creating a business within the recreation framework has been a challenge at times, explains Beckett.
Banking is one obstacle he says he ran into early on. Initially, his local credit union reached out to him to see if he needed a business account only to call him back a few months later to say they were told by company leadership not to work with a cannabis business.
Another challenge was just getting through the regional licensing and approvals. The Capital Regional District (CRD), the administrative body that manages all the southern Gulf Islands including Salt Spring, took six months just to reword their cannabis covenant, he says. There was also a requirement for registered professionals such as engineers and architects to be connected to his application, and limitations on where he could build.
"The regional application was just as difficult as the federal application. And more expensive because of all the professionals that were needed."
"If you have a lot of capital, great. But if you don't have a lot of capital, you really need to be careful with how you spend the money. There are a lot of experts out there that will use up your project financing pretty quickly."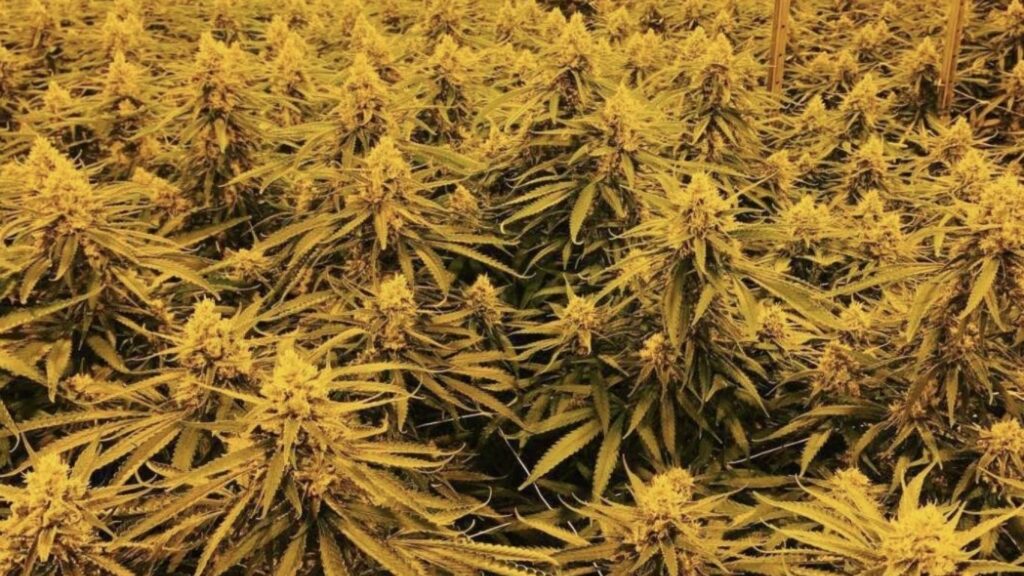 While he has faced a lot of hurdles, and continues to do so, Beckett is committed to making the business a success.
"My business plan is fairly simple: pay good living wages to the gardeners and trimmers, and produce an amazing product."
Beckett works seven days a week, operating as the head of security, master grower, and license holder, with help from family and friends. He also did the entire application himself, which took hundreds of hours, with help from his sister Nova Kodaly.
"I'm overburdened and overworked. Honestly, I've gone through some periods of just wondering why I bothered doing this. It's been challenging. It's hard on the property, and it's hard on me. It's not like the old days."
Another difference from the old days, continues Beckett, is that he needs to grow just one or two strains, not a handful. While he used to do lots of varieties for patients as a designated grower, but now realizes he needs to focus on just one or two to ensure he has large enough batches for market.
"I'm used to growing lots of different varieties to support different patient's needs," he says. "But what I'm realizing is with the compliance costs, I have to really rethink that."
The custom-built shop that houses Magi Cannabis is only 2,000ft2, just under the allowable canopy for a micro cultivator. His actual canopy, he says, is around 1,300ft2 – a little over half of the allowed 2152ft2 (200m2). This was largely due to the logistics of his property, including suitable construction space and power needs.
Although he wouldn't mind having a little bit more space, he says the small size makes it more manageable and helps him focus on high-quality products.
"We're the craft of craft," says Beckett.
Despite this small size, he says it cost upwards of $600,000 to build out and equip the facility with lights, HVAC and more – a price he says would be close to double for someone building something slightly larger and with the current increases in building and materials costs. He's had to take out personal loans and investments from friends and family since he couldn't secure a line of credit for his business.
These costs and challenges, he says, might work for growers in other parts of the country with more capital and lower overhead, but for legacy growers in the Gulf Islands, he thinks it might be difficult to convince people to transition to the legal market.
"The regional requirements are difficult enough that I don't think we are going to see a ton of people transitioning," says Beckett. "Legal cannabis cultivation is less profitable than the black market, so I just don't see a lot of people doing it, not here."
Beckett is hoping all the hard work is going to start to pay off soon, and make the workload and debt load worthwhile. Magi Cannabis has just entered into a supply agreement with Bud Coast (Joint Venture Craft Cannabis) to get their first crop of Hippie Headbanger and Salt Spring Sugar Star on the market, and into the hands of discerning consumers.
"This is a true craft, family, ma & pa legacy grow, and I'm a second-generation grower on Salt Spring Island. We love what we do and despite all the challenges, we want to make it work."
---