The Ontario government expects to bring in $269 million from its portion of the federal cannabis excise duty for the 2023-24 fiscal year.
The provincial government also projects another $194 million in revenue from the Ontario Cannabis Store, out of more than $204 billion in total revenue for the province projected for the current fiscal year.
These figures show an increase from the $253 million the province brought in from their portion of federal cannabis taxes in the 2022-23 fiscal year, $215 million in the year prior, and $106 million in the 2020-21 fiscal year.
This compares to the $617 million the province projects to bring in from tax revenue from the sales of beer, wine, and spirits in the province and $840 million from the tobacco tax in 2023-24.
The Ontario Cannabis Store brought in $67 million in revenue in 2020-21, $186 million in 2021-22, and $225 million in 2022-23.
Ontario, like most provinces, receives 75 percent of the $1 per gram excise tax charged at the federal level. Only Manitoba opted out of the initial tax-sharing agreement, although the provincial government is currently in talks with the federal government to take part in that.
Earlier this year, the Ontario Cannabis Store announced it would lower its margins and move to a fixed-price model. The change comes as part of a commitment to improving process transparency in its 2022-2025 Business plan, which includes a review of the OCS pricing structure. With this new change, the OCS projects that margin reductions will contribute approximately $35 million to the marketplace in 2023–24.
Ontario sold more than 63 million grams of legal cannabis in the first three months of 2022, representing over $405 million in sales. This data is from the most recent financial reports from the OCS since it stopped issuing quarterly reports. The next report is expected later this year.
Ontario sold more than $1.5 billion of cannabis in fiscal year 2021 ($405,000,000 in Q4, $398,700,000 in Q3, $393,900,000 in Q2 and $307,000,000 in Q1).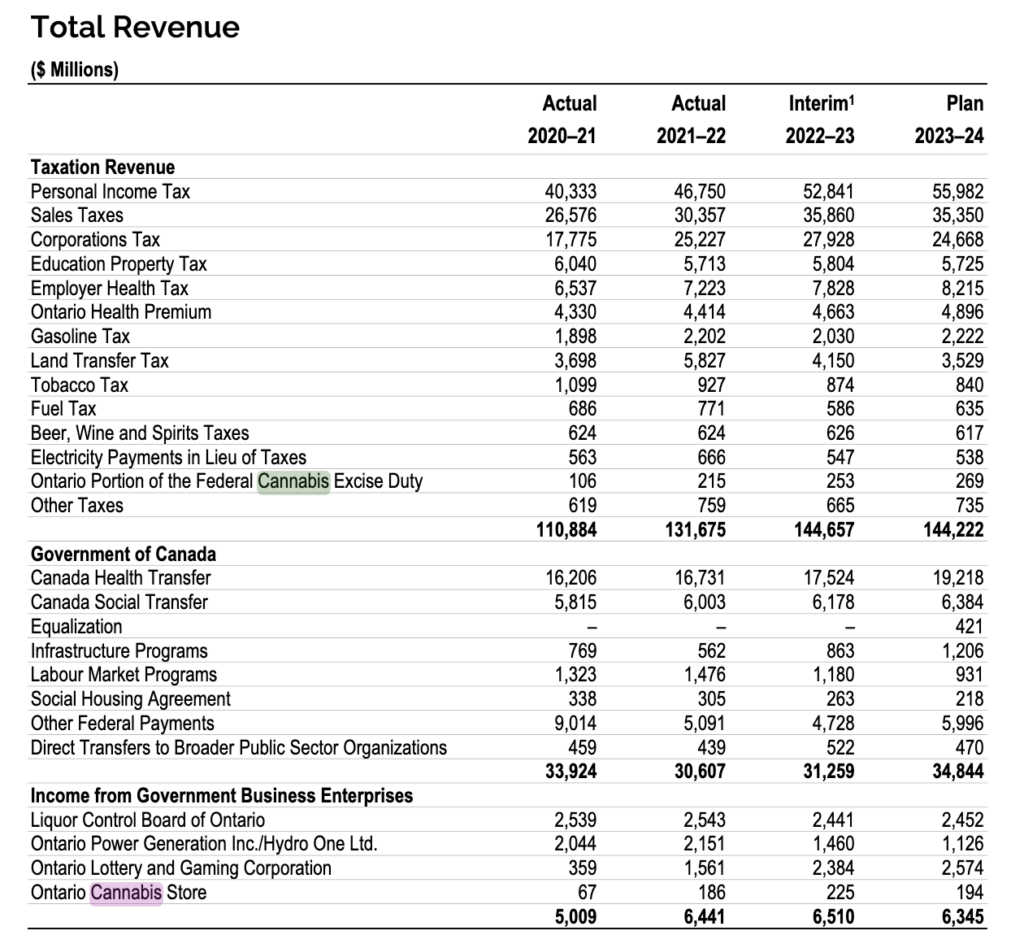 ---