Illicit cannabis in Canada is far more likely to contain high levels of pesticides compared to its legal counterparts, found a newly released study.
Researchers at Health Canada's pesticide lab with the Regulatory Operations and Enforcement Branch conducted a study that took samples of dried cannabis flower from the legal and illegal markets, analyzing them for pesticide residue.
The results found only a six percent positivity rate for very low levels of two unauthorized pesticides, myclobutanil and dichlobenil (a fungicide and herbicide, respectively) out of 36 samples, compared to a 18 percent positivity rate prior to 2019.
Over 18 percent of licensed cannabis products contained unregistered pesticides prior to the 2019 mandatory cannabis, with a sample positivity rate of 18 percent, testing of 96 pesticide active ingredients, with myclobutanil, bifenazate, boscalid, and fludioxonil pesticides most commonly present.
Researchers also tested 24 samples of illicit cannabis which had a 92 percent positivity rate for pesticides with 23 unique pesticide active ingredients found at a high sample frequency rate 8 to 17 times.
The illicit cannabis contained, on average 3.7 different pesticides per sample, and 87 percent of positive samples contained more than one pesticide. One sample of illicit cannabis contained nine different pesticide-active ingredients.
The pesticide concentrations quantified varied greatly, with chlorpyrifos, imidacloprid, and myclobutanil measured at 30, 60, and 70 μg/g, over three orders of magnitude higher than the method's lowest calibrated level (LCL) of 0.01 μg/g. The two pesticides found on legal cannabis were only found at the lowest possible detection limit of 0.01 μg/g.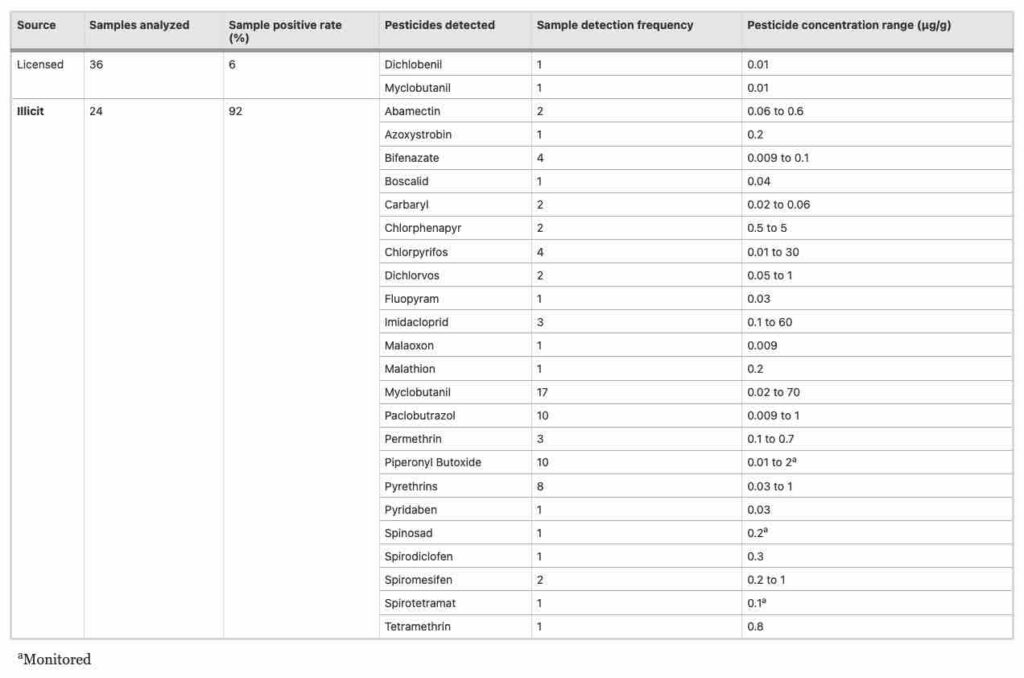 While the results show high levels of pesticides on illicit cannabis products, the goal of the study was to better understand the presence of unauthorized pesticides on legal cannabis products, and to streamline and expand the existing cannabis inflorescence method. This was following Health Canada's implementation of mandatory cannabis testing for pesticides in 2019. This was implemented after some licensed producers were found to be using products like myclobutanil and pyrethrins beginning in 2016.
While these pesticides were not authorized for use on cannabis in Canada, Health Canada did not require testing for these products until 2019.
Health Canada also maintains a list of authorized pesticides for use on cannabis. There are currently 57 authorized pest control products for use on cannabis in Canada. All products designed to manage, destroy, attract or repel pests that are used, sold or imported into Canada are regulated by the Pest Management Regulatory Agency (PMRA), the branch of Health Canada responsible for administering the PCPA on behalf of the Minister of Health.
To better understand how widespread pesticide use currently is in cannabis production, researchers at Health Canada validated a single method using a combination of gas chromatography—triple quadrupole mass spectrometry (GC–MS/MS) and liquid chromatography—triple quadrupole mass spectrometry (LC–MS/MS) for the simultaneous quantification of 327 pesticide active ingredients in cannabis inflorescence.
This approach, says the research paper, goes beyond the 96 pesticide active ingredients mandatory testing.
The 36 samples of licensed cannabis products were purchased in 2021 from the Ontario Cannabis Store (OCS) from licence holders located in all five Canadian regions (British Columbia, Prairies, Ontario, Quebec, and Atlantic).
The 24 samples of illicit cannabis were acquired from seizures by law enforcement officers across the country and submitted to Health Canada for laboratory testing in 2021.
BC, Ontario, and New Brunswick have also released reports in the last few years showing contaminant testing on dried cannabis and cannabis vapes seized from illicit retailers.
Related Articles
---