Crown Buds is a small, family-run micro cultivator based in Glencoe, Ontario, a small farming community southwest of London. 
Licensed this past June, Crown Buds is already finishing up their second crop in their small, retrofitted facility on an eight-acre farm.
The indoor operation is led by Benjamin McAuley, along with his wife, brother and mother who all share different roles at the company, from head grower to head of security to bookkeeping.
Some tasks, though, are shared by all.
"When trim day comes, we're all trimmers," laughs McAuley.
Despite all the family help, Crown Buds was the dream of McAuley for several years now. With a background in horticulture and several years working in the cannabis industry at two other licensed producers, he took the next step in 2019 by purchasing the farm with his wife and family.
"I've always been into the culture of cannabis and I've been smoking it since before I even realized it was a medicine to me. It's just always been a part of my culture and my life. So when I went to school for horticulture it was based on that. And everything I learned I applied to cannabis."
McAuley finished his degree in Applied Science with an eight-month field study at Peace Naturals in Stayner, and two years at WeedMD in Aylmer where he covered numerous positions, including quality control and as both the QAP and AQAP.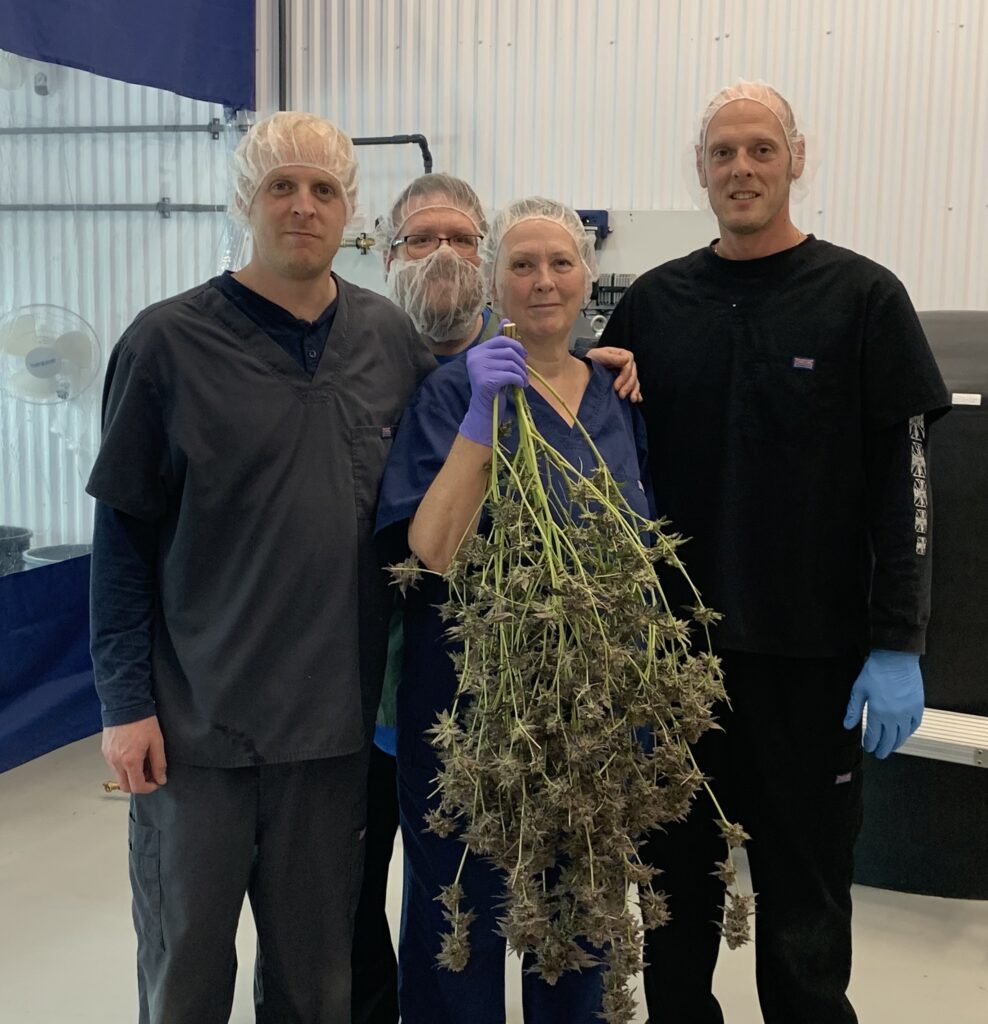 When he purchased the land in 2019, one of the reasons they chose their location—in addition to favourable zoning and bylaws—was a 5,300 ft barn already on the property that was then transformed into an indoor micro facility.
Crown Buds built out two flowering rooms within their 200m2 of production space, only half of which is currently in production while they put the finishing touches on room number two.
"We're 100% in-house. We're family-owned, family operated. So we wanted to build out what we could to start. Plus, this will allow us to work out the kinks before we go into full swing."
McAuley says Crown Buds is now looking for processing partners to find a path to market, either from those interested in buying their in-house—including their first harvest of Dosi-Do and their current crop of Dark /Shadow Haze—or contract growing for an LPs existing SKUs.
While some growers are looking to control as much of the supply stream as they can, from cultivation to packaging, marketing and sales, McAuley says his focus, at least for now, is strictly on cultivation.
All of these other steps come with many extra costs, especially when dealing with provincial buyers and provincial recall insurance.
"At the core of it, we're just looking to be farmers and do what we love doing and let a partner do most of that stuff because that's what they're good at. Leave those headaches in the hands of those qualified to do it"
"We're really lean, we want to keep low overhead costs and keep it as lean as we can, so if we can outsource that stuff would be ideal."
And although he knows many of the realities of the industry will still be a challenge, McAuley says he's also very excited and happy to have brought his vision this far, and he looks forward to what the future will bring.
"We live on site, so it's a short commute. We're family-owned, we're small, we love what we do, and we want to keep doing it. We're just here loving the culture and trying to make a living do it."
---