| | |
| --- | --- |
| COMPANY: | KinHana Cannabis |
| LICENCE TYPE: | micro cultivation/medical sales |
| APPROACH: | Indoor |
| TIMELINE: | ~6 months (May 2019 – November 2019) |
| COST: | ~$100,000 |
| FACILITY: | Indoor (warehouse) |
Cheryl Wilson runs KinHana Cannabis with two of her daughters in Muskoka, Ontario. Licensed in November 2019 for micro cultivation and medical sales, KinHana hopes to begin selling to patients through their web portal by the end of this year.
The three-woman team has spent the last year dialling in their facility and growing methods, bringing in two harvests so far and preparing their website to begin to process orders. The facility itself is about 2,500ft2 inside a larger 15,000ft2 warehouse, with one flowering room around 1,500ft2 and a veg room that is about 300ft2.
Family-run micro cannabis
The smaller size, coming in even under the 2,152ft (200m2) allowed for a micro cultivation licence, has allowed them to keep the focus on quality, rather than pushing to product as much cannabis as possible.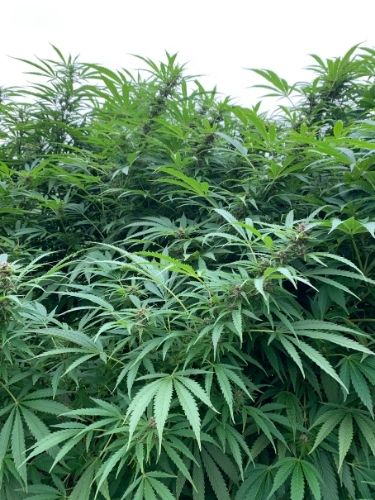 "It gives us a chance to know every plant that's in there, getting what it needs, looking the way it should look and it's harvested when it's supposed to be harvested," says Wilson. "The only automation we have is the irrigation and the timers on the lights, other than that we do everything by hand, spending time with each plant."
Although Wilson has years of experience working with plants she's somewhat new to cannabis, but has been able to lean on her daughters and son, both who spent time living in BC's cannabis-rich Kootenay region learning to grow. Two of her daughters work full-time at the facility, while WIlson's son offers advice on cultivation issues when they need it.
"BC bud is famous and if you've got a bc grower, I think you've got an edge," she says. "I'm really proud that i've got three BC growers working for us."
Taking the time to grow great cannabis
KinHana was originally licensed for micro cultivation and a medical sales licence, and is in the process of working on their processing licence. While they wait for a processing licence, they are looking to partner with a third party processor who can package their dried flower so KinHana can then sell it on their own website to those registered to access through the medical channel. If all goes well, they hope to have product by the end of the year, and to provide a channel for other cultivators to sell via their medical channel as well.
Wilson says she knows she's in an enviable position not having to rush product to market, which she thinks can give KinHana an edge in terms of product quality.
"I honestly didn't focus on selling yet, my focus was on doing a very good grow. I wanted a top quality product, so I did not focus on how am I going to sell this, how am I going to get rid of it. Maybe I'm in a unique position in that way, but it didn't bother me that it's been sitting in the vault."
"I don't say it braggingly," continues Wilson. "I do recognize that's not the case for everybody, some people have to get it sold and it can be a financial make or break. Fortunately, I'm not in that position.
Wilson says she took this same approach to her buildout and licensing, as well. Although she had originally applied in December 2018, she says some logistical issues with Health Canada pushed her application back by several months, putting her application in after the May 2019 cutoff that required new applicants to have a facility in place prior to application.
Despite that setback, she says she still found the licensing process helpful and easy to navigate and since she did the application herself, rather than using an outside consultant, she found the review process helped her refine her own application.
Consultants vs doing it yourself
"There were things that I'd missed (in the initial application), and Health Canada was very generous with time and helping me make sure I got every i dotted and I really enjoyed working with Health Canada. I know a lot of people get cross with them and get intimidated by them, but I find them to be very, very helpful."
Although she had initially looked at hiring a consultant, after one wanted to charge her $100,000, she decided to do it herself. Ultimately, she spent that same amount on the entire business, from designing and retrofitting her building to the application itself. Doing that, and leaning on Health Canada's input, says made her business that much stronger.
"I know my own business very well now, because I've had to go through that myself… I did all the work behind it, so I understand what my business is. So I'm glad I did it on my own instead of hiring somebody."
Cannabis farmgate in Ontario
Wilson has also applied for one of Ontario's farmgate licences, although she has not heard back yet on the status of the application. But her plans, she says, is to potentially set up a small building in the parking lot outside her facility. And because she owns the 15,000ft2 warehouse that houses her micro facility, she says she's also considering adding new micro licences to the building, once she and her daughters feel they can scale out their operation.
"I'm open to it," she says of adding new micro facilities." I own the building so we could make it work, but we want to take it one step at a time."
---