| | |
| --- | --- |
| COMPANY: | Robert W Ritchie aka Bob's Better Buds |
| LICENCE TYPE: | Micro Cultivation |
| APPROACH: | indoor/outdoor |
| TIMELINE: | ~ 8 months (April 2019 to January 2020) |
| COST: | $100,000 |
| FACILITY: | Outdoor + retrofitted barn indoor production |
Robert W. Ritchie is an indoor and outdoor micro cultivator in Ontario, licenced in January 2020.
Operating as Bob's Better Buds, Ritchie is one of the few licence holders in Canada with an indoor and outdoor operation on one site under one licence. His first crop was an outdoor crop harvested last October, followed by his first indoor crop started in mid-December.
Ritchie says he was able to complete the entire application on his own over about a year's time. He started the application process right after legalization in 2018 and applied in early 2019 just before the cutoff in May that required applicants to have a complete facility prior to licensing.
Initially, he says, Health Canada told him he would need to reapply once his facility was constructed, but he says he found success in pushing back.
"They sent me a letter saying we would need to re-apply, but I told them no," explains Ritchie. "They then told me I could continue with the application process if I gave them my evidence package within 30 days, which I was able to do."
Ritchie was able to convert a barn on the property he purchased to hold indoor production space, and complete the application process by the beginning of the following year. He had his first crops in the ground outside my May 2020.
"It took me about a year, but I managed to do it all myself," continues Ritchie. "I didn't hire any consultants. And I honestly can't say anything bad about Health Canada. They were very helpful."
The entire process cost him around $100,000 he estimates, spending about $30,000 retrofitting an old barn to hold his indoor space, erecting a fence around the entire growing area, securing the property, and navigating the regulation.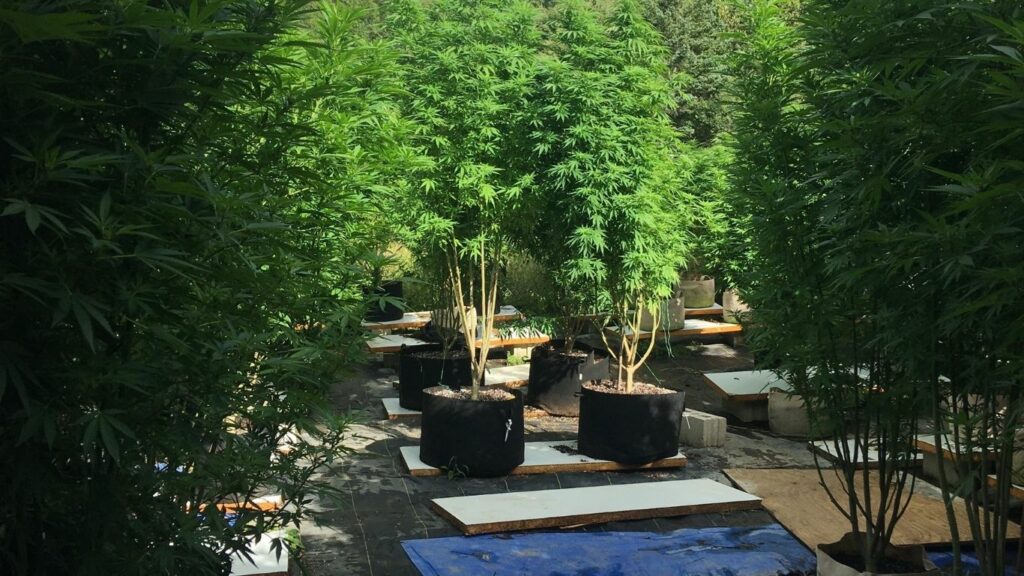 "We did it on a very small scale and did it in about 30 days," says Ritchie, in regard to their initial build-out to secure their licence. "We built a very small grow room and processing room. Health Canada mandates that we have to have certain rooms, but those rooms can be used for different things at different times So we put three rooms together to cover that and they approved us."
Since that time he says he's improved on his indoor grow space and expects to bring in about 3 crops a year, in addition to his outdoor crop.
The challenge for Ritchie now that he's licensed, he says, is finding a buyer for his crops. His first outdoor crop was three different cultivars, all of which were genetics he has worked with for decades that are acclimated to his outdoor climate in southern Ontario. His first indoor crop started in late December of 2020. He's been able to bring in harvests over the typical 20% THC threshold for buyers but still has had a hard time finding a buyer for his flower.
Luckily, he was able to find a pathway to market through a relationship with Dykstra Greenhouse and Shelter Market.
Building relationships with larger LPs is difficult, he says. Although he understands why, since they are taking on risk with any new partnership since they have to take on liability, recall insurance, etc, it makes it hard for smaller growers like himself to get to market.
"It boils down to the COA. Right now, you won't be able to talk to anybody unless your COA is good. And what I mean by good is it's got to be north of 20% THC and it's got to be really clean, that's the only way anybody is going to talk to you."
"I am having a difficult time selling my cannabis that is 24%THC and Terpenes at 2.8% very good product. LPs don't seem to be interested in small volumes. I am not really sure what is going on in the market. A lot of new Micro Cultivators are going to start to have crops over the next six months. Who is going to buy this product that is coming online?"
The 55 year old grower says he is hopeful the market will change as provinces become more receptive to buying cannabis with lower THC levels, but even then, he sees a hard path ahead for many micros.
"I'm 55, and I'd be happy with an ounce of something with low THC that I can enjoy without getting absolutely ripped," says Ritchie with a laugh. "I'm not 19 anymore."
---