As Canadians prepare for the 2023 cannabis growing season, home growers are beginning to get more options for finding cannabis clones and seeds.
In New Brunswick, the provincial retailer Cannabis New Brunswick (CNB) started selling clones this February in coordination with two local cannabis growers.
New Brunswickers who want to buy up to four cannabis clones at a time can order in-store at one of a dozen different CNB stores around the province and pick them up about a week later
Currently, the province offers six different cultivars from two local growers, ECO Canadian Organic in Ruxton and Hidden Harvest in Moncton.
ECO Canadian Organic first began selling clones from their farmgate store in April 2022, and Hidden Harvest recently began selling clones from their own newly-acquired farmgate licence for their cannabis nursery at 555 Edinburgh Dr.
Cannabis NB was also selling cannabis clones at a recent event they hosted in February called Cannabis East.
ECO Canadian says their clone sales have been a welcome addition to their farmgate sales, with more than 1,000 plants sold in 2022.
Kevin Clark, the QAP at Eco Canadian Organic, says the provincial regulator first approached them in the fall of 2022 about their plans to offer clones online.
"CNB has been an excellent partner, understanding that the product is a living organism and requires a specific environment for the plant to maintain its health throughout the distribution chain," explains Clark, adding that ECO delivers the products directly to the stores on a weekly basis.
"Working with CNB has been an educational experience for both parties as we are developing a pilot program not seen before at the retail level, and we are excited about how CNB is taking a proactive approach in contacting other LPs to join in the sale and distribution of clones."
Emilie Dow, a Communications Specialist with Cannabis NB, says the province has sold more than 200 clones so far. Clones are $25 each. New Brunswick allows residents to grow up to four cannabis plants at home. (editor's note: This article has been corrected to correct the price of clones.)
"We're excited about the program, and initial feedback has been positive," Dow tells StratCann via email. "It's very new, but we hope to expand it in the future once we've had a chance to properly assess customer interest."
Rob Wilson, the owner of Hidden Harvest, says selling clones through Cannabis NB helps add to the viability of his business, as does his newly-acquired farmgate licence that allows him to sell clones directly to consumers from his facility in Moncton. This makes Hidden Harvest the second farmgate store in New Brunswick offering clones after ECO Canadian Organic.
Although the majority of Hidden Harvest's business is B2B sales of clones to other commercial growers, every little bit helps.
"The way we look at it, our bread and butter is still the professional market," says Wilson. "We don't sell the same product to the professional side as the consumer side, so we look at the farmgate as a different way to bring in some income. But even if we can capture even just a tiny part of the home grow market, I think it can work for us."
Cannabis clones and seeds across Canada
New Brunswick isn't the only province that has offered clones to home growers. In the past few years, a few growers and nurseries have offered short-lived pop-ups for clone sales without much fanfare or success. In Newfoundland and Labrador, cannabis producer and retailer Atlantic Canada started selling clones in their own stores in 2022.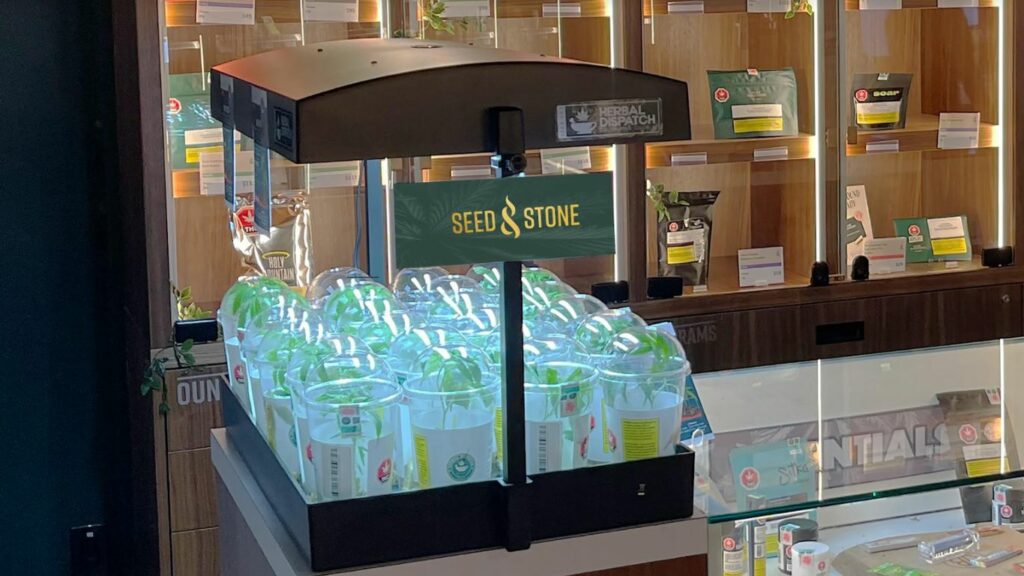 In BC, cannabis chain Seed and Stone began selling clones at a few of their stores in March. The cannabis starts are available through a partnership with Herbal Dispatch, which provides them through BC's direct delivery program. Clones are being sold in-store for $40 each.
Vikram Sachdeva, the founder of Seed and Stone, says they hope to expand their offerings to not only cannabis seeds and clones, but everything a home grower will need.
"Providing these services to our customers is really important. We want to become a one-stop shop where we will offer pots, soil, nutrients, and also be educating our budtenders on educating the customers on how to grow these plants".
Home growers seeking seeds can also find an increasing variety in nearly every province other than Manitoba and Quebec, which both still don't allow their residents to grow their own cannabis.
In New Brunswick, ECO Canadian made waves recently by announcing a deal with Greenhouse Seed Co to offer the company's unique genetics in Canada. New Brunswick currently lists about a dozen seed varieties from a handful of Canadian companies.
Home growers in BC have a handful of cannabis seed varieties to choose from, and several private retailers list seeds online in Alberta and Saskatchewan. Ontario currently appears to offer residents the most cannabis seed options with over 30 varieties available.
New Brunswick currently lists a handful of seeds, as does Cannabis NL in Newfoundland and Labrador. PEI, which initially offered cannabis clone sales via direct delivery, also offers residents a handful of cannabis seeds to choose from.
Home growers in Yukon also have options for legal cannabis seeds, as do those in the Northwest Territories.
Feature image via Cannabis NB