A new research paper showing evidence of high levels of heavy metals in vape pens suggests the government should require more testing and labelling to help better protect consumers.
The study, a partnership between Health Canada's Office of Cannabis Science and Surveillance and the National Research Council's Metrology Research Centre, found evidence of high concentrations of some metals in cannabis vape liquids from both the legal and illegal markets in Canada.
Several of the samples—20 legal and 21 illegal—"significantly exceeded" the established tolerance limits for elemental impurities in inhaled products that are established by the European Pharmacopoeia.
The samples of cannabis vape liquids (from the OCS on the legal side and from the Ontario Provincial Police on the illegal side) were analyzed for metals that are commonly tested for in cannabis, such as arsenic, cadmium, mercury, and lead. These elements can be present from fertilizers, pesticides or other environmental reasons.
The samples were also then tested for metals that could be present due to leaching from the metallic parts of the vaping devices themselves, such as cobalt, chromium, copper, iron, and several others. Research suggests that the potentially high acidity of cannabis vape liquids can cause these metals to leach into the cannabis oil itself.
The concentrations of arsenic, mercury, and cadmium in all of the tested samples were within the generally accepted tolerance limits, but the concentration of lead exceeded the tolerance limit in one legal vape pen and six illegal ones. Levels of nickel were, in some cases, 900 times above the established limits in several illegal samples.
Only a few of the tested samples exceeded the limits for cobalt and vanadium, and several samples from both markets were above the limits for chromium, copper, nickel, and lead. Several of the samples from the illicit market showed lead concentrations up to 100 times higher than the allowable limit.
Researchers also noted variations in the concentrations of heavy metals in samples from the same products bought at the same time from the same production lot.
What are you inhaling? Understanding analytical testing for cannabis vape pens
All vape pens tested were no more than eight months old, based on available packaging dates. The report noted that other research has shown increasing levels of leaching from nicotine vape products that have sat on shelves for more than two years, suggesting this same process could apply to cannabis vape pens as well.
Several other publications have identified metal particles in the aerosol generated from nicotine vape devices. The vape devices in these studies were heated and cooled multiple times to mimic normal consumer use better, leading to speculation that this process could add to the degradation of the metal into the vape liquid.
However, the products used in this study did not undergo such treatment. Researchers suggest this could point to other sources of contamination, such as the stainless steel aerosol tube and the core of the electrical connector, as a likely source of detected particles.
The health concerns due to the inhalation of these heavy metals, especially in often very fine aerosolized particles, are significant.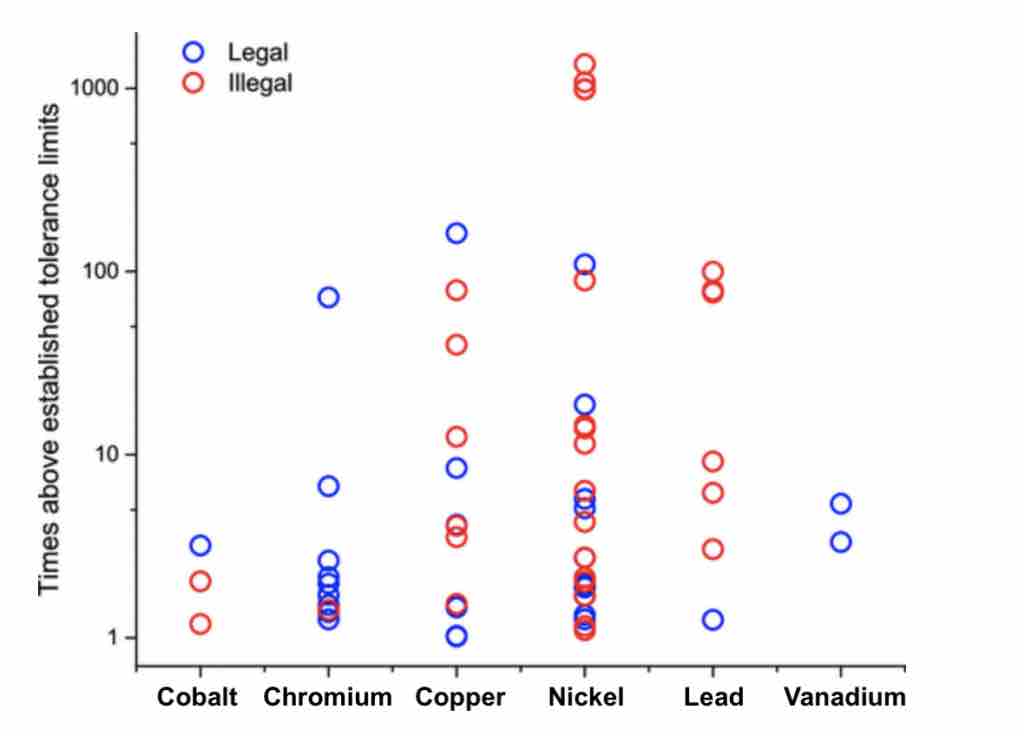 Inhaled metals are quickly absorbed through the respiratory tract and can be further transported to other organs. Researchers highlight that lungs are particularly susceptible to nickel toxicity, with adverse effects ranging from lung inflammatory changes to induced rhinitis and sinusitis or allergic dermatitis.
Even low exposure to inhaled lead can result in an increased risk of cardiovascular and kidney diseases, and inhalation of chromium and copper can lead to reduced lung function, an increased risk of asthma, respiratory irritation, or chest pain.
Adding to this, the presence of nanosized metal particles in vape aerosol is also a significant health concern. These very small particles can penetrate deep into the lungs, where they can be more easily absorbed and react even more strongly with the body.
The uneven heating potential of many cannabis vape pens is also a concern, as high levels of heat can potentially create additional new, dangerous compounds.
Because of this high presence of heavy metals in even legal vape pens, researchers in this paper suggest Health Canada and other cannabis regulators should consider requiring additional testing for heavy metals. Testing should also be required after cannabis has been processed into a vape liquid, not only the raw cannabis inputs, as Health Canada currently requires, adds the paper.
It also suggests Health Canada could require more information about the metal components of vape devices, along with the filling date of the vape device, to help consumers make more informed choices and standards for vaping device construction and the materials used.
In the past, the OPP along with the National Research Council have provided testing information on illicit vape products high levels of unapproved pesticides and inaccurate THC listings
British Columbia and New Brunswick have released similar results from illicit products seized in those provinces.
Health Canada is expected to announce restrictions on some flavourings for cannabis vape pens soon. The proposed amendments were expected to be registered in 2022.
These proposed amendments would restrict the production, sale, promotion, packaging, or labelling of inhaled cannabis extracts from having a flavour "other than the flavour of cannabis" and would apply equally to inhaled cannabis extracts sold for both medical and non-medical purposes.
---