The number of stores and the amount of cannabis sold in BC has continued to increase while the price of cannabis products continues to drop.
Dried flower and pre-rolls combined still dominate sales, but inhalable extracts, especially infused pre-rolls and vape carts, continue to eat into their market share. Consumers are also continuing the shift to larger volume dried flower offerings, while 3.5 and 7-gram SKUs remain the most popular overall.
The BC LDB's newest quarterly report for 2023, covering July, August, and September, shows a 40 percent year-over-year increase in wholesale grams, for a record of 33,879,347 grams and a 24 percent increase in wholesale sales for a total of $137,126,714.
The price of cannabis again dropped to its lowest ever, at $4.05 a gram for all cannabis product categories and $3.33 a gram for dried flower. There were 490 stores, an increase from 452 in the same quarter in 2022, and 483 at the end of the first quarter of 2023.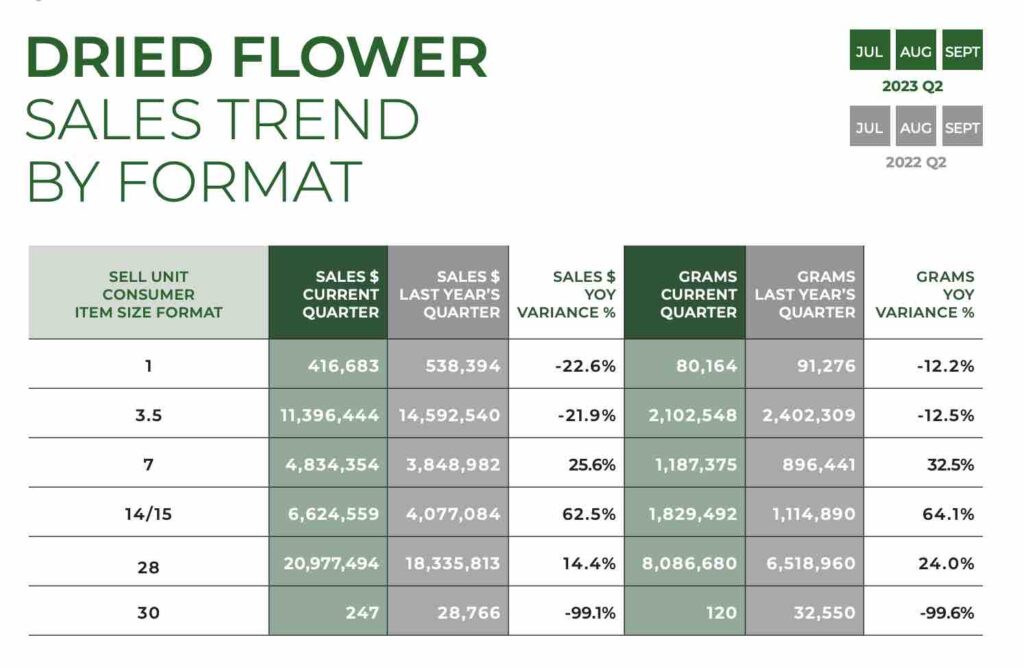 Following trends in previous quarters, single grams and eighths selling at more than $5 a gram saw significant declines in year-over-year sales as consumers continued to shift purchasing habits to higher-value and larger volume SKUs like 7, 14, 28, and (a handful of) 30 gram.
Reversing a trend in the previous quarter, though, consumers are showing an interest in paying more than $5 a gram in these larger volume SKUs. In Q1 2023, sales for 7 and 14 gram SKUs were down 46 percent, and 14 percent year-over-year, respectively, but were up 15 and 18 percent this quarter. This can relate to consumer preference or to product availability.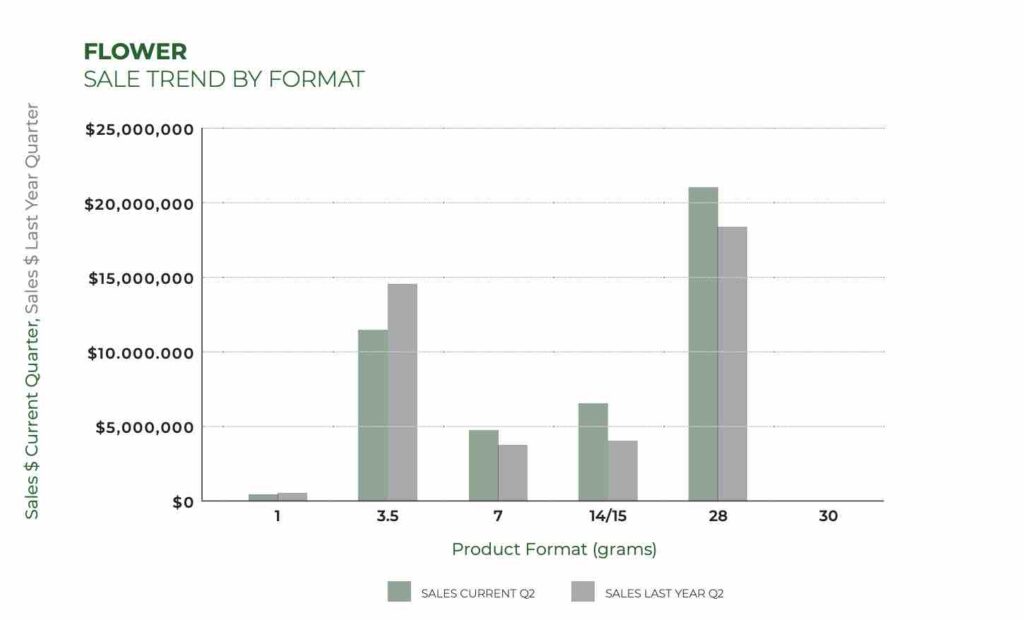 While eighths and 28-gram SKUs were still the most popular overall, the less expensive 7, 14, and 28-gram offerings saw the most significant increase in sales compared to Q1 2023 and, where applicable, Q2 2022. (Some SKUs were not available one year ago).
As in Q1 2023, inhalable extracts sales outpaced dried flower sales (excluding non-infused pre-rolls) at $46 million compared to $44 million. ($42 million and $41 million Q1). While flower sales year-over-year were up just under seven percent and four percent in units, inhalable extracts—dominated by vape pens and infused pre-rolls—grew nearly 58 percent in sales and 68 percent in units sold.
Cartridges and infused pre-rolls dominate the inhalable extracts category, with 48.5 percent and 38.4 percent of sales, while products like shatter, resin and rosin, and Hash were each under three percent of sales. Still, these latter categories saw significant year-over-year and quarterly growth as the product category became more competitive.
Pre-rolls (non-infused) came third in sales at $31.7 million, a 20 percent increase year-over-year and a 19 percent increase in units.

Sales of cannabis edibles and beverages came in far behind with $7.4 and $2.7 in sales, respectively. For edibles, this represented a 17 percent increase in sales year-over-year and a 24 percent increase in units sold. Beverages saw a 40 percent increase in both dollar sales and units sold.
Topical sales increased 26 percent year-over-year to $748,087 and 29 percent in units sold. Sales of cannabis seeds declined 25 percent to $12,929, a decrease of units sold compared to the same quarter last year of 24 percent.
Sales of ingestible extracts, which includes products Health Canada declared non-compliant earlier this year, saw declines of about one percent in sales and six percent in units sold. The category still had $4.3 million in sales. The decline was driven by a 73% year-over-year decline in the sale of the types of lozenges and other products Health Canada deemed non-compliant and an eight percent decrease in oils and tinctures, but was buoyed by a 29 percent increase in capsules and pills.
Overall, the province gained three retail stores since the previous quarter and 38 since the same quarter last year. The largest market in BC, the Greater Vancouver area, had 140 stores in this most recent quarter, up three from Q1 2023 and up from 113 in Q2 2022.
The second largest retail market, Vancouver Island, has 121 stores, a decrease from 123 in Q2 2022. The third largest region, the BC Interior, saw an increase in the number of retail cannabis stores, from 161 in Q2 2022 to 168 in the same quarter in 2023, and an increase of three stores from Q1 2023. The number of stores in Northern BC increased from 58 in Q2 2022 to 64 in the most current quarter, up from 61 in this year's previous quarter.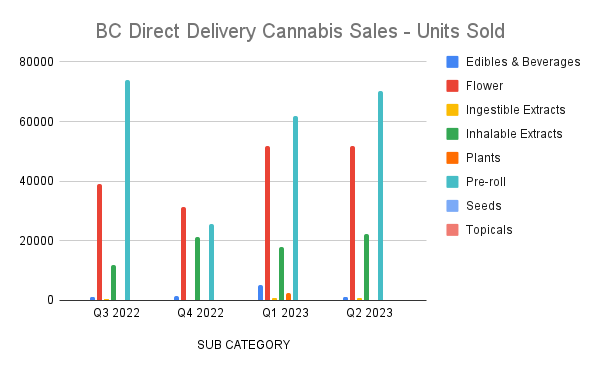 Direct Delivery
BC's direct delivery program, which launched in August 2022—allowing some small-scale cannabis growers located in the province to ship products directly to retailers without going through the LDB's central distribution warehouse—saw 821,718 grams sold for a total of $3,777,539 in sales.
The amount of cannabis sold through the program—limited to small-scale BC producers and therefore a fraction of total provincial sales by design—continues to grow, although this could potentially be reaching a plateau as sales in the last two quarters were relatively steady.
While the program is popular among retailers and producers taking part, many of the small producers the program was built to assist say the baked in provincial fees make it challenging.
Despite the costs to sell into the program—which not only include added logistics to handle multiple deliveries, but still come with a 15% "proprietary fee" to the province—the cost per gram sold in the program continues to decline. This is good for consumers, but not good for producers or retailers who hope the program can act as a lifeline.
The average price per gram of cannabis sold in the program is just $4, while the average price of all cannabis products sold through the program is $4.60 a gram.
The amount of dried cannabis flower sold through direct delivery stayed about the same compared to Q1 2023 while edibles and beverages declined significantly and inhalable extracts grew.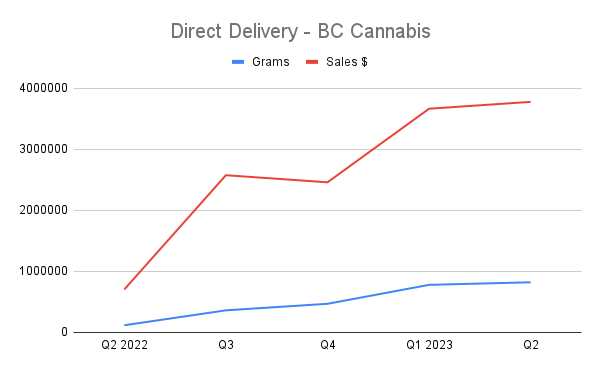 Related Articles