SHOWCASING CANADA'S BEST DRIED FLOWER PRODUCTS
Welcome to the Good Weed Board on StratCann – part three! In Part One I touched on the origin story of the OG Rating Guide and explained why the grading system was developed. In Part Two, I ranked the most important quality metrics for grading cannabis and described how these metrics influence the OG Rating Guide.
Here in part three, I showcase four more products from the Good Weed Board. I also speculate about why good weed is so hard to find in the regulated market.
Before diving in I want to make an announcement. The OG Rating Guide does not engage in pay-to-play. These are genuine ratings from a guy who loves good weed. I encourage producers to offer free samples, but the Good Weed Board is not for sale. My honest assessment of products will never be swayed.
I also want to give some advice. Don't believe everything you see posted on Reddit. In my quest for good weed, I've graded an abundance of mediocre products: so many examples of hyped flower that was truly overrated. In my estimation, more than 90 percent of the products promoted on social media are of ordinary quality at best.
To put this into perspective, only twelve products have qualified for the Good Weed Board. If the bar was lowered to 70, the standings would be chock full.
Why are there so many unremarkable products for sale on the regulated market? One reason is the 3.5-gram category, the dominant category for dried flower in every province across the country. The issue with 3.5-gram products is that the flower is almost always over-dry by the time it reaches the end consumer.
The 3.5-gram category makes sense in a deli-style consumer market, where cured flower is stored in bulk until an order is placed, and is then consumed within a few days of purchase. The 3.5-gram category does not make sense in a wholesale distributor market, where flower is pre-packaged and stored for several weeks before consumption.
One way to increase the average quality of dried flower on the regulated market is more bulk offerings. Craft producers should have more 28-gram products available for sale. In a pre-packaged market, 28-grams of adequately cured flower is more likely to keep fresh until it reaches the end consumer.
But there is a catch. The only way more 28-gram packages can become a reality is if regulators agree to adjust excise tax policy to account for the discounted price of a bulk sale. In my opinion, the excise tax policy should become the lesser of $1 or 10% per gram, not the greater as currently structured. It is not feasible for craft producers to pay $28 of excise tax on a product that should retail for around $150.
Another way to increase the average quality of dried flower on the regulated market is direct distribution. Direct distribution would allow producers to ship directly to retailers and avoid the wholesaler warehouse. Not only would this encourage more local trade in the industry, it could also reduce the time of delay from when a batch is ready for sale until it reaches the final destination.
Now let's look at the part three ratings.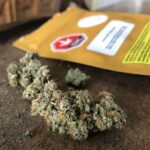 The first entry is Grape Cake by Joi Botanicals. Grape Cake is the third product by Joi Botanicals to qualify for the Good Weed Board. I purchased a 3.5-gram offering from Lake City Cannabis in Lincoln Park.
The buds are packaged inside a heavy glass jar. Their profile is layered with sweet fruit and cream, comparable with another Joi Botanicals offering, Purple Punch Mints #11. The Grape Cake buds are bigger and denser with less uniformity. They are also frostier than the Purple Punch Mints #11 with deep purple hues and an abundance of long orange pistils. I am pleased to report that the burn was supreme: tasty, potent, smooth, and even. OG Rating = 81/100.
The second entry for Part Three is Animal Face by Carmel Cannabis. Carmel is a craft cultivator based out of Oro Medonte, Ontario, specializing in small-scale cultivation and unique genetics.
I love Carmel's packaging. The best part is the back label. They include information about the cultivar, breeder, lineage, aroma, flavour, and appearance. They advertise that the buds are hand-trimmed, hang-dried, hand-packaged, grown in small batches, and never irradiated. Carmel also gives credit to other growers if the product was sourced, not grown in-house.
The Animal Face buds are light green and frosty with lots of orange hairs—usually a good sign. The OG Kush influence is clearly visible. The flower has a dominant profile of pine mixed with lemon and cake. Pockets of diesel are released near the stem. Once again the burn is supreme. OG Rating = 84/100.
The third entry is Drew's Pheno, also by Carmel Cannabis. I purchased both Carmel offerings from one of my favourite stores, the unfortunately now defunct Peak Cannabis. Drew's Pheno features a rotation of limited drops grown by Carmel's partner craft growers. The batch I sampled was Hippie Headbanger, grown by Magi Cannabis on Salt Spring Island in BC.
There are predominant Sour Diesel traits in this Hippie Headbanger. The flower has a pungent sour lime fragrance with notes of gas under the surface. Just like the Animal Face, this batch was dried and cured exceptionally well. OG Rating = 80/100.
Last but not least for part three is Banana Cake by Crystal Cure. Crystal Cure is a licensed producer of hand-crafted small-batch cannabis farmed in certified organic living soil in Shediac Cape, New Brunswick.
Crystal Cure also has one of the best packages in the game. Their back label provides information about the growing method, breeder, and parent genetics. The label also advertises the flower as non-irradiated and provides both a harvest & package date.
The batch of Banana Cake I sampled was cultivated by one of Crystal Cure's partners, Golden Peak Cannabis in Moncton, NB.
Although over-dry, the buds are still sticky and coated in trichomes. There is a dominant Cake profile with grape and pineapple fragrances on the outside and banana mixed with cheese on the inside. One whiff reminded me of Banana Starburst. The next puff tasted like soda pop with a chocolate aftertaste. This is flavourful smoke that provides a potent hit and reaches deep inside the chest. OG Rating = 80/100.
That's all for part three. I hope you enjoyed reading about these products as much as I enjoyed smoking them. My next column will showcase more products from the Good Weed Board. Stay tuned to find out if any of them break the current record score of 86. Happy blazing!
---
Marty Wig is the cofounder of Overgrown Gardens, and creator of the OG Rating Guide. He has been grading cannabis since 2003.